Disclaimer: I am a Fox Home Entertainment Insider, and was given the opportunity to host a Epic Day Backyard Party sponsored by FHEInsiders.  All opinions shared are my own.
Epic the movie is coming out on DVD on August 20th, and to celebrate, we're hosting a Epic Day Backyard Party with some friends this week.
As a kid, I remember the drive in, and how much fun it was to see a movie on a huge screen, outdoors.  For our Epic party, we've decided to do something related: a backyard movie screening with some fun outdoor activities.
For some ideas, I headed over to our local Walmart and started off in the party section.  They usually have a pretty good variety of supplies and I couldn't believe my eyes when I found these camouflage paper goods.
Then I headed on over to the camping section for some inspiration.
 These lanterns would be perfect to add a little ambience to the festivities.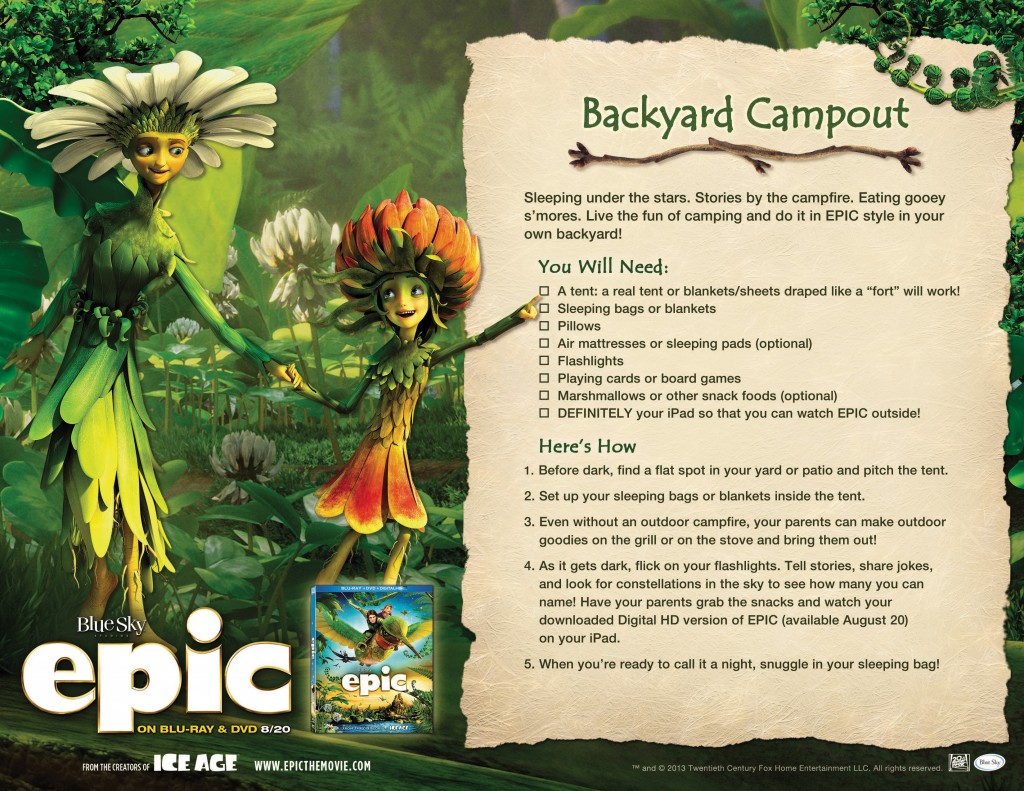 When planning a party, its always good to make a list of supplies you may need.  Fox Home Entertainment supplied us with this great tip sheet on how to plan the perfect backyard campout.
For activities for the youngsters, we also received these adorable Insect Experiment and Nature Hunt activity sheets.  Since we have a concrete back yard with a pool, this will be perfect for fun in the front yard.  This is going to be so much fun, I can't wait!
So, here are the supplies I've already picked up:
The Menu:
Hot Dogs
Trail Mix
Popcorn
Goldfish
Potato Salad
S'mores
Decorations:
Camouflage plates and napkins
4 black tablecloths to create a screening room
2 camouflage tablecloths
Camping lantern
2 snakes & 2 taranchulas
laptop, projector and screen
The last thing on the list – party favors!  Thanks to Fox Home Insiders, our guests will be going home with these party bags:
The Gift bags include:
Epic Activity Sheets
Epic Flashlight
Epic Magnifying glass
Epic woven tote
Epic coffee mug & coco
Epic bug viewer
Epic plant growing kit
We've had a test run of the backyard outdoor theater, now all that I need is some last minute shopping for the food and beverages and we'll be set.  I can't wait for the fun to begin!
Stay tuned!  We'll be sharing the events of our Epic Day real soon.