For the first time at the HONDA CENTER, select children were invited for a once in a lifetime opportunity to paint with one of Ringling Bros  elephants on the arena floor on Wednesday, July 31st.  So excited that we were of the few selected to paint with the elephants.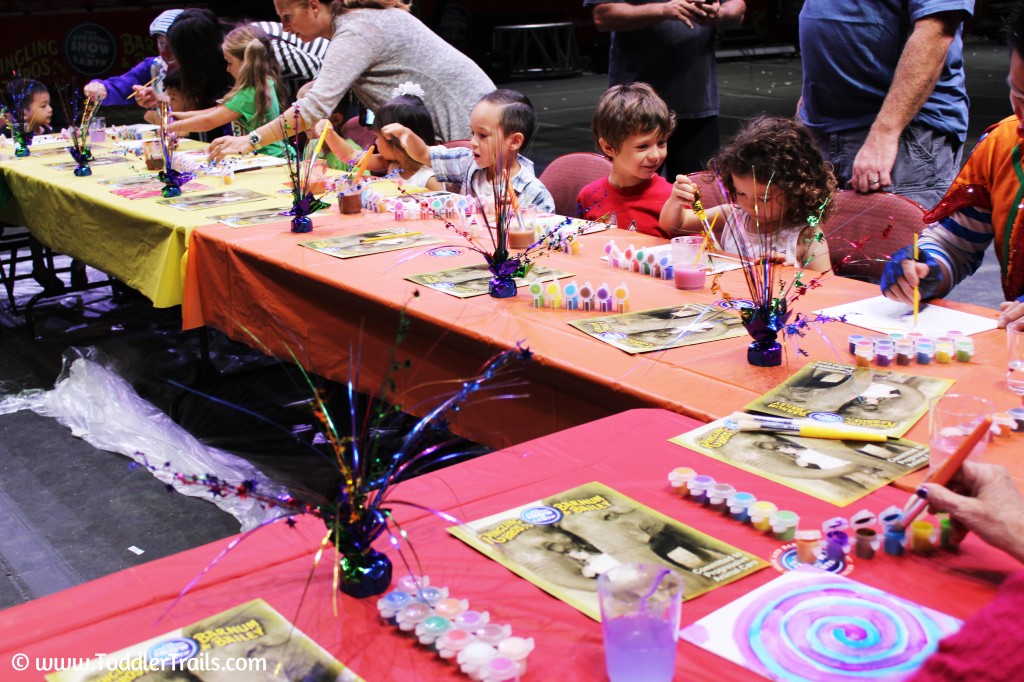 Paint, a canvas and brushes were handed out to the kids so they could create their own elephant inspired masterpiece with a live pachyderm in front of them.
Handsome Boy appeared to be really inspired as he was able to complete two paintings of the elephants!
My darling princess was more of an abstract artist focusing on color.  Her second piece was a beautiful rose.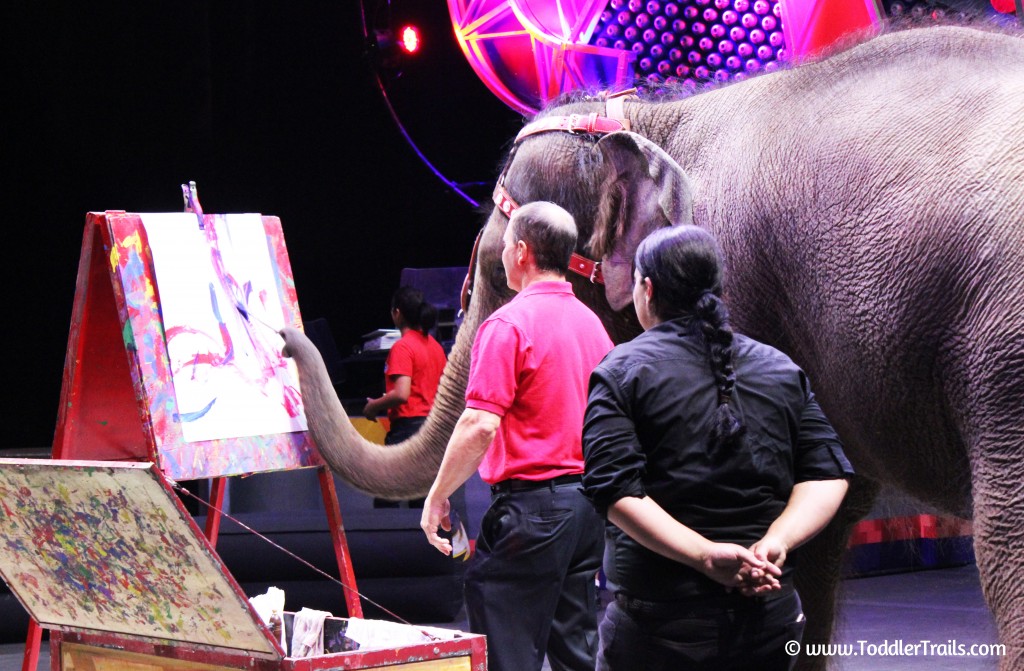 We also got a chance to watch Mabel, a beautiful Asian elephant paint her own master piece.  The kids were fascinated that the giant pachyderm  hold a paintbrush with his trunk.  It was so great, she seemed really eager to get started on her canvas.
For added fun, clowns were on hand for pictures and all kinds of silly fun! They even sat down with the blogger kiddos and painted a few canvases themselves.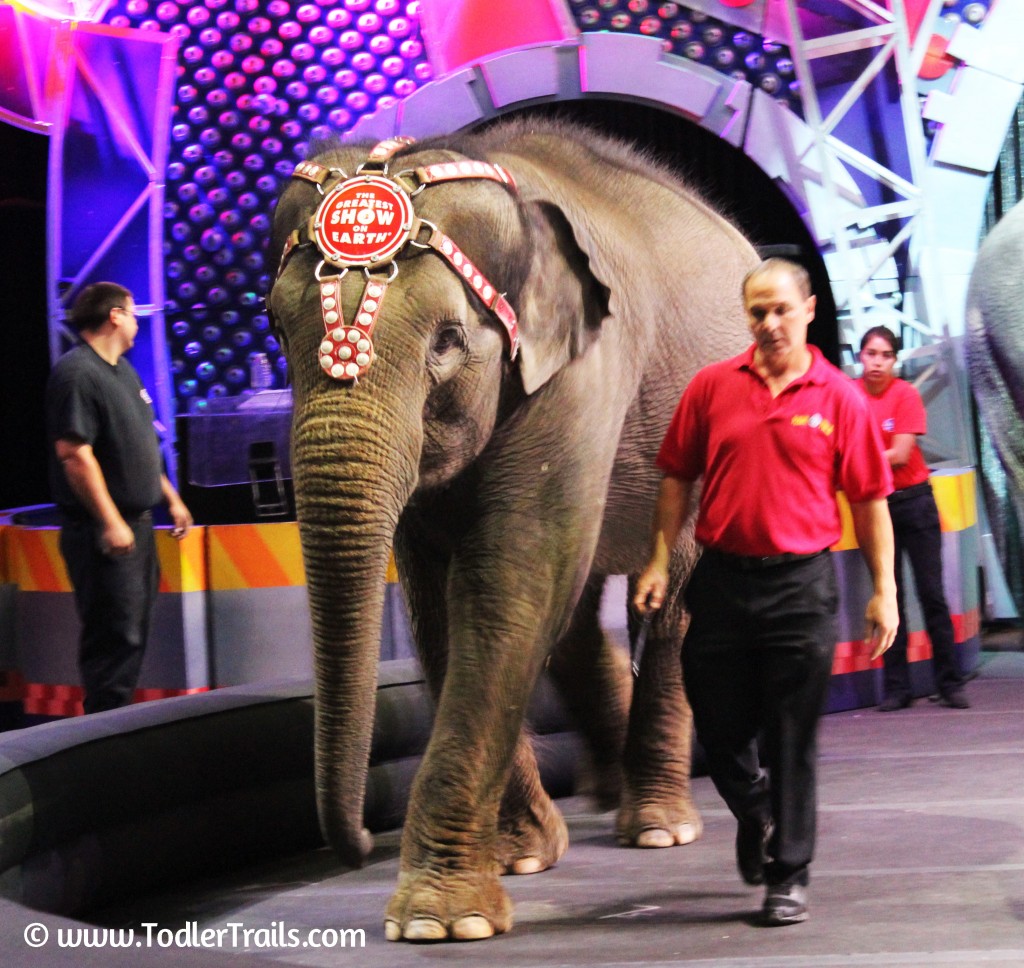 Check out beautiful Mabel and her handler.
Here are some interesting facts about elephants performing in the circus provided by Ringling Bros:
Only those elephants with a suitable temperament and a natural predisposition toward training are selected for performance.  For example, most circuses utilize female elephants for performances as their social structure better lends itself to training and performing.  Bull elephants are more solitary by nature.

The Asian elephant has been living and working with humans for thousands of years.  Over one third of the remaining Asian elephants in the world interact closely with humans, in such varying areas as circuses, zoos, agricultural and logging industries, religious ceremonies and eco-tourism.

Elephants that perform with reputable circuses are provided with round-the-clock veterinary attention, nutritious meals and a clean and safe home.  They are stimulated by all the exciting activity around them, have time for play and social interaction with other animals and have a chance to use their physical and mental skills daily.

A positive, healthy environment is the only acceptable and successful method of training elephants. Therefore, the cornerstone of all circus elephant training is positive reinforcement through praise, repetition and reward.

Elephants have long been important and beloved members of circus culture and history.  The affection and awe that they generate among circus audiences helps focus attention on the current challenges facing the future survival of the species.

Studies have shown that the public display of performing elephants contributes to heightened public awareness of the animals themselves and of man's responsibility for their well-being and protection.  This is especially true for children, who not only become more aware of elephants and their special needs and abilities, but also experience first-hand the importance of caring and respecting all animals.

The Asian elephant is in grave danger of extinction.  Fewer than 35,000 Asian elephants remain in the world.  Surviving populations in the wild are faced with poaching, consumer demand for ivory and other elephant products and dwindling habitat due to human encroachment.

Because of superior care they receive, elephants in captivity live healthier and safer lives than their counterparts in the wild.
Ringling Bros Barnum And Bailey will run now through August 4th 2013 at the Honda Center in Anaheim.  For more information about Ringling Bros, the elephants or tickets, visit their website: Ringling Bros; Facebook or Twitter.
Thanks to Feld Entertainment and Ringling Bros for a fantastic morning!