Disclaimer: Several of us fabulous bloggers were invited to an OC Mom Blog Luncheon at Marie Callenders to sample their new menu items and share our thoughts and a giveaway with readers. In no way did this alter my opinion of Marie Callenders or their entrees.
Have you been to Marie Callender's lately?  They've added a little BBQ to the menu!
I had the opportunity to join a few of my fellow blogger buddies in sampling Marie Callender's delicious new backyard barbeque menu items along with a few new appetizers.
Naturally we started off with the appetizers – my favorite?  The Fresh Avocado and Shrimp stack.  If shrimp and avocado are favorites of yours, like they are mine, then you'll absolutely love this appetizer.  I could have made a meal out of it for me.  
Fresh Avocado and Shrimp Stack: Fresh avocado, pico de gallo, spicy chipotle ranch dressing layered and topped with Cajun grilled shrimp. Served chilled with crispy tortilla chips.
Black Bean & Chicken "Chimis": A crispy tortilla filled with chicken, black beans and jalapeno-jack cheese. Served with roasted corn salsa and spicy chipotle ranch dressing for dipping.  Also a crowd pleaser!
Appetizer Combo Platter: Mozzarella sticks, onion rings, crispy green beans and crispy chicken tenders. Served with spicy chipotle ranch and marinara sauce for dipping.
Then for the entrees, I'd recommend any of the BBQ items listed below:
BBQ Turkey Sliders: Dry-rubbed and slow-roasted turkey breast, thinly shaved then topped with BBQ sauce and coleslaw on mini ciabatta rolls. Served with fries. Includes a FREE slice of pie*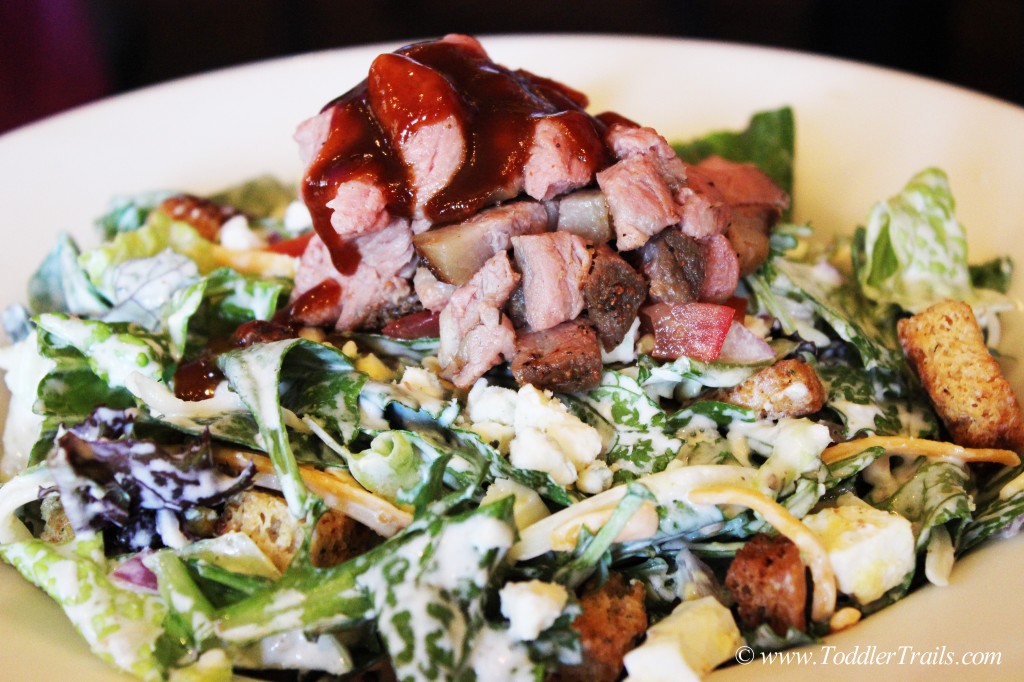 Tri Tip Salad: Crisp lettuce with tomatoes, jack and cheddar cheese, chopped hard-boiled egg, red onion and croutons tossed in tangy ranch. Topped with gorgonzola cheese, slow-roasted tri-tip and BBQ sauce. Includes a FREE slice of pie
Pulled Pork BBQ Sandwich: Tender, slow-cooked pork in BBQ sauce with coleslaw on a toasted bun. Served with fries. 
 Build Your Own BBQ Platter:  Wanna try it all?  With the Build your own bbq platter, you choose two delicious BBQ favorites: Slow Roasted and Hand-carved Tri-Tip, Grilled BBQ Shrimp Skewer, St. Louis BBQ Ribs, Grilled BBQ Chicken Breast, or Crispy Chicken Tenders. Then choose two sides: Southern-style Mac n' Cheese with ham and applewood smoked bacon, BBQ Baked Beans, Sweet Potato Fries, Coleslaw, Potato Salad, French Fries, or Loaded Mashed Potatoes.  To optimize the meal, have your date select different options and share!
To finish off a meal at Marie Callenders, you surely have to make room for a little pie.  Who could resist this beautiful fresh strawberry slice?
GIVEAWAY
Three lucky Toddler Trails Families will win a $10 Gift Card to Marie Callenders to pick up your very favorite pie!
Valid for US Residents only. All fans have an equal chance to win, however, you must enter to win. Winners will be randomly selected via RaffleCopter and be notified via email. They have 48 hours to respond or a new winner will be randomly selected the same way. Winners can only win once per month. Not liable for unclaimed prizes or fulfillment.
 Thank you to Shelby and Amy from OC MomBlog and Marie Callenders for a super delicious lunch!