A little over a week ago, I had the opportunity to head out with the girls and sample the new menu at Mimi's Cafe that will be available as of October 7th, 2013.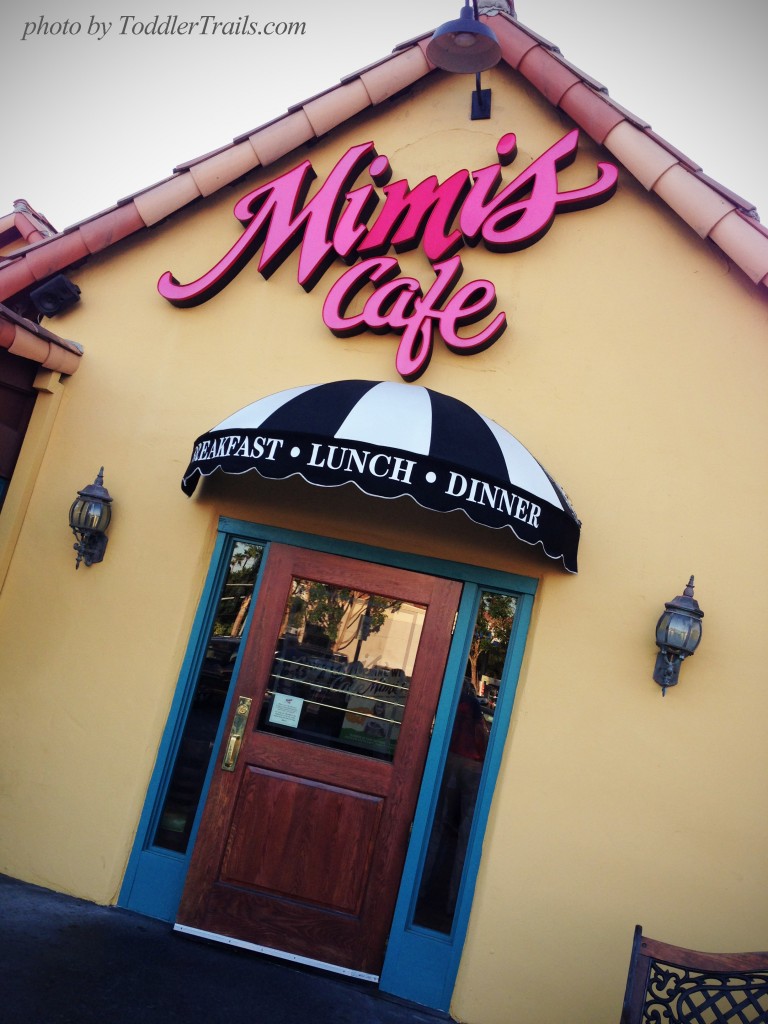 It was a wonderful evening with the girls, many of whom are fellow bloggers you may already be following.  Always nice to catch up and hang with friends who understand the "Don't Touch The Food Till I've Snapped The Perfect Photo".
Under the ownership of French-owned Le Duff America, Inc., Mimi's Cafe is launching redesigned menus. On September 9th, they rolled out an entirely reimagined breakfast menu filled with time-honored French-inspired dishes updated classic American comfort food and long-time Mimi's favorites.  Then, on October 7th, the new lunch and dinner items we had the opportunity to sample, will be available.
Kathryn (Katie) Sutton, Executive Chef of Mimi's Cafe, is passionate about her work and was really excited to hear our thoughts on the new menu items.  Her fine dining experience brings a unique vision to Mimi's Cafe, and the new menus that she created are heavily inspired by her time spent living in Northern California and traveling the world.
First, we had the opportunity to sample some of the new appetizers.  The Seafood Crepe could actually be the perfect meal for me.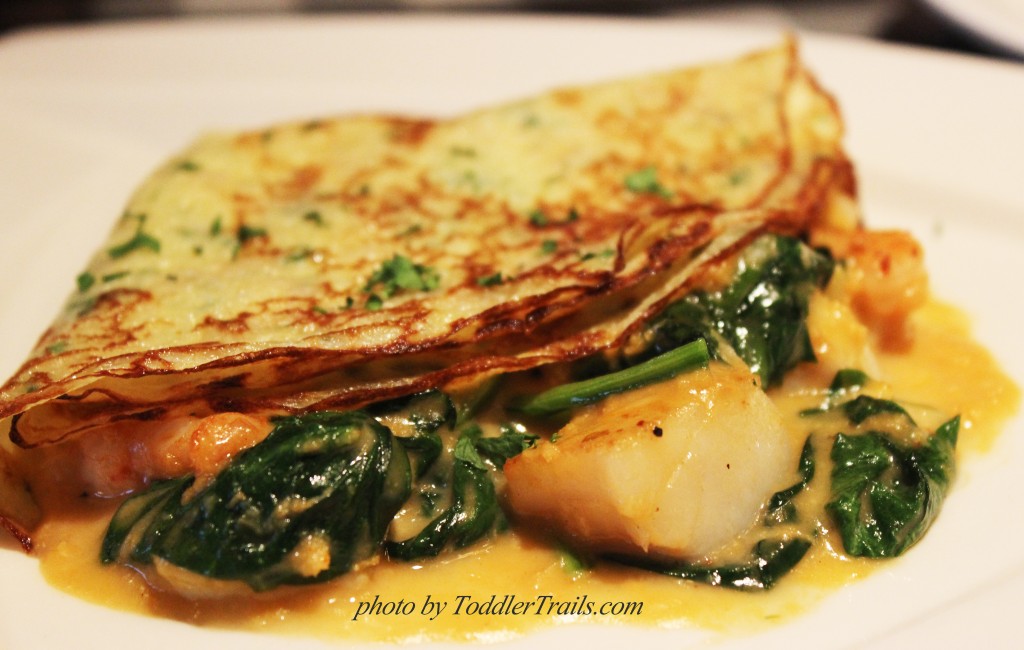 The Petite Seafood Crepe is a home-made herbe crepe with sautéed shrimp, scallops and spinach in a savory, cream lobster sauce; all of my favorite ingredients.
The Baked Brie was a crowd pleaser with warm, bubbly brie, a French baguette croutons, tart apple slices and apricot chutney.  We were told that the perfect bite included just the right amount of all ingredients.
I have to admit, I'm not a Mussels fan.  In fact, the Mussels a la Mimi's, not a typical dish I would order, however I did decide to try it.  The mussels were gently steamed in white wine, garlic and fresh herbs, served with garlic French baguette croutons and I admit, I liked them.  Of course, they were drenched with the wine, garlic, herb sauce, which made them rather tasty.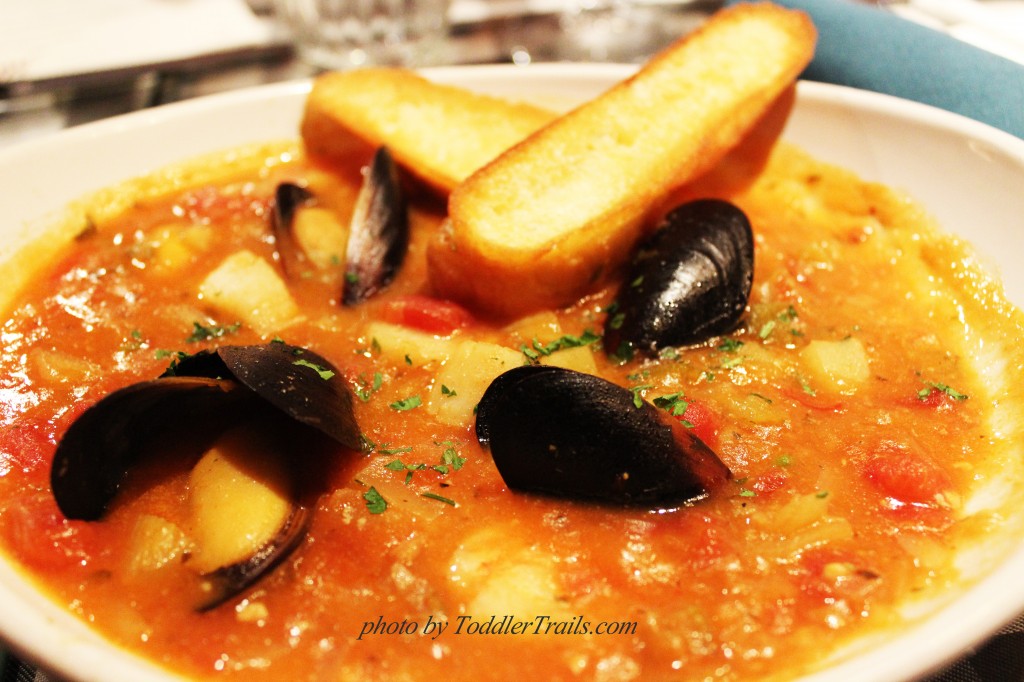 Then it was time for the main course.  We were given the opportunity to make our own selections, I decided to try the Mimi's Signature Bouillabaisse; a traditional Provencal-seasoned soupe with mussels, shrimp and scallops simmered in white wine with potatoes and tomatoes with a garlic French baguette crouton.  This dish was a stand out to me.  The flavors were truly amazing and I loved the blend to potatoes and tomatoes.
Here is a peek at some of the dishes my friends selected: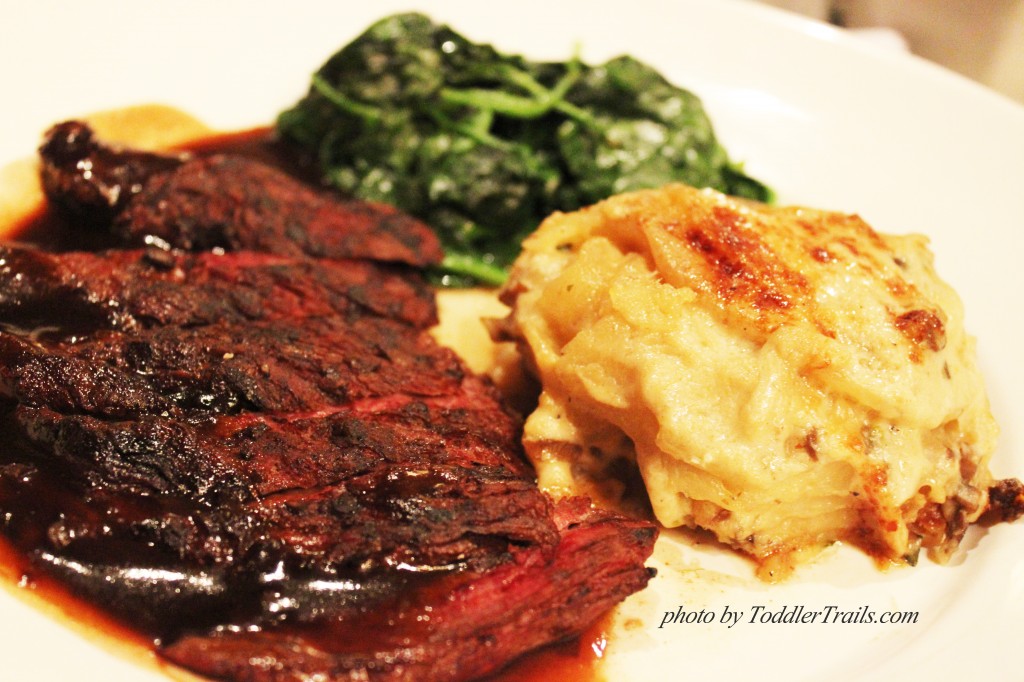 This is the Bistro Bavette Steak, a French-style grilled steak with mushroom infused au-gratin potatoes and your choice of bordelaise or bearnaise sauce and seasoned vegetables.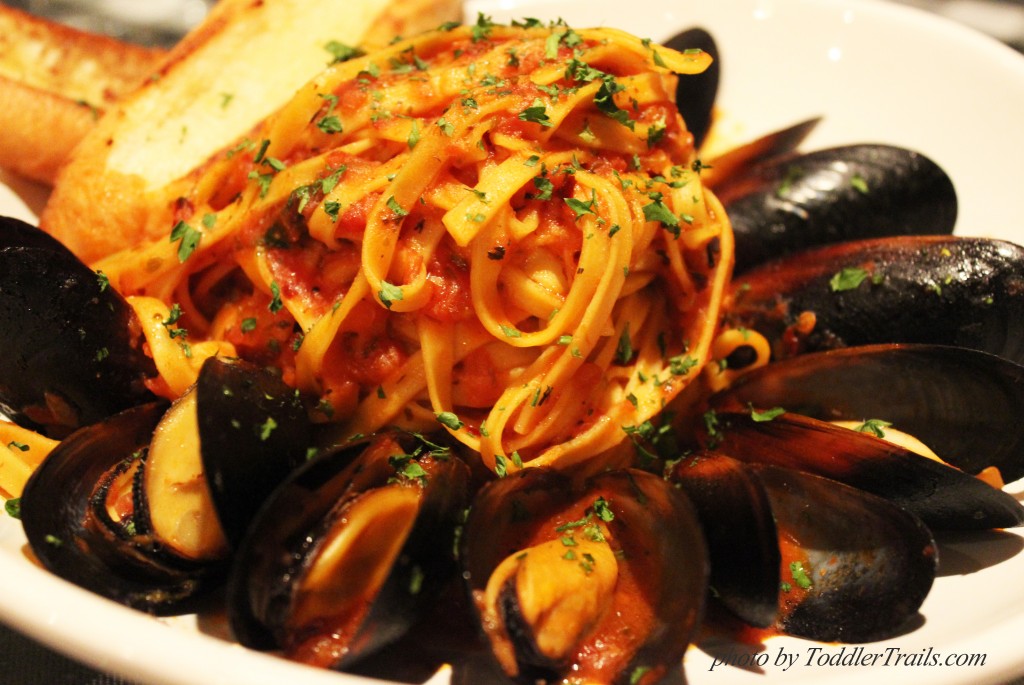 The Saint-Malo Pasta is mussels and fresh linguine topped with a spicy pomodoro sauce, served with garlic French baguette croutons.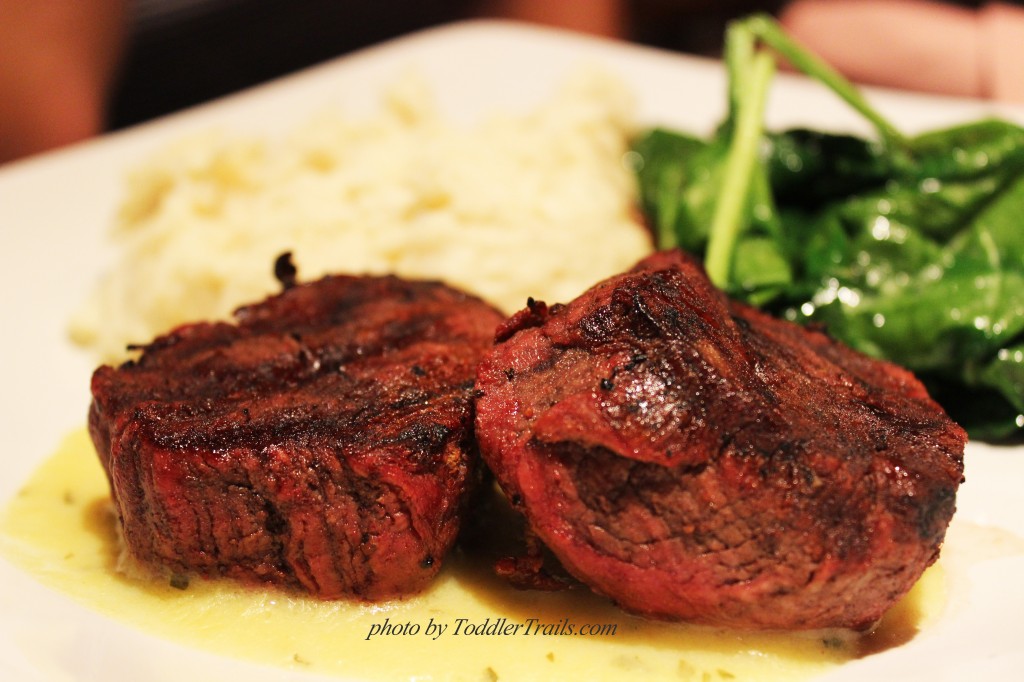 The Tournedos du Boeuf is a plate of beef tenderloin medallions served with creamy mashed potatoes and your choice of a bordelaise or bearnaise sauce with seasoned vegetables.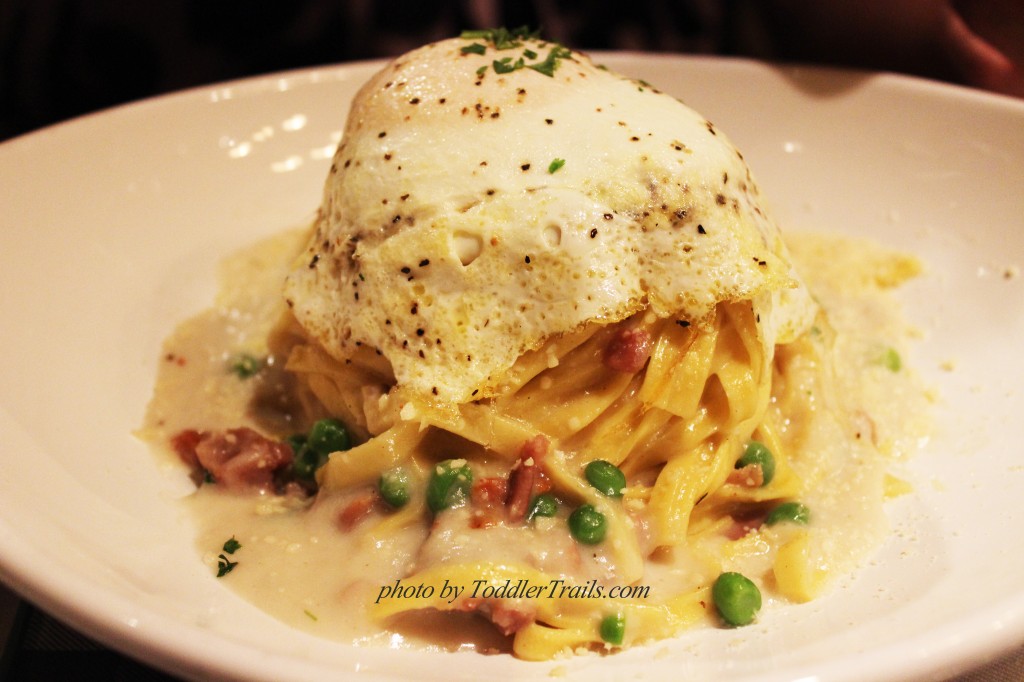 The Pasta Carbonara a la Mimis, linguine tossed with dice prosciutto, aged parmesan, petite peas and a light chardonnay sauce, topped with a fried egg.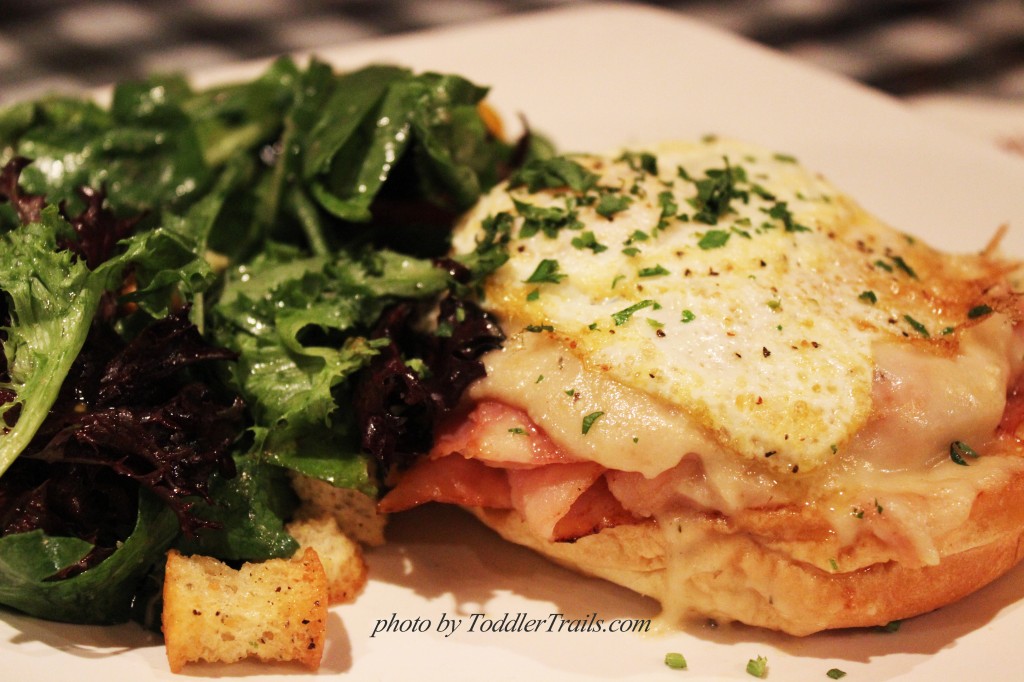 Mimi's Cafe is launching their new menu as of October 7, 2013. This is the Bistro Bavette Steak, an open faced ham and Swiss sandwich with classic French Mornay sauce served on brioche topped with a fried egg.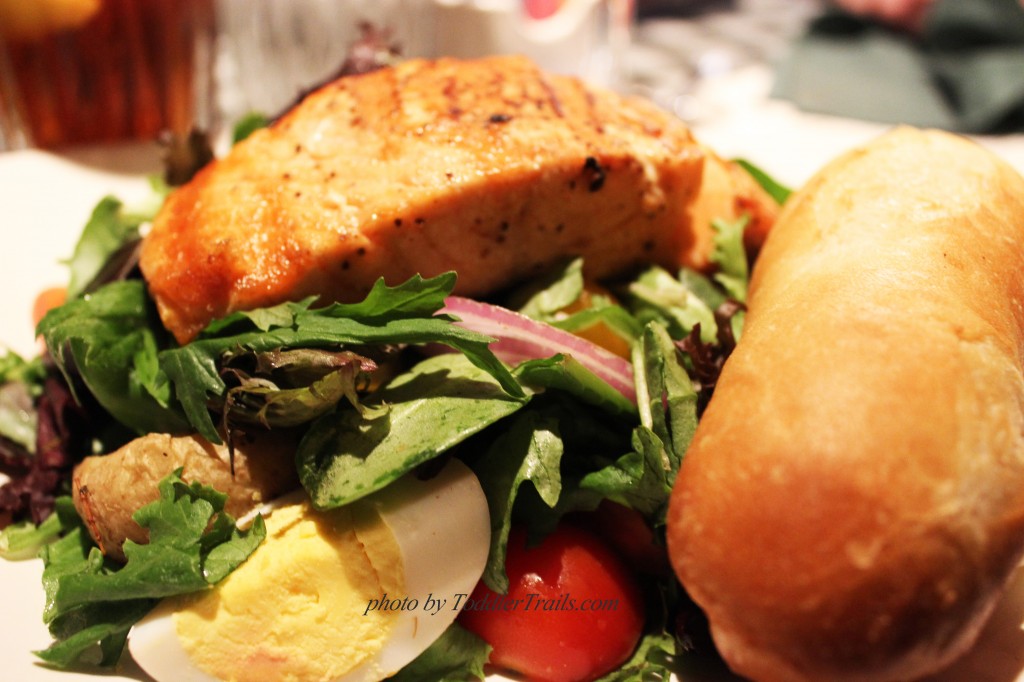 The Grilled Salmon Salade Nicoise, a grilled Atlantic salmon served on top of mixed greens with Kalamata olives, cherry tomatoes, red onions, haricots verts, Provencal potatoes and hard-boiled egg tossed in Mimi's red wine shallot vinaigrette.
I must admit, we ended up a little spoiled that evening with all the delicious food, wine and great company.  There were so many great entrees it was difficult to make a selection.  Then they brought out these amazing waffles!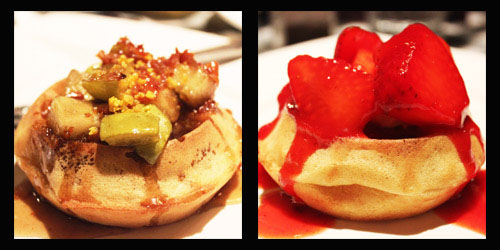 I'm just going to leave you with the image – really, they are mouth watering and perfect for breakfast and Dessert! You're just going to have to plan some time to get to Mimi's to try these heavenly waffles for yourself!
Mimi's Cafe also has a great selection of breakfast, lunch and dinner items for the kiddos.  They'll especially like the Mimi's Pancakes or the Chocolate Chip Pancakes!
Connect with Mimi's Cafe via WEBSITE, FACEBOOK,  TWITTER or PINTEREST to find out more information about their new menu items and/or a location nearest you.
*Thank you to my friends at Mimi's Cafe for a wonderful evening with friends.