Disclosure:  I was invited to a blogger event at Islands Restaurant to sample their new summer menu and share with Toddler Trails fans.  In no way did this alter my opinion about Islands or their menu items.  All opinions are my own.

Last week a few blogger friends and I had the opportunity to check out the new Summer menu at Islands.  I know you've been there, Islands Burgers is a delicious burger joint with the Hawaiian Island theme.   To celebrate the season, they have added a few items you need to check out!
First, we'll start with the summer drinks.  Islands has added several new refreshing options like three kids of seasonal beer: Saint Archer Blond, Firestone Walker Solace and Sierra Nevada Summerfest.  I'm not a beer drinker, so I'll leave those up to you.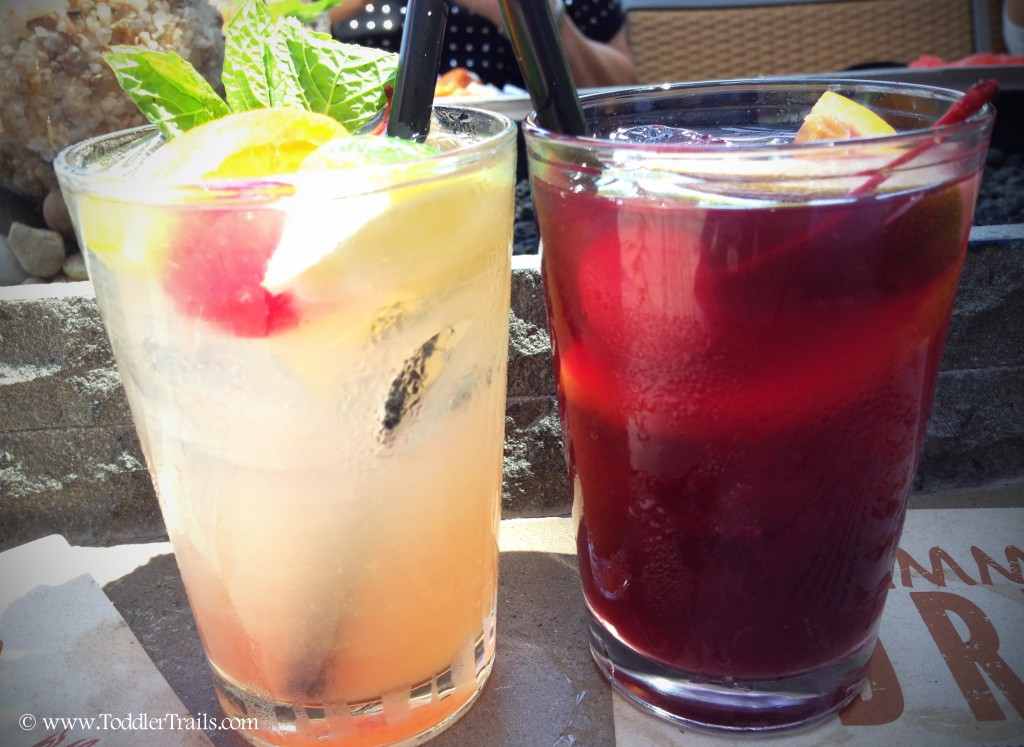 However, when it comes to Sangria – I'm on board.  I sampled the Moonlight Sangria and I must say, it was really good.  With Woodbridge Pinot Grigio, Domaine de Canton Ginger Liqueur, sweet and sour, pineapple juice and sprite, it was the perfect cocktail to start off lunch.  Many of my fellow blogger friends tried the Sunset Sangria, the I-Shandy and the Ginger Berry Shandy – all seemed to favor the I-Shandy and the Sunset Sangria.
For Appetizers, I truly enjoy a good spinach and artichoke dip – now a delicious option served with fresh chips and salsa.  And if you like tuna, you really need to order the Poke.  Diced albacore tuna that is marinated in soy sauce, sesame oil and sambal, served over cabbage and topped with diced scallions and sesame seeds.  We had them on fried wonton – let me just say, it was so good.
For our entree, we were served the Heat Wave.  If you are a fan of spice, this is the burger for you!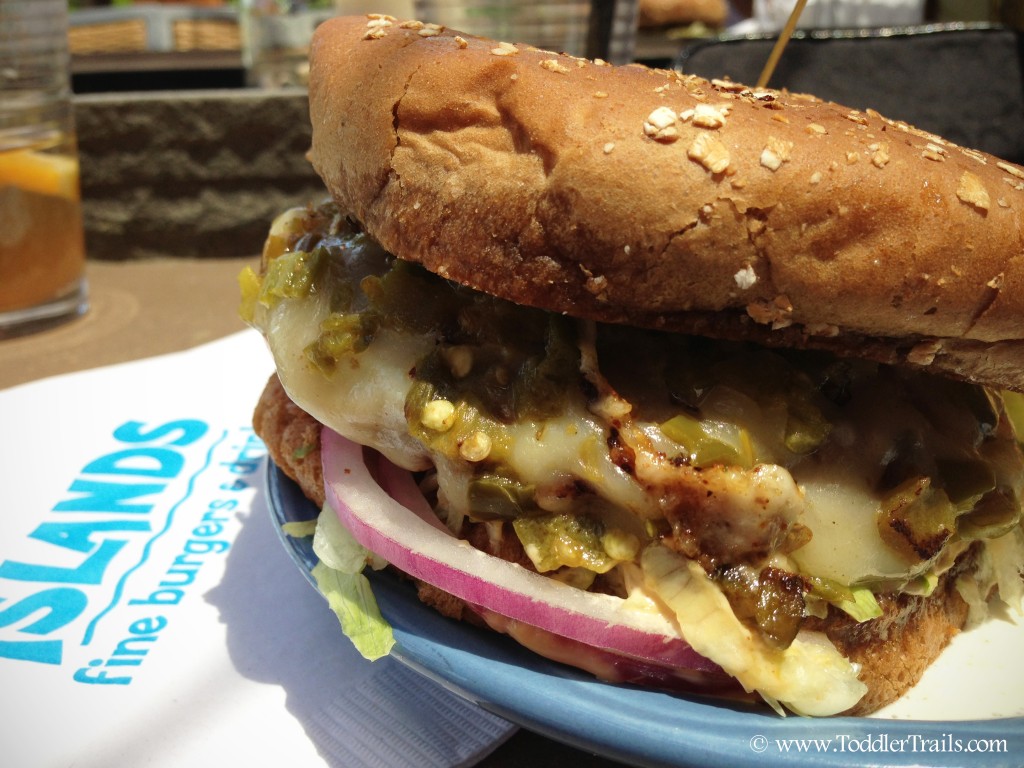 The Heat Wave is loaded with grilled green chiles, fresh serrano chiles, pepper jack cheese, tomato, red onion and a spicy mayo.  (fire extinguisher not included) I do not do well with spice, however, I did give the burger a try, that is, after I took off some of the chiles.  With a hint of the heat, I actually did like it.  So I recommend trying it – again, if you like "HOT".
The Wiqui Waqui (love the name) was just delicious!  A gorgeous salad loaded with grilled and chilled chicken breast, cheddar and jack cheese, tomatoes, red onion, jicama; tossed with ranch dressing and tortilla chips, bbq sauce and scallions.  Certainly a new favorite of mine!
To finish off the luncheon, we were served the new summer shakes.  The Coco Colada is a mix of Captain Morgan Rum, fresh pineapple, cream of coconut, vanilla shake and Myers' Rum was very good – the pineapple being my favorite part.  The Irish Shake was the hands down favorite of the group with Kahlua, Jameson Irish Whiskey, vanilla shake topped with whipped cream.  
Islands has been one of my favorite restaurants for years.  I'm one of those creatures of habits that usually orders the exact same thing every visit.  Now, I have some new favorites – I'll probably mix it up a bit and completely confuse my family!
GIVEAWAY
Two lucky Toddler Trails fans will win $25 gift cards to Islands Restaurants to try out their new summer menu.
Valid for US Residents only. All fans have an equal chance to win, however, you must enter to win. Winners will be randomly selected via RaffleCopter and be notified via email. They have 48 hours to respond or a new winner will be randomly selected the same way. Winners can only win once per month. Not liable for unclaimed prizes or fulfillment.
 Thank you Islands for a great afternoon with friends!