Act now to get your kids tickets to see the stage play of Dr. Seuss' How The Grinch Stole Christmas when it premiers in Orange County December 10th – 14th at Segerstrom Center.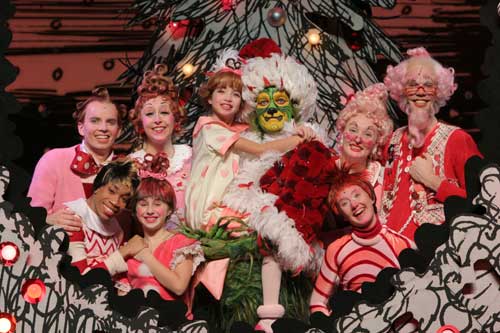 Families will find their hearts growing a few sizes along with the Grinch's when they experience the magic of the beloved tale on stage, which features the hit songs "You're a Mean One, Mr. Grinch" and "Welcome Christmas" (written by Albert Hague and Dr. Seuss), from the original animated television special. Max the Dog narrates as the mean and scheming Grinch, whose heart is "two sizes too small," decides to steal Christmas away from the lovable Whos.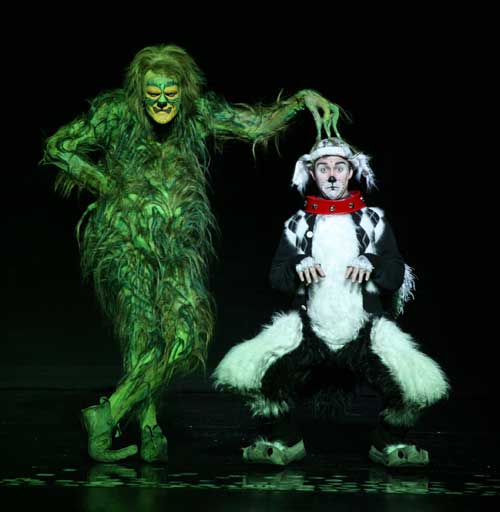 Remember the lovable tv show that as kids we watched every year during the holidays? Now catch The Grinch in a stage production that broke box office records for two consecutive years on Broadway during its holiday engagements at the St. James and Hilton theaters in New York. Since then, theatergoers across America have been delighted by this heart-warming musical, which the Gannett papers hailed as, "A genius of a show! A total delight for both kids and adults."
DR. SEUSS' HOW THE GRINCH STOLE CHRISTMAS! THE MUSICAL features beautiful sets and costumes  inspired by Dr. Seuss' original book, while the music and book of Mel Marvin and Timothy Mason breathe new life into this timeless story. Embraced by generation after generation, Dr. SEUSS' HOW THE GRINCH STOLE CHRISTMAS! THE MUSICAL is a holiday tradition for audiences of all ages. The 2014 production is directed by Matt August and choreographed by Bob Richard, based on the original choreography by John DeLuca and originally created by three-time Tony Award®-winning director Jack O'Brien.
My daughter has now become to LOVE theater and musicals. With her studies as a ballerina at our local dance studio and being a part of a stage play/production – bringing her to Segerstrom Center has been an absolute magical experience. Introducing your child to the theater at a young age is so wonderful for them, just think of the amazing experiences they will have with Segerstrom Center.
For more information about DR. SEUSS' HOW THE GRINCH STOLE CHRISTMAS! THE MUSICAL,
visit www.GrinchMusical.com.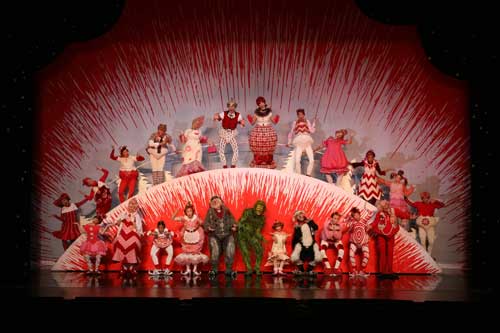 Segerstrom Center For The Arts Box Office:
600 Town Center Drive in Costa Mesa
(714) 556-2787
SCFTA.org
Ticket Information:
Single Tickets $29
The 2 p.m. performance on Saturday, December 13 will include audio description, open captioning and sign-language interpretation. There will be a free Talk Back with cast members following the Thursday, December 11 evening performance.
About Segerstrom Center For The Arts:
Segerstrom Center for the Arts is unique as both an acclaimed arts institution and as a multi-disciplinary cultural campus. It is committed to supporting artistic excellence on all of its stages, offering unsurpassed experiences, and engaging the entire community in new and exciting ways through the unique power of live performance and a diverse array of inspiring programs. Previously called the Orange County Performing Arts Center, Segerstrom Center traces its roots back to the late 1960s when a dedicated group of community leaders decided Orange County should have its own world-class performing arts venue.
As Orange County's largest non-profit arts organization, Segerstrom Center for the Arts owns and operates the 3,000-seat Segerstrom Hall and intimate 250-seat Founders Hall, which opened in 1986, and the 2,000-seat Renée and Henry Segerstrom Concert Hall, which opened in 2006 and also houses the 500-seat Samueli Theater, the Lawrence and Kristina Dodge Education Center's studio performance space and Boeing Education Lab. A spacious arts plaza anchors Segerstrom Center for the Arts and is home to numerous free performances throughout the year as part of Segerstrom Center for the Arts' ongoing Free for All series. Dr. Seuss' How the Grinch Stole Christmas!
The Center presents a broad range of programming each season for audiences of all ages from throughout Orange County and beyond, including international ballet and dance, national tours of top Broadway shows, intimate performances of jazz and cabaret, contemporary artists, classical music performed by renowned chamber orchestras and ensembles, family-friendly programming, free performances open to the public from outdoor movie screenings to dancing on the plaza and many other special events. It offers many education programs designed to inspire young people through the arts. These programs reach hundreds of thousands of students of all ages with vital arts-in-education programs, enhancing their studies and enriching their lives well into the future. In addition to the presenting and producing institution Segerstrom Center for the Arts, the 14-acre campus also embraces the facilities of two independent acclaimed organizations: Tony Award®-winning South Coast Repertory and a site designated as the future home of the Orange County Museum of Art.