My little man is a HUGE fan of Hot Wheels®! He must have 200+ diecast cars spread throughout his room, claiming he needs more every chance he comes across a new model at the store. When we heard that Hot Wheels were racing into the Discovery Cube OC, we HAD to stop by and check out the new exhibit for ourselves!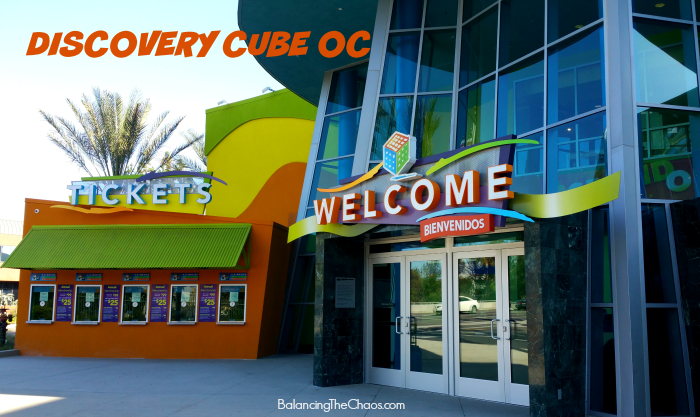 Last week we were invited to a blogger preview of the new Hot Wheels® Exhibit at The Discovery Cube Orange County, which allows guests to experience what it is like to build and test race cars.
Once you enter the Discovery Cube OC, make your way to the right. Back behind the new exciting gift shop is the Hot Wheels Exhibit. When you walk in, you'll notice that the kids will immediately dart towards the racing ramps after they have selected their favorite Hot Wheels car to race.
My husband and I naturally made our way around, checking out all the signs, and especially the life size race cars that are on display. I was quite surprised my handsome boy wasn't checking out the race cars, but when you can make your way to a number of different racing ramps – I guess he went towards the action!
You'll get a chance of the awesome behind-the-scenes look at the incredible world of racing, the process of designing fast cars, the uniforms, tires and more.
Have a chance to test theories in the different types of tracks like a six lane downhill speed track, a booster power track, an adjustable angles track and a timed track.
Kids will jump at the chance to experience being part of a pit crew! With the Pit Crew Challenge, kids (and adults) are timed to see how fast they can change 2 tire rims and gas up the race car.
You'll also get a chance to learn about real race car parts, authentic artifacts even take a picture in the winner's circle with a gigantic winners trophy!
I think the highlight of the evening was the opportunity to meet a Chief Designer at Hot Wheels®. Alton was on hand to give us a first hand look at what it takes to create uniquely inspired Hot Wheels cars – an imagination.
Alton asked the audience to give him ideas, favorite characters, animals, etc and he began using his imagination in creating incredible designs. He even suggested a name – which he used my handsome boy's, and he was grinning from ear to ear. His very own name designed as a speedster! Think it made his day!
The Hot Wheels® exhibit will be entertaining guests from now through January 3rd and is included in the price of admission.
Thanks to our friends at Discovery Cube OC for a fun evening with Hot Wheels and more.