Lately I have been working closely with my husband in getting a few supplies he needs for some of his sports programs at his high school. I may have shared in the past that he is a teacher and coach at a local high school in Anaheim, but has taken on a new responsibility that is taking up a lot of his time – Athletic Director. In this new role as Athletic Director, he is working with a team of awesome individuals who are on a mission to bring the athletic program at this high school to new heights. One of his visions was the appearance of the athletes.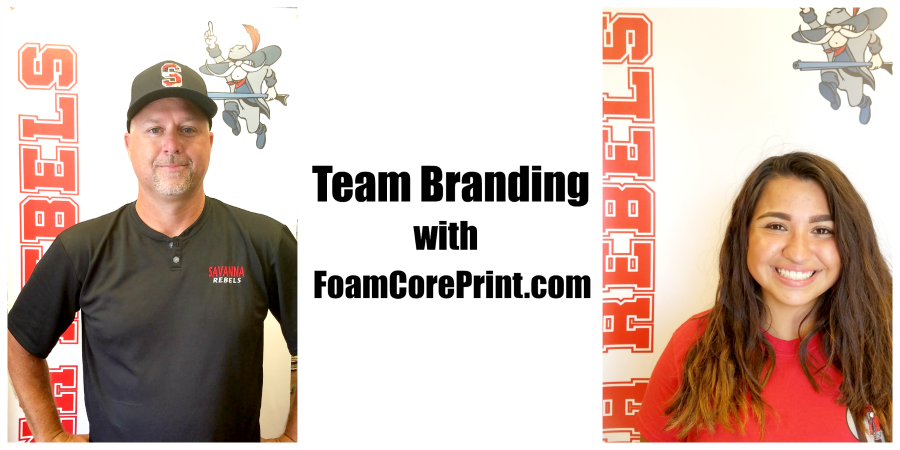 Each year they have a "picture day". As the Head Softball Coach, he has taken quick pictures of his athletes and used them for various online publications that have requested their images for articles including Maxpreps.com, OCVarsity.com and OCSidelines.com. I had been suggesting that he take better photos of his athletes while branding his school. With the help of Foamcoreprint.com, this vision became a reality with a banner we designed with David Christian, (Owner of Foamcoreprint.com) who donated his services and products to the high school. David helped design mesh banners with the school name and mascot. To hold up the banner as a back drop, David also donated an x banner stand that came with a carrying case and is really easy to assemble.
For years my husband has been adding his athletes to Maxpreps.com, a website that shares local high school's team statistics and information. As a coach it is a great resource for sharing his athlete's individual statistics with scouting colleges as well as scouting competitors. As the sports and seasons change, I'm hoping that we'll see better, branded photos for all teams at his school.
Looking ahead, as a team mom, and on the PTA, I know Foamcoreprint.com has additional options available to make my life easier. I am already imagining the possibilities of a team banner for little league, something creative with kid's selfies with their actual faces rather than cartoon images. With their speedy shipping, I know I'll have the products I need, when I need them.
Thanks David and Foamcoreprint.com for supporting Savanna High School and our athletes.
About FoamCorePrint.com:
At FoamCorePrint.com, they offer our customers a wide range of Large Format printing services from Canvas prints, foam board printing, Card stock invitations, Aluminum, Vinyl banners and more! With a fully automated print production facility and state of the art printers, their staff continuously improves the way customers promote their ideas all while guaranteeing the highest quality products at already wholesale price structure.