It is so much fun to spend a night out with the girls, but when it is a bunch of fellow bloggers, it is even more crazy.  If you ever notice a group of girls crowding around tables and tables of food, with cameras in hand – NOT EATING, that would be us!  Sad to say, our family is already forewarned that they cannot touch their food until it has been properly photographed. 
Last week I had the opportunity to have a "Girls Night Out" with my blogger buddies at Dave and Busters.  It was a night full of cocktails, food, photos and fun!
We started off the night with cocktails and appetizers and some of the favorite selections are:
Buffalo Wings: Eight jumbo chicken wings served hot and crispy served with ranch or bleu cheese dressing.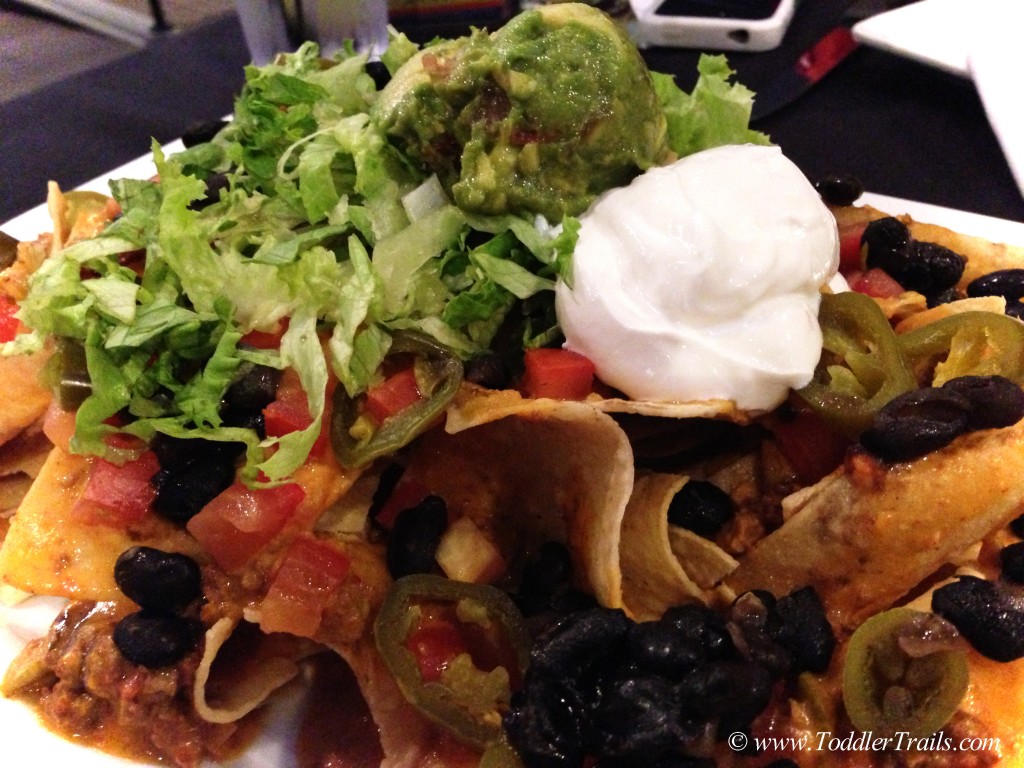 The Mountain O Nachos: A pile of fresh tortilla chips smothered with spicy ground beef and melted queso, topped with black beans, jalapenos, tomatoes, lettuce, fresh guacamole and sour cream.
The 5:15 is a feat in itself with 5 buffalo wings, 5 chicken quesadilla wedges, 5 pretzel dogs and 5 crispy fried shrimp.
The 5:15 Challenge: Think you can beat the clock? Finish The 5:15 in 5 minutes and 15 seconds  and you will win your picture on the "Challenge Winner's Wall and a fancy 5:15 challenge t-shirt!
The Philly Cheesesteak: has thin slices of steak on warm hoagie roll topped with cheese and served with seasoned fries.
The selections for main course has truly raised the bar.  We were really lucky to be able to sample (and photograph) so many dishes, we ended up stuffed before half of them made it to the table.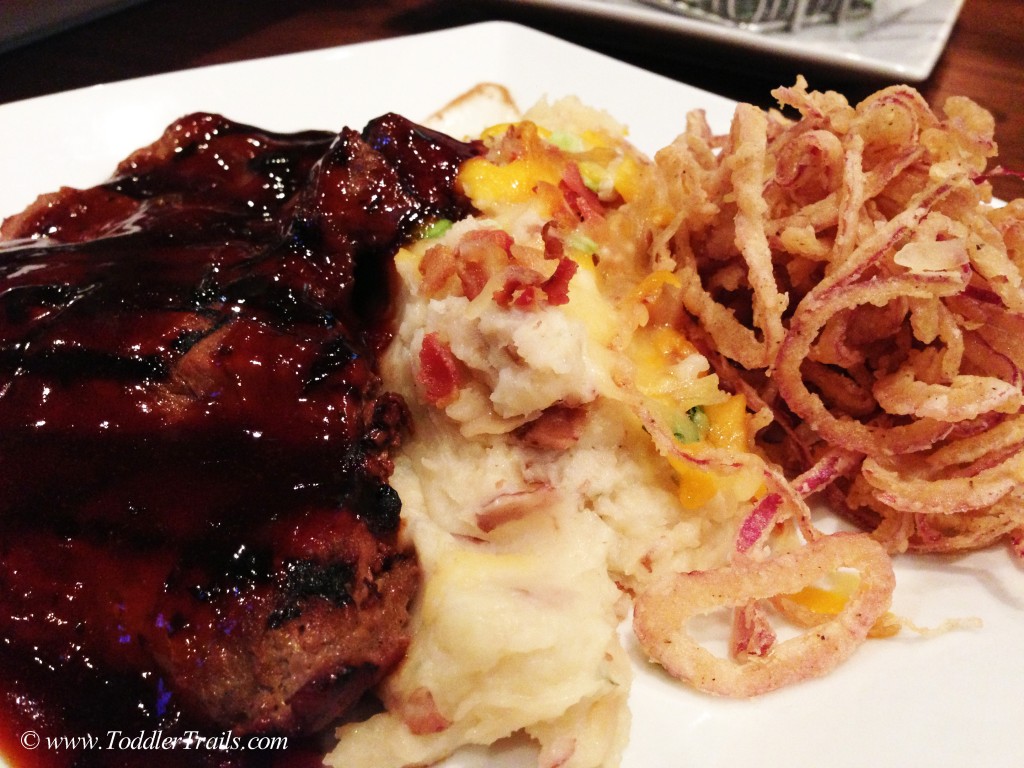 Teriyaki Sirloin Steak: Char-grilled 8 oz. sirloin marinated and glazed with sweet teriyaki sauce served with loaded garlic mashed potatoes and crispy frazzled onions.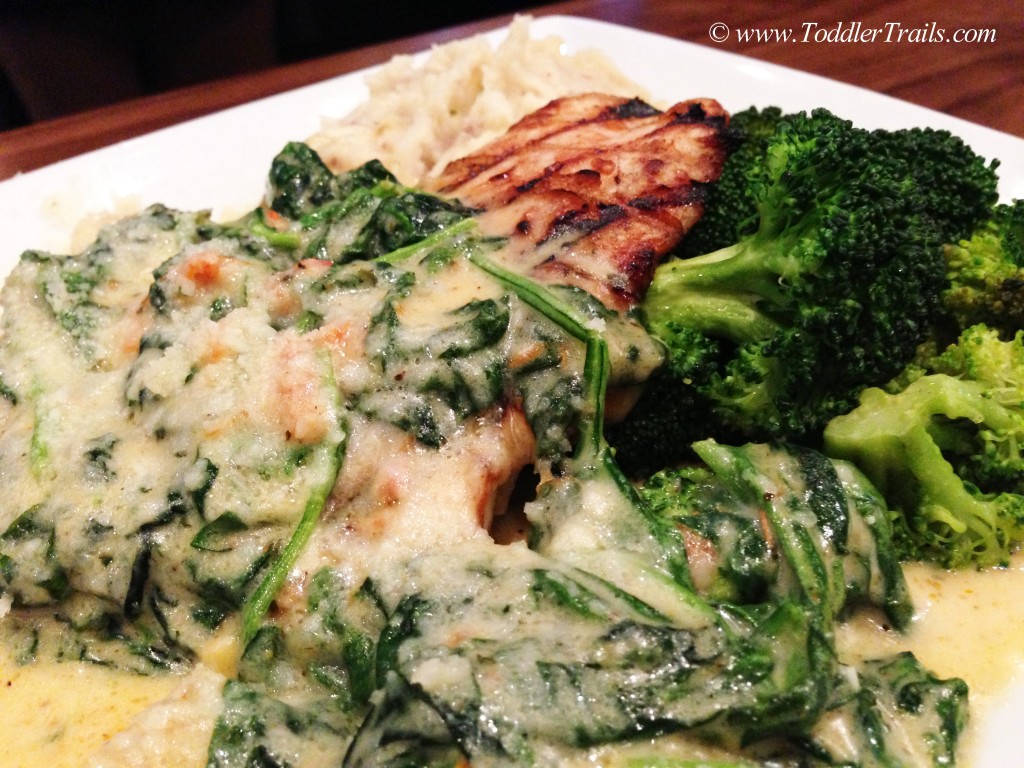 Chicken And Shrimp Rockefeller: Grilled shrimp topped with a creamy spinach sauce, diced roasted tomatoes and sauteed shrimp with mashed potatoes and steamed broccoli.
Mac! & Cheese: Grilled seasoned chicken breast and applewood smoked bacon tossed with cavatappi pasta and creamy aged sharp cheddar cheese sauce, topped with garlic breadcrumb crust.
Potato Chip Crusted Chicken: Tender chicken breasts with a crushed lay's potato chip crust, fried to a golden brown and served with a warm French onion dipping sauce paired with oven roasted vegetables and new potatoes.
 Bistro Steak & Shrimp With Lobster: A 5 oz. sirloin steak on a bed of linguine and topped with shrimp, mushrooms, roasted tomatoes and lobster alfredo sauce.
Bacon-Wrapped Beef Medallions & Grilled Shrimp: Marinated medallions of sirloin steak wrapped in bacon, alongside garlic herb shrimp; char-grilled and served with a medley of oven-roasted vegetables and new potatoes and tomato and basil bruschetta.
The desserts were just as fabulous as the appetizers and main courses.  A crowd favorite:
Bananas Foster Pie: Chilled banana pudding and vanilla sponge cake layered in a cinnamon-graham pastry with rum sauce and warm caramel.
Belgian Chocolate Fondue: Fondue with strawberry and banana chunks, marshmallows, graham crackers, pound cake and brownies with a pot full of warm rich melted semisweet chocolate.
My recommendations?  I am a lover of anything pasta, so my favorites included the Mac! & Cheese and the Bistro Steak & Shrimp With Lobster Alfredo.  What would you select?
 GIVEAWAY
One lucky Toddler Trails fan will win a $25 Gift Card to Dave and Busters to try out their Summer Menu Items.
Valid for US Residents only. All fans have an equal chance to win, however, you must enter to win. Winners will be randomly selected via RaffleCopter and be notified via email. They have 48 hours to respond or a new winner will be randomly selected the same way. Winners can only win once per month. Not liable for unclaimed prizes or fulfillment.
Dave and Busters
The Outlets at Orange
20 City Blvd
Orange, CA
  For more information about Dave And Busters at The Outlets at Orange, check out their
Facebook
and
Twitter
Thank you Jill Parkin (Popsicle Blog), Pattie Cordova (Living Mi Vida Loca) and Dave and Busters at The Outlets at Orange for a wonderful night of food and fun.