Have you seen Cloudy With A Chance Of Meatballs?  Inventor, Flint Lockwood made the craziest invention that turned water into food and rained down on the city of Swallow Falls.  Now, Flint is back in Cloudy With A Chance Of Meatballs 2, now available to bring home on Blu-Ray and DVD.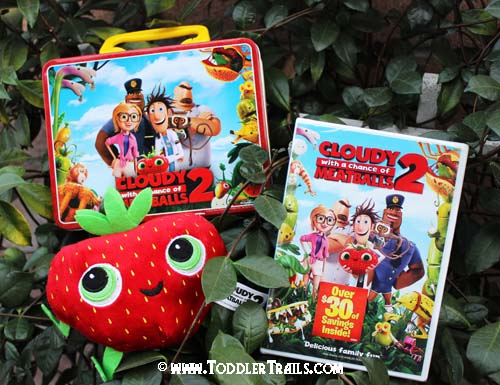 Cloudy With A Chance Of Meatballs 2 continues the story of Flint and his infamous invention; the FLDSMDFR.  Flint's idol, Chester V, invites Flint to join The Live Corp. Company, where the best inventors of the world create new items and technology that benefits humans.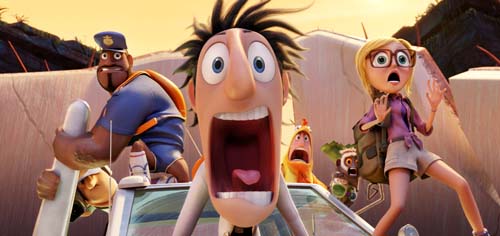 Determined to find the FLDSMDFR, Chester V sends Flint on a secret mission to recover and destroy the machine that is now combining food and animals, creating "Foodimals" that are feared to take over the world.  Flint recruits his girlfriend, father and Steve, the monkey, to join him on his mission.  Along the way, they discover interesting creatures such as:
Fruit Cockatiel (made of several fruits)
Hippotatomus (potato with a hippo-like body)
Shrimpanzee (shrimps with a chimpanzee form)
Cheespider (cheeseburgers in the form of a spider)
Mosquitoast (toasted bread in the form of the mosquitoes)
Bananostrich (bananas with the characteristics of ostriches)
Flamango (mangoes with the characteristics of flamingos)
Watermelophant (watermelons in the form of an elephant)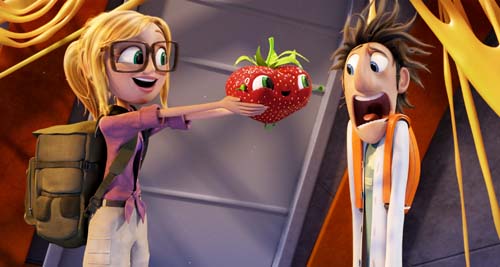 Flint's girlfriend, Sam discovers that the animals are not harmful, in fact, she ends up talking to a cheesepider like it's a puppy and tries to tell Flint, but he is not ready to listen.  Determined to make Chester V proud, he continues the mission.
Once Flint finds the machine, Chester V takes over and claims victory in turning the foodimals into food bars.
Follow Flint, Sam, his father and the foodimals while they expose Chester V and his bad intentions.
Movie Details:
Run Time: 95 minutes Rating: PG Starring:
Bill Hader
Anna Faris
James Caan
Andy Samberg
Neil Patrick Harris
Benjamin Bratt and more
What we thought:
Handsome Boy and I loved this movie. The characters – foodimals were just adorable, especially Berry.  With a rating of PG, there are a few segments in the movie where my 4 year old was a little frightened and came to Mom for some cuddles. 
Cloudy With A Chance Of Meatballs 2 is now available at mass retailers like Target, Walmart and Best Buy and makes an awesome Valentine's gift for someone special.
For more information about the movie, characters, etc, visit:
Sony Pictures Cloudy 2
 Disclaimer: We received a complimentary Cloudy With A Chance Of Meatballs 2 DVD in order to complete this review.  No other compensation was received.  Opinions shared are my own. Thanks to Sony Pictures for our adorable gift pack of Cloudy With A Chance Of Meatballs 2, the Cloudy lunch box and stuffed Berry.