Did you know that the classic movie, Dirty Dancing is now on stage at Segerstrom Hall? I just had to take my mom while she was here visiting earlier this week – especially since it is one of our favorite movies!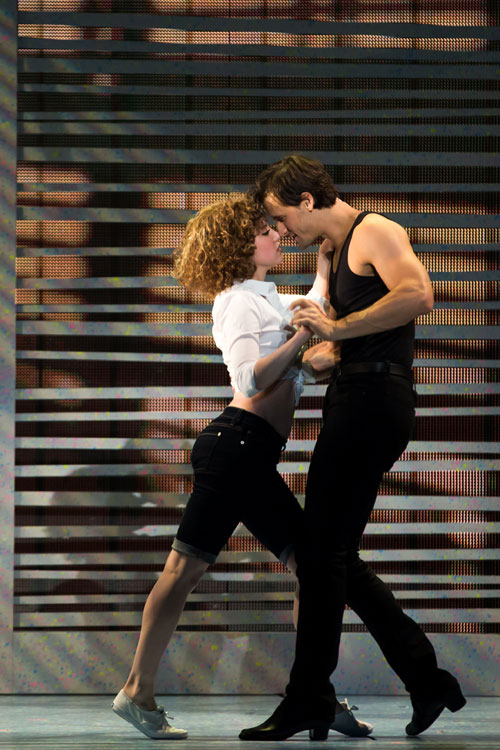 Just like in the movie, Dirty Dancing On Stage starts off in the summer of 1963 when Babe and her family take a vacation to New York's Catskill Mountains with her family. Bored of the regular activities going on at the resort, she wanders into the employees quarters and discovers a whole new world of drama, parties and fun. As she gets to know a few of the employees, she ends up volunteering as Johnny's dance partner for an upcoming show.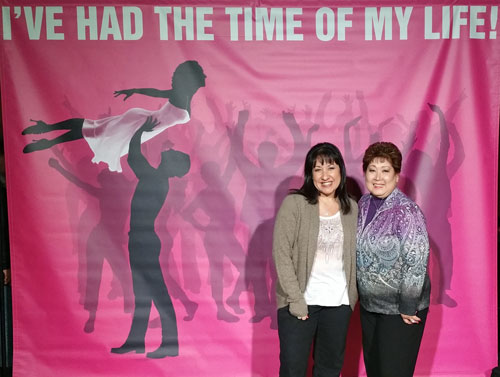 Before the show started we made sure to get a couple of photos to remember our fun "Girls Night". Like all Segerstrom productions, they have special photo opportunities and activities to participate in.
The stage adaptation followed the storyline perfectly. Jillian Mueller played Frances "Baby" Houseman, and looked so much like Jennifer Grey in the movie. I loved seeing her transform from a girl to a beautiful woman with confidence at the end of the performance.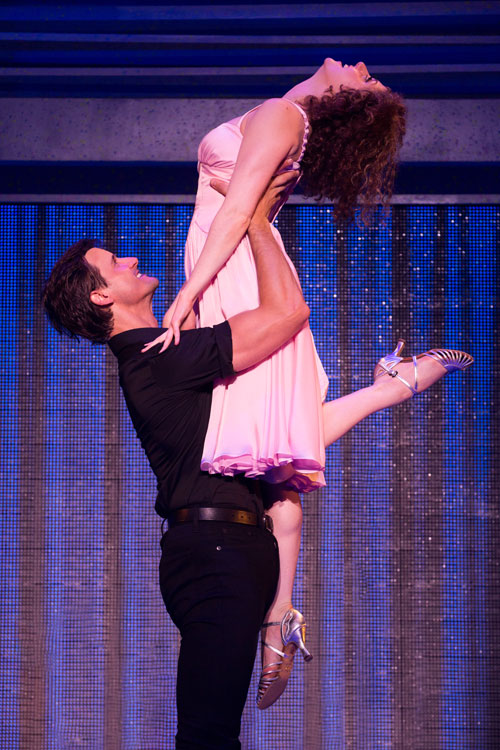 Johnny Castle, played by Samuel Pergande took the stage with the same confidence as Patrick Swayze.
I truly enjoyed Jennlee Shallow, a soloist through the show with an amazing voice who sang This Magic Moment. The show also featured several songs Eleanor Bergstein originally tried to get for the the movie, but was unsuccessful.
"Dirty Dancing is one of our most beloved and timeless properties," said Lionsgate Television Chief Operating Officer Sandra Stern. "Its magic has enchanted audiences on film, television, DVD and digital platforms alike, and it remains a perennial best-seller in our film and television library. We're delighted to participate in the latest stage incarnation that will introduce Dirty Dancing to a whole new generation of fans, and we expect the stage play to prove yet again that nobody puts Baby in a corner."
Tickets to DIRTY DANCING – THE CLASSIC STORY ON STAGE at Segerstrom Center for the Arts are now available. The staged musical of the worldwide smash-hit film will play in Segerstrom Hall now through – 15, 2015. Single tickets
start at $29.
Performance Times:
Tuesday – Friday at 7:30 p.m.
Saturday at 2 and 7:30 p.m.
Sunday at 1 and 6:30 p.m.
Box Office at 600 Town Center Drive in Costa Mesa or by calling (714) 556-2787 SCFTA.org. Group Services office: (714) 755-0236
The 2 p.m. performance on Saturday, February 14 will include audio description, open captioning and sign-language interpretation.