Did you know that month of November is American Diabetes month? The American Diabetes Association is behind the largest national movement to STOP DIABETES, and we need to help raise awareness.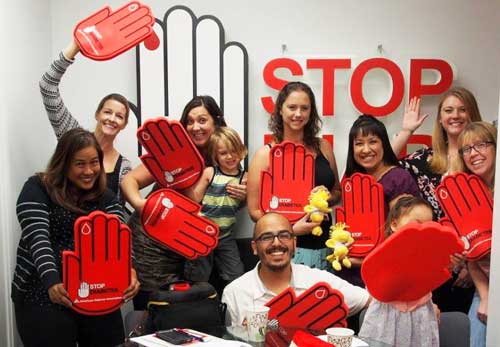 Last week I had the opportunity to meet with Monet at the American Diabetes Association's Orange County office to partner up and help spread awareness. It was amazing to find out that nearly 30 million children and adults in the US have diabetes – and we aren't doing much to encourage our own friends and family members to take a stand and STOP DIABETES.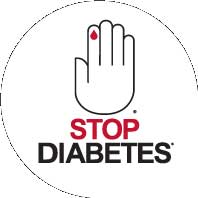 As a child about 8-10 years, I recall my grandfather always pricking his finger. He would show us how he would put a drop of blood on this monitor he had and it would give him a reading. Obviously, I didn't know what he was doing it for, but I knew it was important. He'd take his insulin (again, I didn't understand what that meant, except for the fact it was some sort of medicine), and that was it. People don't like to talk about diabetes, and the restrictions it puts on their diet, life and health. We certainly need to change that stigma.
As Americans, we need to make a change. Recent estimates project that as many as one in three American adults will have diabetes in 2050 unless we take steps to STOP DIABETES. And what about our children? Some of them inherit this disease, in many, it's caused by influences by us – their parents. Type 2 diabetes is preventable if we take a stand.

What can you do to take action against diabetes?
Walk 30 minutes daily
Eat a healthy diet
Educate yourself about nutrition, exercises, healthy cooking techniques and more.
What are the risks?
People with diabetes are twice as likely to be hospitalized for a heart attack or stroke
Diabetes causes nearly 50% of kidney failure
More than half of all amputations in adults is a direct result of diabetes
More than half a million American adults have advance diabetic retinopathy, greatly increasing their risk for severe vision loss
And there are more…
Get on board! Help spread the word and get America moving! The ADA is getting involved in several upcoming events like "Skate 4 Your School." The National Scholastic Skateboard​ing League, Collegiate Skate Tour & ADA Skateboard​ing Event will take place on Saturday, November 15, 2014 at Volcom Headquarters Private Skatepark. (see below).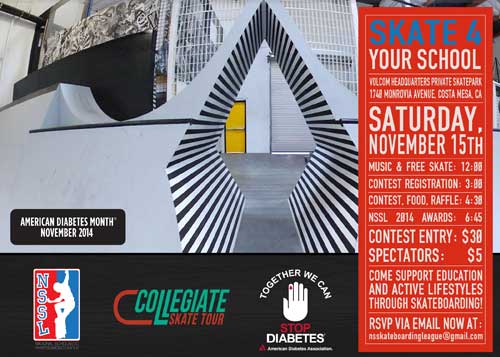 Come on out and support this fun event that encourages exercise through skateboarding. At the event see some amazingly talented high school and college age kids compete. Food trucks will be on hand to feed the crowds.
For more information, visit the Facebook Events Info: Skate 4 Your School.