Boudin Bakery has kicked off their "Spring Fling" by lightening up their menu with (3) three new amazing salads: The Bacon, Blue & Beats Salad; the Mango & Red Quinoa Salad and the Forbidden Rice & Chicken Sesame Salad for a limited time. To top it off the Lemony Couscous has returned because it was one of the most requested and craved menu items.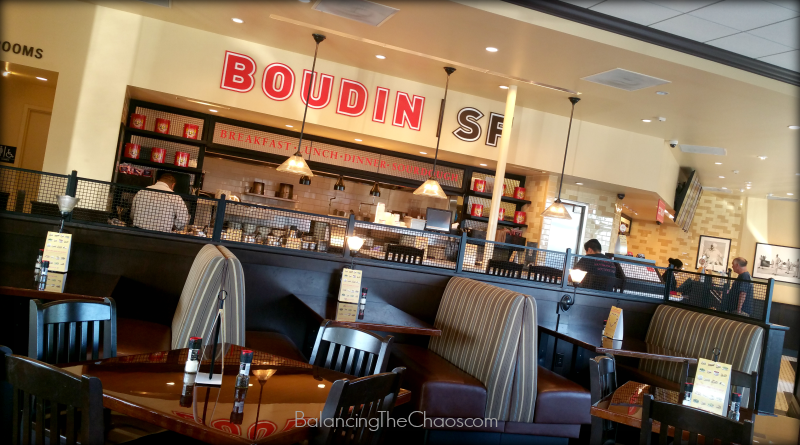 We LOVE Boudin Bakeries, and any chance to talk with Chef Alan Skversky who heads up the creative team that is responsible for the phenomenal flavors at Boudin. Chef Alan shared the creative process with us, starting off with an idea session with his team. They work together to come up with a list of around 12 dishes, and narrow it down to 8 before heading to the kitchen to assemble their vision. The dishes are then presented to the executive team where they discuss ingredients, costs and flavors and they narrow it down to approximately 3 dishes that are tested in stores for about 8 weeks. Check out the amazing options that are now available for a limited time: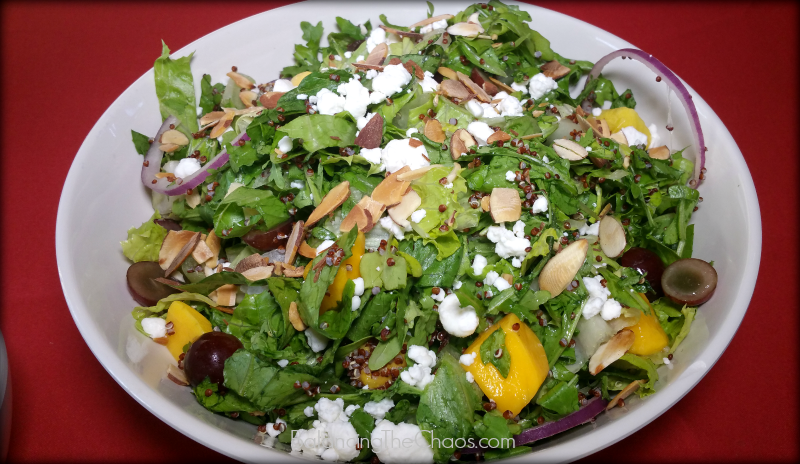 My favorite – the Mango & Red Quinoa Salad is the perfect option for vegetarian eaters. Romaine lettuce, baby arugula, red quinoa, red onion along with chunks of mango and sliced red grapes are topped with goat cheese, almonds and a house made mango citrus vinaigrette. I loved how light and refreshing this salad is, and the fact that it is 287 calories, it is great for anyone counting calories.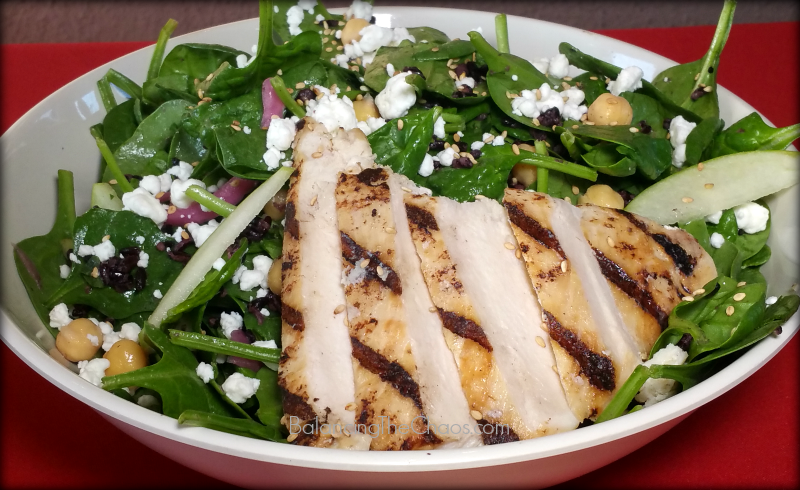 The Forbidden Rice & Chicken Sesame Salad consists of a bowl of baby spinach, black rice, house pickled onions, sliced granny smith apples for their tart/sweetness; garbanzo beans and goat cheese with a house made sesame dressing. Check out the chicken! Chef Alan and his team decided to increase the portion of chicken and show it off in this beautiful presentation.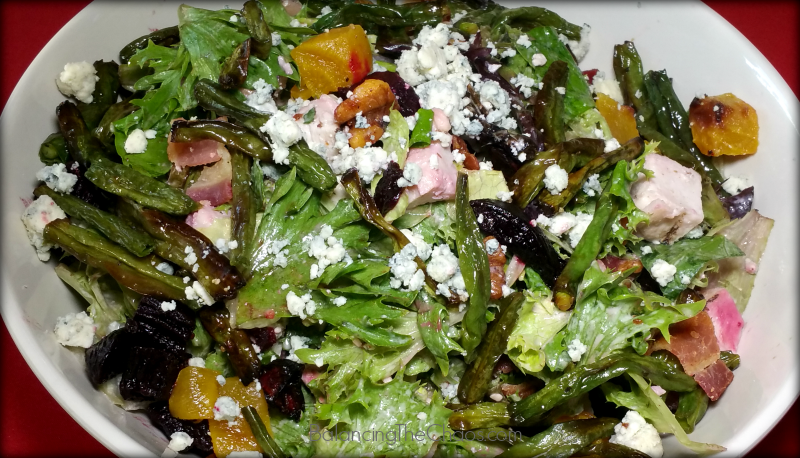 The Bacon, Blue and Beets Salad is currently replacing the original Cobb Salad that has been on the menu (for a limited time). This salad is a colorful spring mix with all natural chicken, red onions, golden and red beets, green beans, Applewood smoked bacon, blue cheese and spiced walnuts topped with ranch dressing. This hearty salad is great for those guests who enjoy blue cheese. For those of us who don't, it's still an exceptional salad full of flavor – just ask to skip the blue cheese. The mix of proteins are sure to fill your cravings.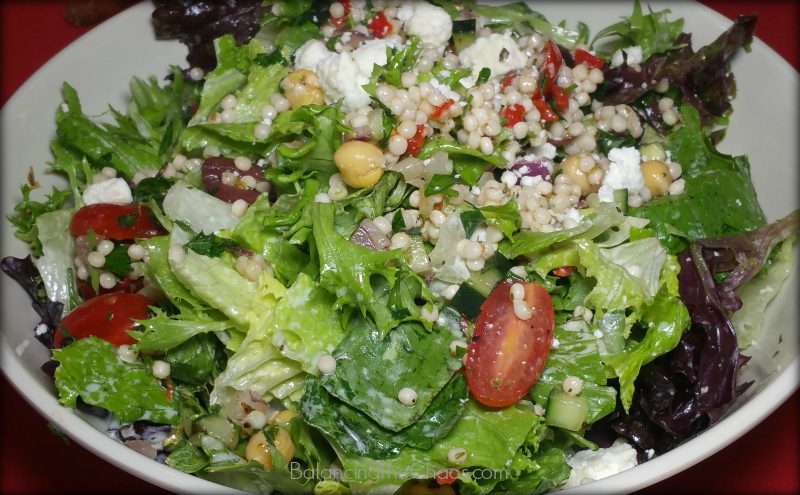 And finally, back by popular demand, the Lemony Couscous is one of the most requested items that was only around for a short time. If you haven't had this salad, you are missing out! It's a spring mix of greens, Israeli Couscous, feta cheese, garbanzo beans, cucumber, grape tomatoes, Kalamata olives, roasted red pepper, red onion, parsley topped with a creamy lemon dressing. Even my daughter LOVED the Couscous mixture on the salad.
If you are a big fan of Couscous, you can also add it as a side to any menu item. It is made in house, steamed and mixed with Kalamata olives, parsley, garbanzo beans, onion, oil, salt and pepper.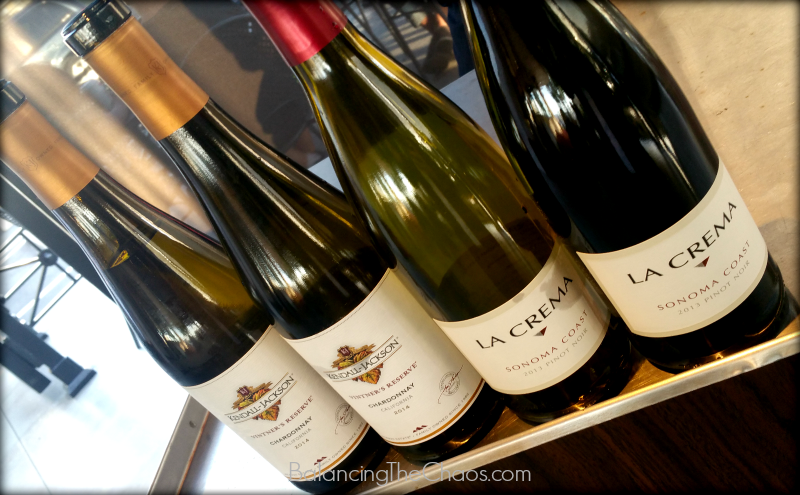 Did you know that Boudin hosts a Happy Hour? From 4:30pm until closing time, guest will get 1/2 off of wine and beer – daily! The best pairings for the Bacon, Blue & Beets Salad AND the Forbidden Rice & Chicken Sesame Salad is the La Crema Pinot Noir. The Mango & Red Quinoa Salad and the Lemony Couscous go perfectly with Kendall Jackson's Vintner's Reserve. Try it for yourself and let me know what you think.
GIVEAWAY
Enter to win a $25 Gift Card to Boudin Bakery
 
a Rafflecopter giveaway

Giveaway ends April 4, 2016 at 11:59 PM PST. Open to US Residents 18 and older only.  Tickets will be mailed directly to the winner's home (or mailing) address.  Winner will be selected at random and be notified by email. Winners have 48 hours to respond before a new winner is selected. Not liable for unclaimed prizes or fulfillment. Blog has represented each sponsor with the expectation they will fulfill their prize and in a timely manner. No purchase necessary to enter or win; however you must enter for a chance to win. Purchase does not increase chance of winning. Chances of winning depend on number of entries. My opinions are my own and were not influenced by any form of compensation.  Facebook, Twitter or any other social media platform are in no way associated with this giveaway.  By providing your information in this form, you are providing your information to this blog.  I do not share or sell information and will use any information only for the purpose of contacting the winner. Winners can only win once per month. Not liable for unclaimed prizes or fulfillment.