Affiliate: The best first impression is an amazing smile. Smile Brilliant, known as one of the most honest and reputable teeth whitening company on the market, is focusing on becoming an overall oral care solutions. They have just introduced the cariPRO™ Ultrasonic electric tooth brush that has many of the same features of models on the market, and more.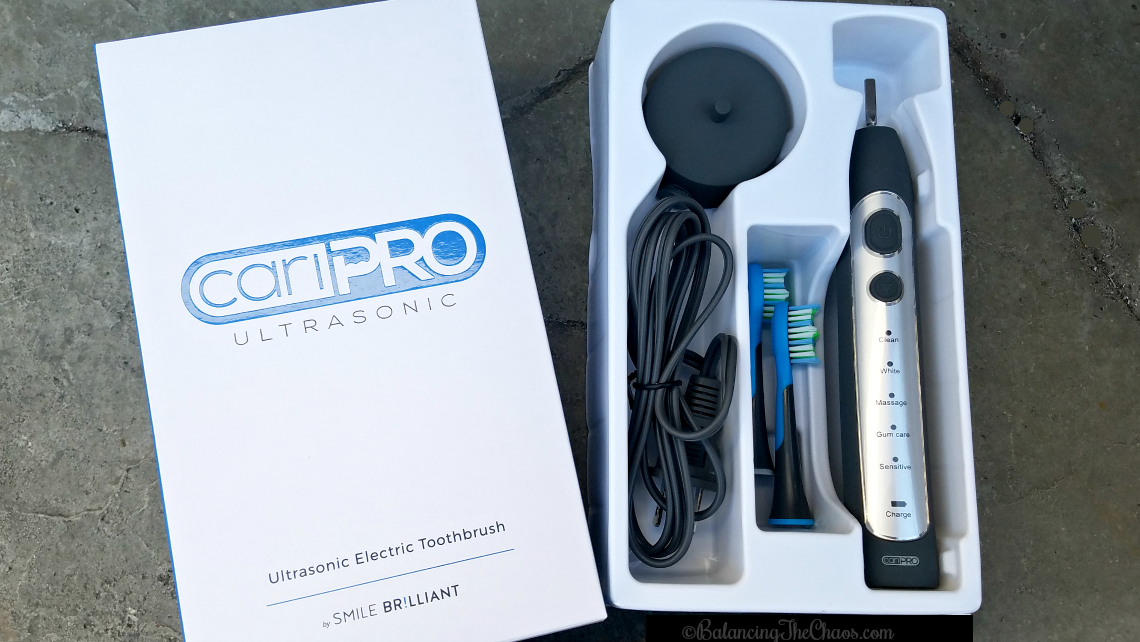 Oral care is so important, and many of the foods we eat and beverages we drink are so hard on our teeth. In recent years, I have noticed the effects of coffee and soda on my enamel. A little over a month ago, I had my teeth whitened, however daily maintenance is key. While it is difficult to give up my beloved coffee, I'm not in the financial position to continue to pay for whitening sessions.
I was excited about the opportunity to sample the cariPRO™ Ultrasonic by Smile Brilliant. The cariPRO™: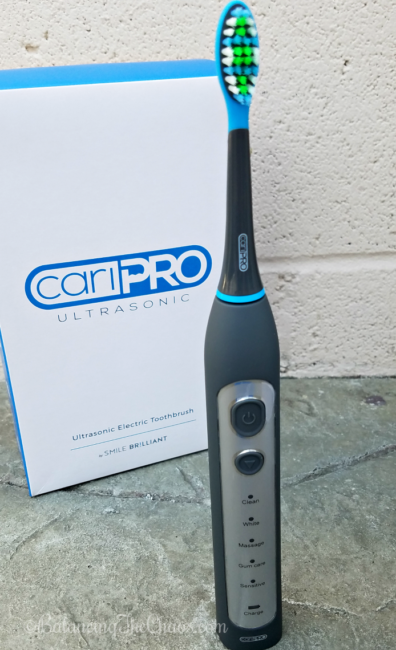 Removes 7 times more plaque and improves gum health in less than 2 weeks
You will have noticeably whiter teeth in less than a single week
Save time and money, reduce costly dental bills and experience the cariPRO™ Difference
Awesome claims, I decided to put the cariPRO™ Ultrasonic to the test. So far, I really like it, and here are the details why I will continue using it:
The design of the tooth brush attachment. Older models of electric tooth brushes that I have used have round heads. The cariPRO™ is a normal toothbrush head where the edge bristles are longer than the inner bristles. For me, this makes it easier to get into tighter spaces and gaps.
It comes with 2 Premium Brush Heads with Tongue Scraper
There are so many different 5 brush modes (clean, white, massage, gum care, sensitive). I am always too rough on my gums, so the sensitive setting is perfect for me.
I don't need to charge it every day. The battery has a 30 day battery life (on full charge).
It has a waterproof design, so I can use it in the shower if I want – which I don't.
I like the look and feel of it. It has a matte gray graphite color with soft-touch grip finish. A quick rinse after use and I just set it on the counter to air dry.
After the first use, I really liked the feel of my teeth. They felt super clean and honestly, I have notice a difference in the color. They're brighter!
Try Smile Brilliant's cariPRO™ for yourself.  Smile Brilliant is committed to providing professional care oral products at a price everyone can afford. The cariPRO™ Ultrasonic is backed with a 2 year manufacturers warranty. Get more information and order here: Smile Brilliant Electric Tooth Brush. Enter your contact information here receive a 30% OFF COUPON CODE: https://www.smilebrilliant.com/gb/balancingthechaos.