Earlier this week I saw the great, classic musical comedy 42nd Street at Segerstrom Center for the Arts in Costa Mesa! This lighthearted, tap-dance based show has a fun and interesting plot, where the show is actually about putting on a show, and rehearsing the song and dance numbers.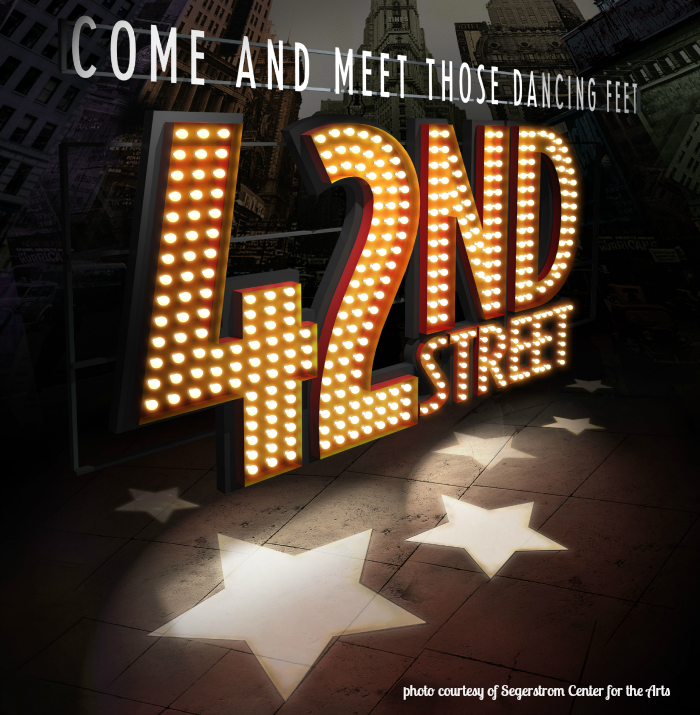 Based on a novel by Bradford Ropes and Busby Berkeley's 1933 movie, the show tells the story of a starry-eyed young dancer named Peggy Sawyer who leaves her Allentown home and comes to New York to audition for the new Broadway musical Pretty Lady. When the leading lady breaks her ankle, Peggy takes over and becomes a star.
The original production of 42nd STREET hit Broadway in 1980 and played for 3,486 performances, winning the 1981 Tony Awards® for Best Musical and Best Choreography. The Broadway revival, which opened in 2001, played for 1,524 performances and earned two Tony Awards® including Best Revival of a Musical.
The show opens with an eye-catching tap number. The different colored tap shoes really pop, and the dancers' synchronization is impeccable.
Another wonderful tap dance number was a group number when several of the main girls take a rehearsal break and head to a café for lunch. The girls perform such impressive individual solos and then they all are a part of smaller dances together, at the lead of Andy Lee, played by Lamont Brown.
My favorite piece of this show was the "Shadow Waltz," danced by Dorothy Brock, played by Kaitlin Lawrence. This dance was so clever, having spotlights cast two large shadows of the dancer, with another spotlight behind a white curtain, highlighting the shadows of other dancers. As the dancers behind the curtain would approach the curtain and spotlight, their shadows would grow from small to large. It was such a great concept!
My favorite song of this show, and one of the most well-known of the musical is We're in the Money, a great, catchy tune!
The character of Maggie Jones, played in this Broadway tour by Britte Steele, had to be my favorite performer. Her energetic and boisterous stage presence commanded attention, and throughout the show she showed so much charisma.
Overall, this is such a classic and fun musical to see, with several well-known songs, and a fun plot. My sister and I had a great evening seeing this show at Segerstrom.
Waiting for the show to begin!
Before the show, or during intermission, be sure to check out the Photo Opportunity set up they have in the upstairs lobby where you can have your picture taken on your own red carpet!
Tap enthusiasts unite!
"Come and meet our dancing feet"! The show presents guest tap artists Leah Silva and Ashley Rentfro for an interactive TAP DEMO on Orchestra Level. The guest tappers will be doing demonstrations for the Thursday – Sunday performances beginning one hour prior to showtime throughout the run of the show. Though not necessary to participate, feel free to BYOTS! (Bring Your Own Tap Shoes)
This year also marks the 30th season of shows at Segerstrom Center for the Arts, and they have a couple great booths set up detailing the shows across the years. The "30 Years of You" project allows you to participate, and submit your photos of your visits to Segerstrom Center over the years, via the hashtag: #IAmTheCenter to be a part of their year-long photo project. Such a cool idea!
42nd STREET

Segerstrom Center for the Arts –
Segerstrom Hall
November 10 – 22, 2015
Tuesday – Friday at 7:30 p.m.
Saturday at 2 and 7:30 p.m.
Sunday at 1 and 6:30 p.m.
The 2 p.m. performance on Saturday, November 21, 2015 will include audio description, open captioning and sign-language interpretation.
600 Town Center Drive, Costa Mesa, CA
www.scfta.org
Tickets – Start at $25
In person – The Box Office
600 Town Center Drive Costa Mesa, CA 92626
Open 10 a.m. – 6 p.m. daily
Online – SCFTA.org Phone – (714) 556-2787
Segerstrom Center for the Arts
is an acclaimed arts institution and as well as a beautiful multidisciplinary cultural campus. It is committed to supporting artistic excellence on all of its stages, offering unsurpassed experiences, and to engaging the entire community in new and exciting ways through the unique power of live performance and a diverse array of inspiring programs.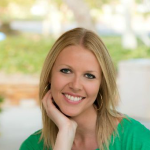 Contributor: Amy Walton
Amy has lived in Orange County for over 12 years and loves to blog about new recipes, craft projects, and random musings over at SoTherebyAmy.com. "Be yourself; everyone else is taken"