Recently my mom moved to Las Vegas from here in Southern California.  I thought she was a bit crazy for moving away from this beautiful California weather, and her absolutely adorable grandkids, but since we travel to Vegas a couple of times of the year, maybe it won't be so bad.   The nice thing, my mom and stepdad are discovering some really great places to visit in Las Vegas, especially fun places to take the grandkids, like Waffles Cafe.
WaffleS Cafe
6446 N. Durango Dr.
Las Vegas, NV  89149
So My Mom and Step-dad discovered WaffleS Cafe, located in a little strip mall.  What they loved about it, was that the owners are brothers and have created delicious breakfast, lunch and dessert treats with waffles.
Check out their menu!  You can literally create your own waffle!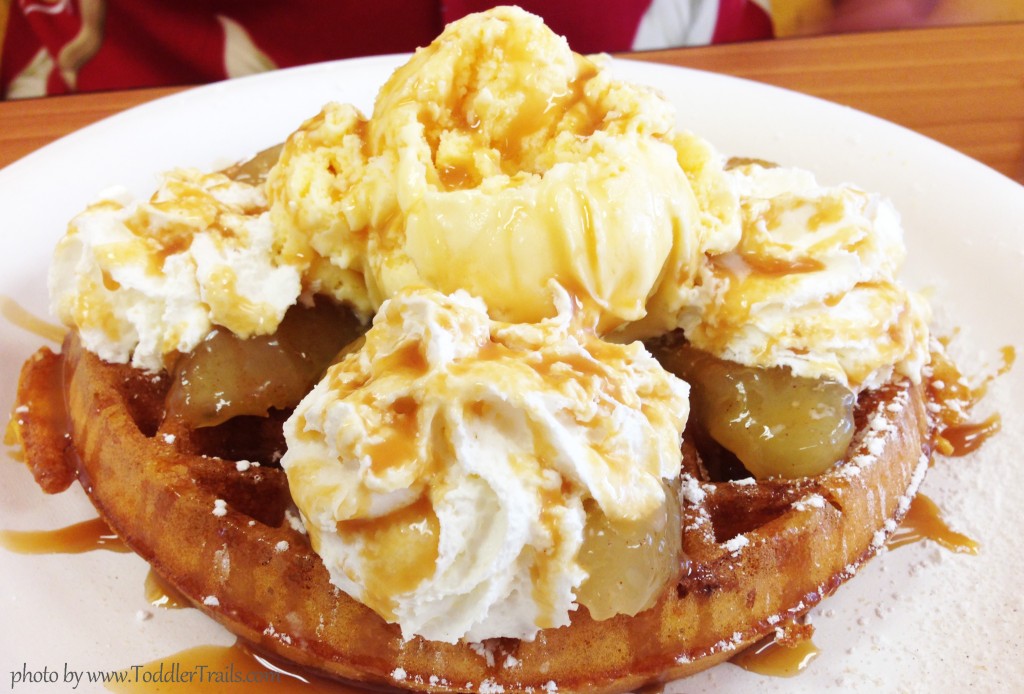 This is my Step Dad's favorite, the Sweet P. Have it for breakfast OR dessert, the Sweet P The Sweet P at WaffleS Cafe is a pumpkin waffle, vanilla ice cream, cinnamon apples, whipped cream and caramel sauce.
Handsome boy wanted this super fun chocolate waffle with marshmallows, whipped cream, sprinkles and powdered sugar.  Yeah, not necessarily a Mom favorite, but since we were with the grandparents – they wanted to load the up with sugar.
The hubster, not a huge breakfast fan ordered a Chicken Sandwich Waffle with tomato, guacamole and lettuce on a waffle with potato chips.  The special mayo mix that was in the sandwich made it definite favorite.
My daughter, Mom and I ordered a typical breakfast of eggs, bacon and a waffle, which we didn't even finish because it was a lot of food.
So, if you are in the area, and are looking for a great breakfast, lunch or quick snack, stop by WaffleS Cafe and tell the boys we said hi!
For more information, you can visit their Facebook and Google+ pages.