I participated in an Influencer Activation on behalf of Influence Central for the TB Blood Test. I received a promotional item to thank me for my participation.
Now that the school year is underway, as a classroom volunteer, I was given a "Volunteer Registration Form" and a new "Certificate of Completion of the Adult Tuberculosis Risk Assessment Questionnaire". I was told by our school principal that our school district now requires regular classroom volunteers to complete the TB Risk Assessment Questionnaire with their health care provider in order to help out in the classroom. And, since I took the CBest Exam over the weekend with the hopes of becoming a substitute teacher, I figured it is time to get my TB Skin Testing completed.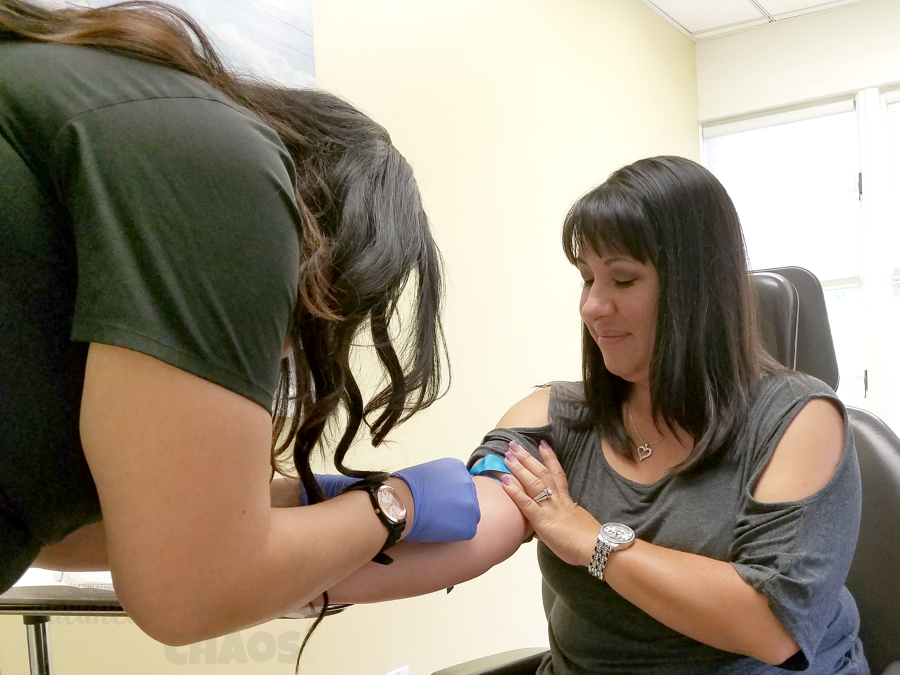 Last week I went to my general practitioner to get my TB Skin Test completed. Unfortunately, the doctor wasn't in, so I was scheduled to see the nurse. She seemed to be in training as all the questions I had – she had to refer to someone else outside my particular room. Once I answered her questions and was administered the skin test via needle, I was asked to schedule another appointment to have the test read two days after being pricked.
I was told not to cover the Tuberculin injection site, not to wash it, itch it, or touch it. Staying away from the injection site helps to ensure a more accurate reading. I recall my daughter having the skin test a few years ago and she literally freaked out! It took 3 of us to hold her down just to administer the Tuberculin, and she was so obsessed with the injection site, I thought for sure she was going to do exactly the opposite things the nurse told her.
Now there is a new TB Blood Test that can help diagnose tuberculosis (TB) infection and is a major scientific advance over the skin test that has been given for over 100+ years. The TB blood test is the only available method of testing for TB that is more accurate with reliable results. Other tests, such as the skin test, are subjective and open to visual interpretation and require 2 office visits, which is quite time-consuming.
Upon the second visit to the nurse practitioner, I asked her a few more questions regarding how to tell if I had TB and what she was looking for, etc. Apparently, if you are infected with TB, a raised lump will develop at the injection site where the tuberculin was injected. Thankfully I was clear, but do you know how many times I looked at the injection site during the two days to see if I could see anything? A simple blood test would have completely eliminated that obsession.
By using the TB blood test you get:
The most accurate test for TB infection –-no cross-reaction with a previous TB vaccination
Only a 3ml draw of fresh blood – irrespective/regardless of patient age/immune status
The convenience for you and your patient of just 1 visit
If I did have TB, I was told there are effective drugs that I could take to kill the inactive bacteria before they become active and the TB infection turns into a full-blown disease. So glad I'm clear – now to await the CBest Test results.