The 58th year, the Annual Garden Grove Strawberry Festival is already underway, raising funds for the community.  This annual event has brought in over $6 million for local charities since it began in 1958. This year's theme is Celebrating 58 Years of Helping Local Kids as the event will contribute funds to youth-oriented charities .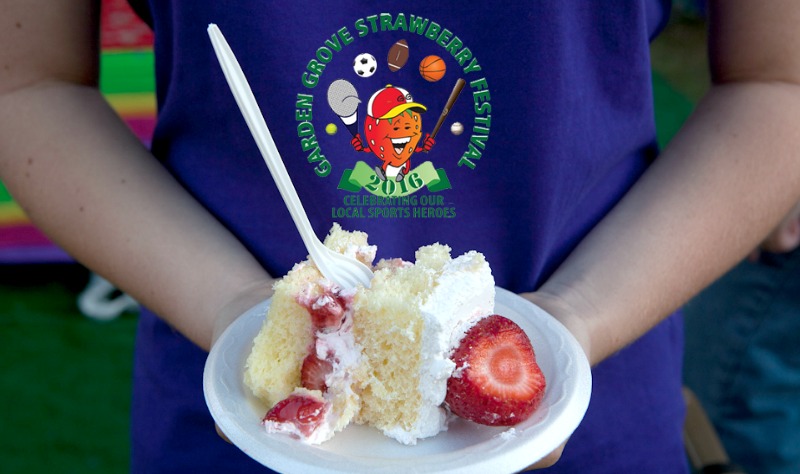 Garden Grove Strawberry Festival
Memorial Day Weekend:
Friday May 27th through Monday May 30th 2016
Friday 1:00pm – 10:00pm
Saturday and Sunday 10:00am – 10:00pm
Monday 10:00am – 9:00pm
Admission: FREE
Rides: All Day Ride Wristbands $35 ($30Fri)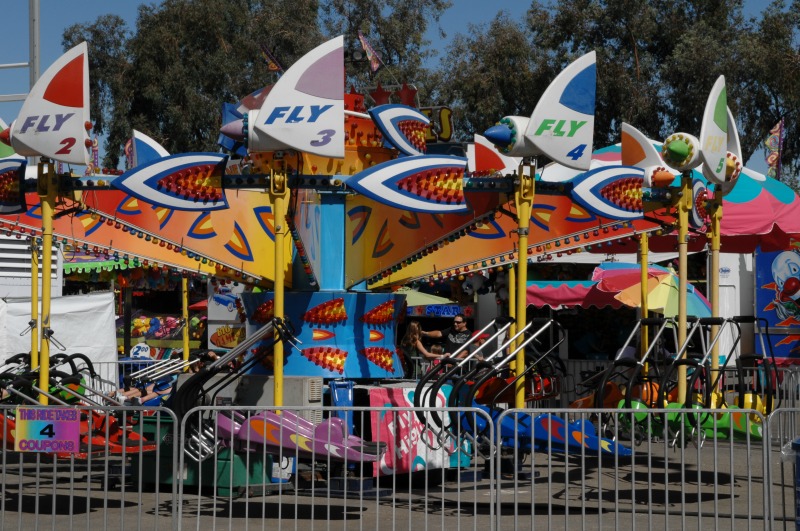 Schedule of Events:
Friday, May 27th
4 pm – Tiny Tots King & Queen Contest  3 to 6 year olds  (sign-up: 3:00 pm – 3:55 pm)  Amphitheater (12852 Main Street)
6 pm – Welcome & Strawberry Cake Cutting Ceremony  Showmobile  (Main and Acacia)
Free strawberry shortcake served to all who attend.
Saturday, May 28th
8 A.M. – Strawberry Stomp 5K Run Historic Main Street to GG Community Center
7 A.M. – VIP Breakfast Garden Grove Community Center – 11300 Stanford Avenue (Stanford and Euclid)
10 A.M. – Parade  Starts at 9th and Chapman Streets –  Bands, floats, equestrians, clowns, Snoopy, TV and film celebrities and more.
12:30 P.M. (time approximate) – Celebrity autograph signing  Booth near the Courtyard Center (Main and Acacia)
1 P.M. to 4 P.M. = Abrakadabra Band  Showmobile (Main and Acacia)
5 P.M. to 8 P.M. – Third Degree Blues Band  Showmobile (Main and Acacia)
7:00 P.M. – Strawberry Idol Karaoke Contest (16 years and older)  Amphitheater (12852 Main Street)
Contestants pick songs 6pm to 6:45pm   Drawing for 25 contestants at 7 pm
NOTE: Last year's winners are NOT eligible to compete this year.
Sunday, May 29th
11 A.M. – Berry Berry Beautiful Baby Contest  3 months to under 3 years  Sign-up: 10am to 10:55am  Amphitheater (12852 Main Street
1 P.M. to 4 P.M. – Full Spectrum Band  Showmobile (Main and Acacia
2 P.M. – Quest Dance Studio  Amphitheater (12852 Main Street)
5 P.M. to 8 P.M. – Tina Hoffman Music  Showmobile (Main and Acacia)
7 P.M. – Miss Garden Grove and Friends  Amphitheater (12852 Main Street)
Monday, May 30th
11 A.M. – Redhead Roundup Contest  Sign-up 10am to 10:55am  Amphitheater (12852 Main Street)
12 P.M. to 3 P.M. – In Contempt Band  Showmobile (Main and Acacia
3 P.M. – The Colony of Performing Arts  Amphitheater (12852 Main Street)
4 P.M. to 7 P.M. – Wumbloozo  Showmobile (Main and Acacia)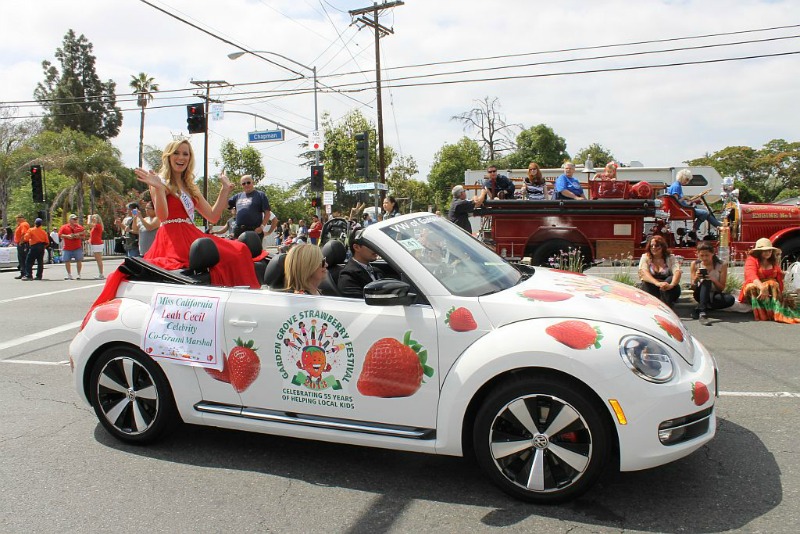 For more information, you can call (714) 638-0981 or visit www.strawberryfestival.org
All photos are © Garden Grove Strawberry Festival