Ringling Brothers Circus is coming to Southern California with an all new exhilarating acts, extraordinary circus artists and exotic animals.to amaze children of all ages this summer.
Be prepared to be mesmerized by some of the coolest acts ever with Ringling Bros. and Barnum & Bailey® Presents Circus XTREME playing at Staples Center, Los Angeles, Citizens Business Bank Arena, Ontario; and Honda Center, Anaheim.
Explore a world of beauty, flexibility, strength and dexterity in ways you've never seen before at The Greatest Show On Earth®. Ringling Bros. and Barnum & Bailey Presents Circus XTREME.
Over 100 performers spanning 13 countries around the world will be featured in highlighted acts such as:
BMX freestyle riders will show off their trampoline acrobats and slack-line gymnastics tricks through Xtreme Sports.
See a one of a kind, caravan of twin humped Bactrian camels.
An aerial acro-ballet by bungee skydivers
The world's youngest human cannonball
See the Mongolian Marvels create a human pyramid with a combined weight of over 880 pounds
And many more amazing stunts and animal performers.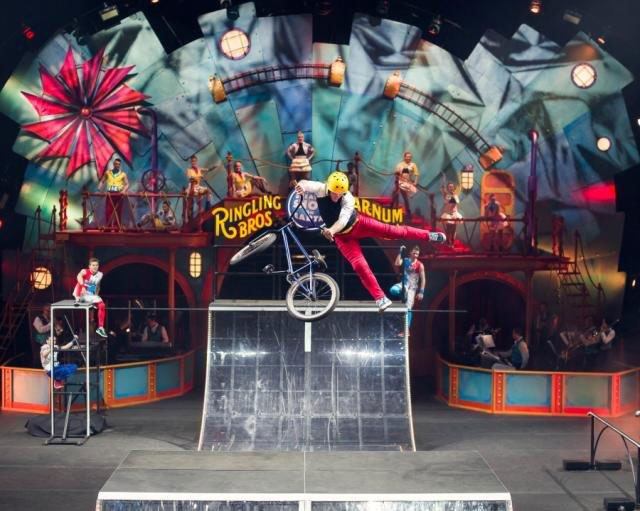 Mark your calendar and get your tickets now! You'll want to be sure to arrive early to experience fun filled interactive pre show events like the Animal Open House, meeting the performers, learn circus skills, try on costumes and much more.
TICKETS ARE NOW ON SALE AT THE FOLLOWING VENUES:
LOS ANGELES: Staples Center – 1111 South Figueroa Street, Los Angeles
Thursday, July 9 – Tuesday, July 14
Friday, July 10 12:00 PM & 7:30 PM
Saturday, July 11 11:30 AM, 3:30 PM & 7:30 PM
Sunday, July 12 11:30 AM, 3:30 PM & 7:30 PM
Tuesday, July 14 12:00 PM & 7:30 PM
**All shows include the All Access Pre-Show
TICKETS:Prices range from $25, $30, $45–$50 (VIP), $100–$110 (Front Row)* Opening Night tickets are only $15 each (not valid for VIP/Front Row seating)  *Prices vary between weekday & weekend performances Tickets available for purchase online at AXS.com, charge by phone at 888-9AXS-TIX or in-person at the venue Box Office. *tickets may be subject to service charges, facility and handling fees
ONTARIO: Citizens Business Bank Arena – 4000 Ontario Center Parkway, Ontario, CA 91764
Friday, July 17 – Tuesday, July 21
Saturday, July 18 11:30 AM, 3:30 PM & 7:30 PM
Sunday, July 19 11:30 AM & 3:30 PM
Tuesday, July 21 12:00 PM & 7:30 PM
**All Ontario shows include both the Animal Open House and All Access Pre-Show
TICKETS: Prices range from $22, $27, $38–$42 (VIP)*, $70 (Front Row)
Opening Night tickets are only $15 each (not valid for VIP/Front Row seating) *Prices vary between weekday & weekend performances Tickets available for purchase online at AXS.com or CBBankArena.com, charge by phone at 888-9AXS-TIX or in-person at the venue Box Office. *tickets may be subject to service charges, facility and handling fees
ANAHEIM: Honda Center – 2695 E. Katella Avenue, Anaheim, CA 92806
Friday, July 24 – Sunday, August 2
Saturday, July 25 11:30 AM, 3:30 PM & 7:30 PM
Sunday, July 26 1:30 PM & 5:30 PM
Wednesday, July 29 1:00 PM & 7:30 PM
Thursday, July 30 10:30 AM & 7:30 PM
Friday, July 31 1:00 PM & 7:30 PM
Saturday, Aug. 1 11:30 AM, 3:30 PM & 7:30 PM
Sunday, Aug. 2 11:30 AM, 3:30 PM & 7:30 PM
**All Anaheim shows include both the Animal Open House and All Access Pre-Show
TICKETS: Prices range from $20, $25, $30, $42 (VIP), $70–$80 (Front Row)* Opening Night tickets are only $15 each (not valid for VIP/Front Row seating) *Prices vary between weekday & weekend performances Tickets available for purchase online at Ticketmaster.com, charge by phone at 800-745-3000 or in-person at the venue Box Office. *tickets may be subject to service charges, facility and handling fees