Lately, the night time routine has become sort of a chore. My kids are trying to convince me that they are so tired by the end of the day, that they are too exhausted to take a bath or brush their teeth. At least when it comes to the bath, they quickly change their minds when they remember their water toys.  Now, I finally have a tool that entices them to brush their teeth regularly – the Ready Go Brush by Firefly.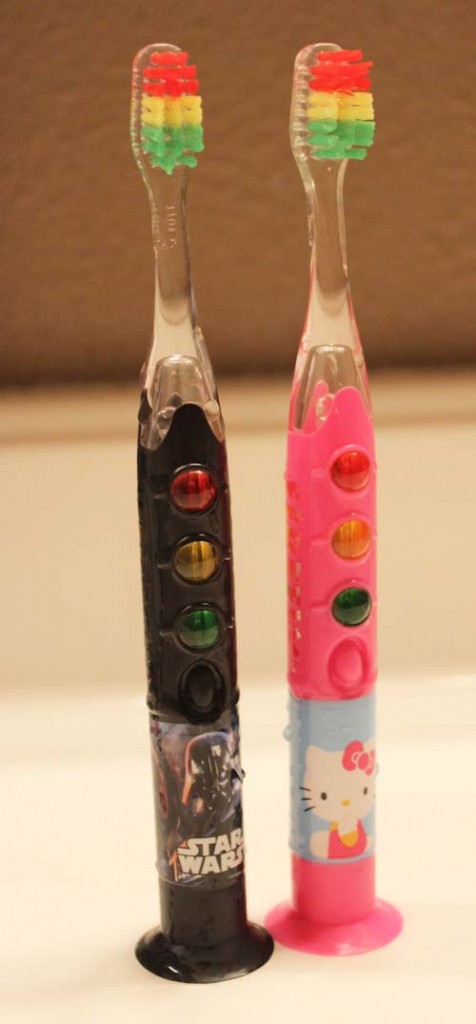 I am quite thankful that Firefly has come up with a fun way to get the kiddos to WANT to brush their teeth. 
We were lucky enough to receive samples of the Firefly Hello Kitty and Star Wars Ready Go Brushes as well as the Hello Kitty Anti Cavity Mouth Rinse to review, and the kids were jumping for joy.
Easy to use, the Ready Go Brushes are set up like traffic lights. Once the child pushes the lowest button, the green light flashes to let them know it's time to start brushing. The yellow light signifies that they need to keep brushing while the red light lets them know they can stop brushing the first row of teeth. Next, they move onto the next row of teeth and start the process all over again since it is recommended to brush each row 60 seconds.
Once brushing is complete, kids can easily rinse the brush off and "stick" it to the counter to keep it upright so the bristles remain clean, dry and out of contact with moisture and germs on the sink.
The Ready Go Brushes are ADA approved and $3.49 at major retailers – certainly a great tool in teaching the kiddos how to brush properly with a little character fun mixed in.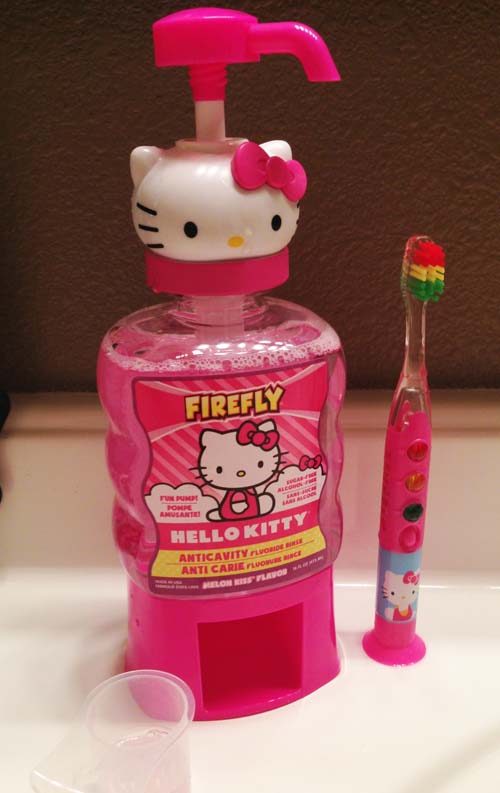 The Hello Kitty Anticavity Mouth Rinse was something we all had to try because of the "melon kiss" flavor.  The kids were ready to drink it if I let them. This sugar-free, alcohol-free formula mouth rinse is safe for kids and contains fluoride to fight cavities and strengthen tooth enamel. The mouth rinse is recommended for ages 6 and up with adult supervision and is available at local retailers for $3.99.
Teaching our kids the importance of oral care is made a little easier with these fun Firefly products. I'm sure that we'll have to continue to replace them regularly with Firefly's new characters as they come out because my kiddos just love them!
Disclaimer: Sample products were received in order to share honest opinions with our readers. However no other form of compensation was received.