Have you been to Universal Studios Hollywood recently? You may have noticed a little construction going on. That is because, Universal Studios Hollywood's all-new attraction DreamWorks Theatre featuring "Kung Fu Panda: The Emperor's Quest" is officially set to open on June 15! This new experience will immerse families in a thrilling journey using the first-ever integration of interior projection mapping and the never-before-adapted technique will captivate guests as they embark on the exciting adventure created and produced by DreamWorks Animation and Universal Creative.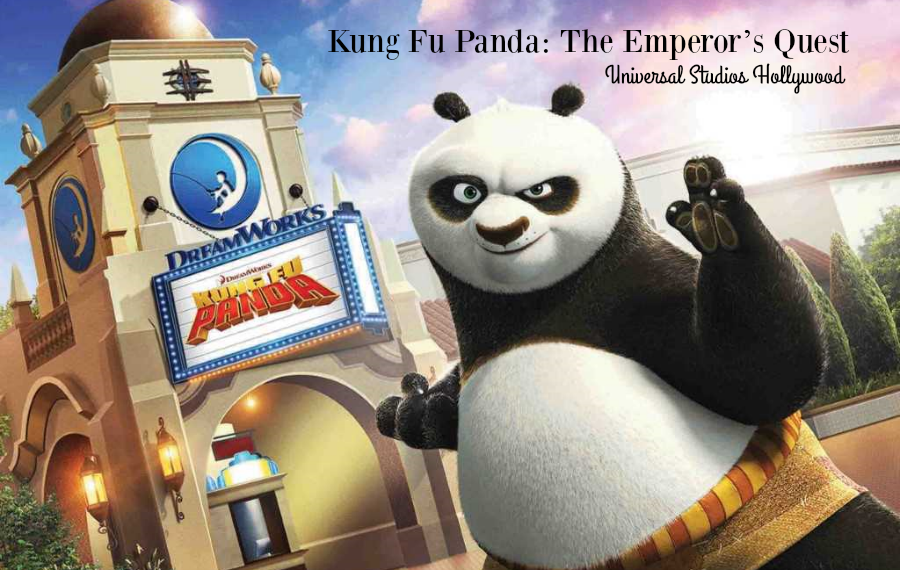 Universal Studios Hollywood channels its inner Master Shifu from DreamWorks Animations hit film, Kung Fu Panda, with today's gift announcing Friday, June 15 as the official grand opening date of its all-new DreamWorks Theatre featuring the premier attraction, "Kung Fu Panda: The Emperor's Quest."
Guests will go on a highly engaging journey. On the morning of The Emperor's Great Feast of Heroes, dragon warrior Po embarks on a wild and perilous mission to deliver the rare and precious Liquid of Limitless Power to the Palace, while enlisting guests to join him on the exciting adventure filled with raging rapids, river pirates, awesome magic and Kung Fu.
With cutting-edge technology at the forefront of the multi-sensory attraction, "Kung Fu Panda:  The Emperor's Quest" will introduce the first-ever integration of interior projection mapping designed to engulf guests in 180 degrees of immersive adventure.  Developed by the innovative team at Universal Creative, this never-before-adapted technique will depict a series of immersive and visually dynamic scenic designs that will transform within the interior space and enhance the story. With detailing that is so precise, it will be near impossible to realize the projected imagery is a mere illusion.
Coupled with seven Christie 4K Boxer Cinema Projectors and 360 degree surround sound audio, sweeping physical effects from water to wind will empower guests to feel more like participants than spectators in the adrenaline-spiked adventure.
Featuring an original score by composer Germaine Franco, the storyline begins as guests enter the pre-show area of the theatre where they meet an array of DreamWorks characters who kick-off the attraction's narrative. From there, guests will enter the main theatre, complete with new ultra-plush, fully articulated seats that pivot and swivel in tandem with the 180-degree action.
Universal Studios Hollywood is a great way to kick off the summer! Advanced tickets and more information are available at www.UniversalStudiosHollywood.com. One day tickets start off at $99, which includes Southern California discounts. Stay in the loop with what is going on at Universal by connecting via Facebook and follow @UniStudios on Instagram and Twitter.
Universal Studios Hollywood is The Entertainment Capital of L.A. and includes a full-day, movie-based theme park and Studio Tour. As a leading global entertainment destination, Universal Studios Hollywood delivers highly themed immersive lands that translate to real-life interpretations of iconic movie and television shows. Recent additions include "The Wizarding World of Harry Potter™" which features a bustling Hogsmeade village and such critically-acclaimed rides as "Harry Potter and the Forbidden Journey" and "Flight of the Hippogriff™".  Other immersive lands include "Despicable Me Minion Mayhem" and "Super Silly Fun Land" as well as "Springfield," hometown of America's favorite TV family, located adjacent to the award-winning "The Simpsons Ride™." and the "The Walking Dead" daytime attraction.  The world-renowned Studio Tour is Universal Studios Hollywood's signature attraction, inviting guests behind-the-scenes of the world's biggest and busiest movie and television production studio where they can also experience such authentic thrill rides as "Fast & Furious—Supercharged."  Coming in Summer 2018, Universal Studios Hollywood will welcome debut The DreamWorks Theatre featuring the premier attraction, "Kung Fu Panda: The Emperor's Quest."  The adjacent Universal CityWalk entertainment, shopping and dining complex also includes the all-new multi-million dollar, redesigned Universal CityWalk Cinema, featuring deluxe recliner seating in screening room quality theatres, and the "5 Towers" state-of-the-art outdoor concert stage.