It's here! Southern California's family fun frozen winter wonderland, Chill, is now open at The Queen Mary.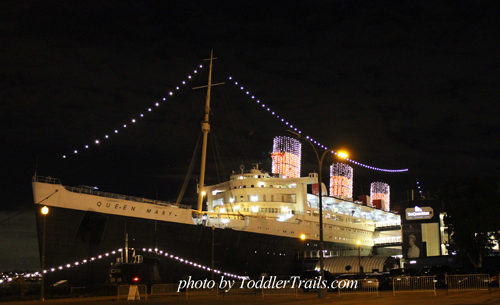 Last year I had a couple girlfriends tell me about how they loved Chill. Disappointed that I was unable to go, I couldn't wait to see the statues and sculptures that they described in such detail. Now that we've had a chance to see it for ourselves, I must say this is one event that we plan on attending every year.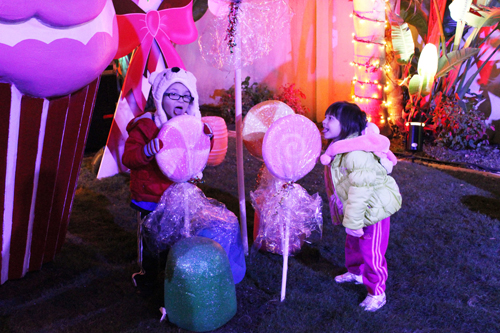 When we first got there, we walked through a beautiful garden of lights, snowmen, candy canes and more. The kids had so much fun running through and taking pictures with a snowman or with the giant cupcake, pretending they were going to take a big bite. Crazy kids.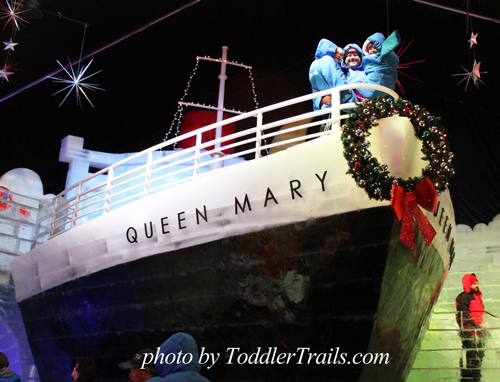 Then we stumbled upon the food! You'll need to check out Candy Cane Lane, Grinch's Grill, Sugarplumb's and Saint Nick's Slider Sweets! Giant shish kebabs full of delicious meats and vegetables, the biggest pizza I've ever seen, topped with corn dogs, and one of my absolute favorites, garlic french fries. And don't forget dessert: funnel cake, caramel apples and churros a to name a few. First tip, make sure you come hungry!
A life-size gingerbread man beckons you to visit his gingerbread house. There you will be able to decorate and personalize your very mini gingerbread house for a small fee. Second Tip: bring extra money.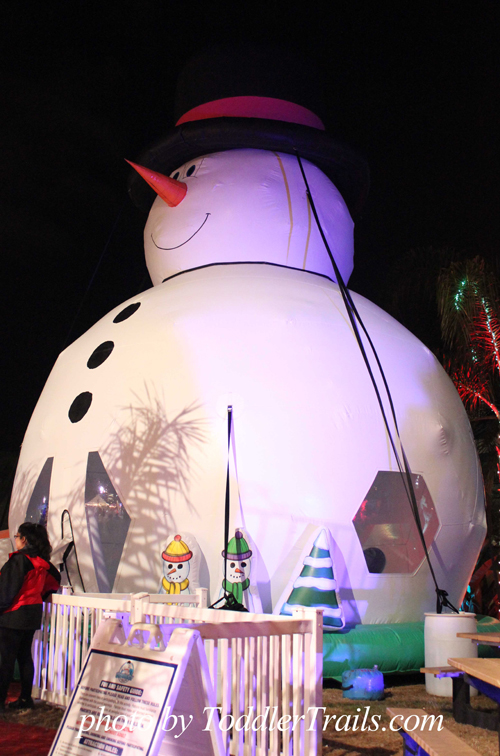 Kids, and the kids at heart, will love bouncing and playing in the giant snowman inflatable or the Bucking Reindeer.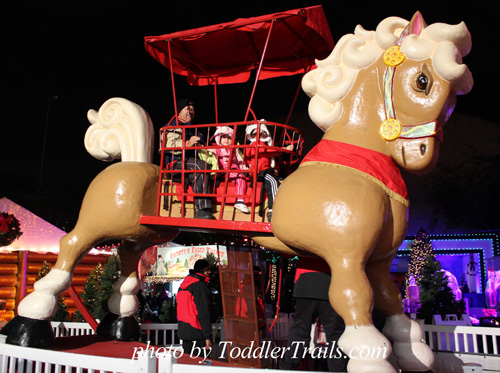 My munchkins (and husband) truly loved riding on the world's largest rocking horse.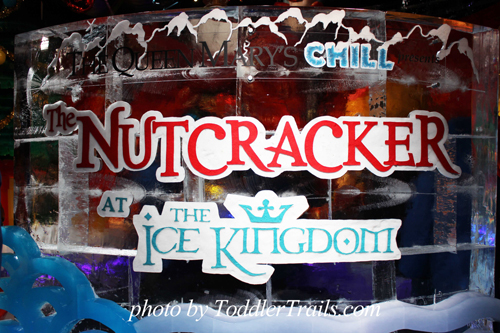 For the main attraction, we wandered over to the Igloo to the much-anticipated Ice Kingdom. The all-new Ice Kingdom was absolutely amazing. We were thrilled to travel into the story of the Nutcracker made from more than 2,000,000 pounds of sparkling ice.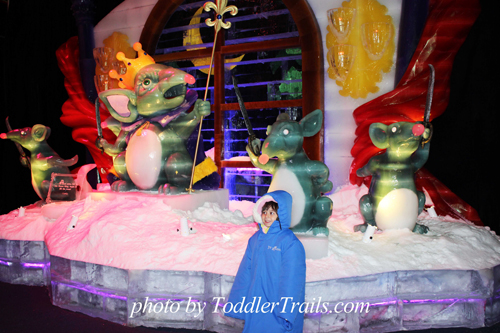 My daughter has been rehearsing her scenes from her upcoming Nutcracker Ballet performance and was excited to be able to pose right next to one of the characters she will be playing, the mice. Third Tip: dress warmly!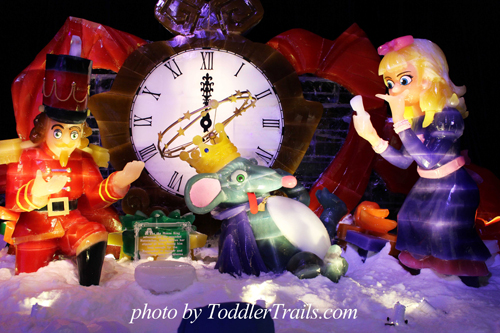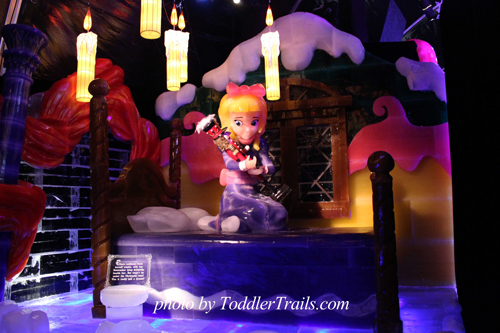 We loved the clean lines of the ice sculptures. The vibrant colors brought the ice characters to life. A replica of the Queen Mary was a great spot for a "family photo" and A three lane ice slide was really hard to drag the kids away from. Fourth Tip: don't forget your camera!
Check out my ride down the ice slide:
While you're there don't forget to grab an innertube to zip down the six lane ice run or put on a pair of ice skates and take a spin around their outdoor ice rink. Fifth Tip: bring gloves and a scarf.
General Admission: $34.95 online/$39.95 door 
($29.95 online/$34.95 door on 12/3-5; 12/10-12; 12/17-19)
Child (4-11): $19.95 online/$19.95 door ($14.95 online/$19.95 door on 12/3-5; 12/10-12; 12/17-19)
Children 3 and under are free – See more at: 
Ticket includes all day access to the ship, live entertainment, holiday activities, timed admission into The Ice Kingdom and its slides, PLUS Ice Tubing. Buy online and save – order your tickets online and save $5 off the door price. Discount ticket prices and promotions are based on availability and subject to change. A processing fee applies to online orders. Click here for ice tubing code of conduct. (No refunds or exchanges)
For more information about Chill at The Queen Mary, The Ice Kingdom, Tubing and more, connect via social media: WEBSITE, FACEBOOK and TWITTER