Marty McFly introduced us to the hoverboard in the hit movie, "Back To The Future" in 1989, and in the past few years, it hit the market as one of the most popular gadgets for tweens, teens and kids at heart. We decided to wait on the craze for a few years until my kids were older and more confident, better balance, he technology of the previous models of hoverboards were updated. In the past month, we have had the opportunity to sample the GoTrax Hoverfly ECO hoverboard and my daughter has fallen in love with it.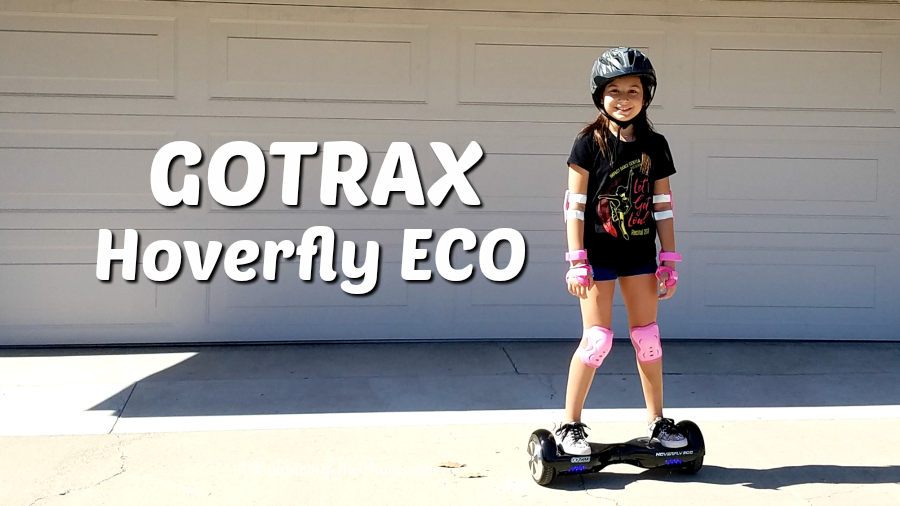 As my daughter would tell you, the Go Trax Hoverboard is best hoverboard for kids. We ordered our Go Trax Hoverboard through Amazon at the current price of $179.99, a $20 savings from the original listed price. We received it in about a week, and were super excited to surprise the kids – however – that was the week of my daughter's dance recital and my son's all star baseball games. Paranoid parents that we are, we were still afraid of the learning curve of riding a hoverboard, since neither of our kids had the opportunity to previously ride one.
Well, we decided to let my daughter try it out, that was, after she was geared up with knee pads, elbow pads, wrist pads and a helmet. When riding a hoverboard, you ALWAYS need to take safety precautions, no mater what age you are.
Once you unpack your Go Trax Hoverfly Eco hoverboard, all you need to do is switch the power button on and it will be in standard mode. The Hoverfly Eco has a "Training" mode for quick and easy learning when you're getting started.
How it works:
Forward: Slightly lean forward. You can gently push down with your toes to accomplish this.
Backward: Slightly lean back. You can gently push down with your heals to go backwards.
Slow or Stop: Return your feet/body to an upright position with your weight evenly balanced.
Turning: Lean and shift your weight slightly in the direction you wish to turn.
To get off: Step off quickly and smoothly, one foot at a time. Always board and exit from the back of the hoverboard.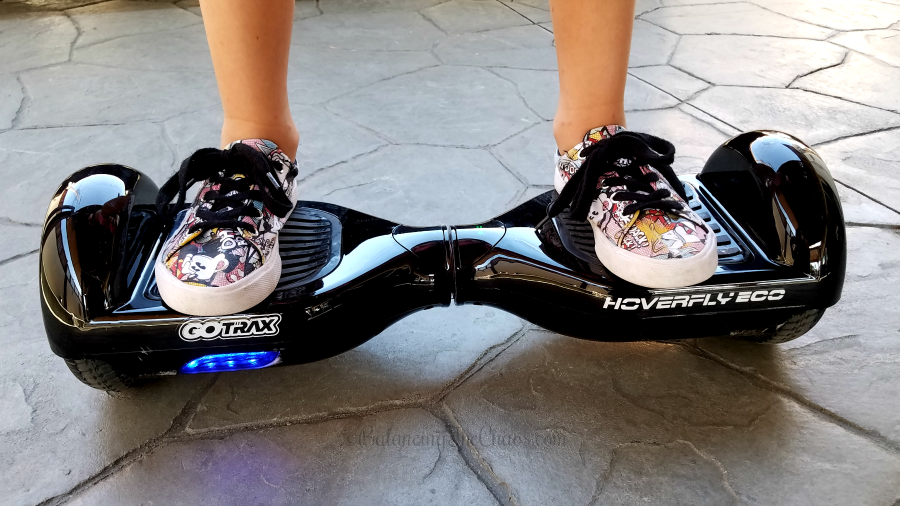 When my daughter first got on the Hoverfly Eco, my husband was there to steady her – just to get her balance, and she immediately stepped off. Her second attempt, she did it all on her own and was off and rolling. Since she is a dancer (and has been dancing since she was 2 1/2), she has great balance. Each time she stepped on the hoverboard, she went a little farther, a little faster, and within 15 minutes had figured out how to turn, and even go in reverse.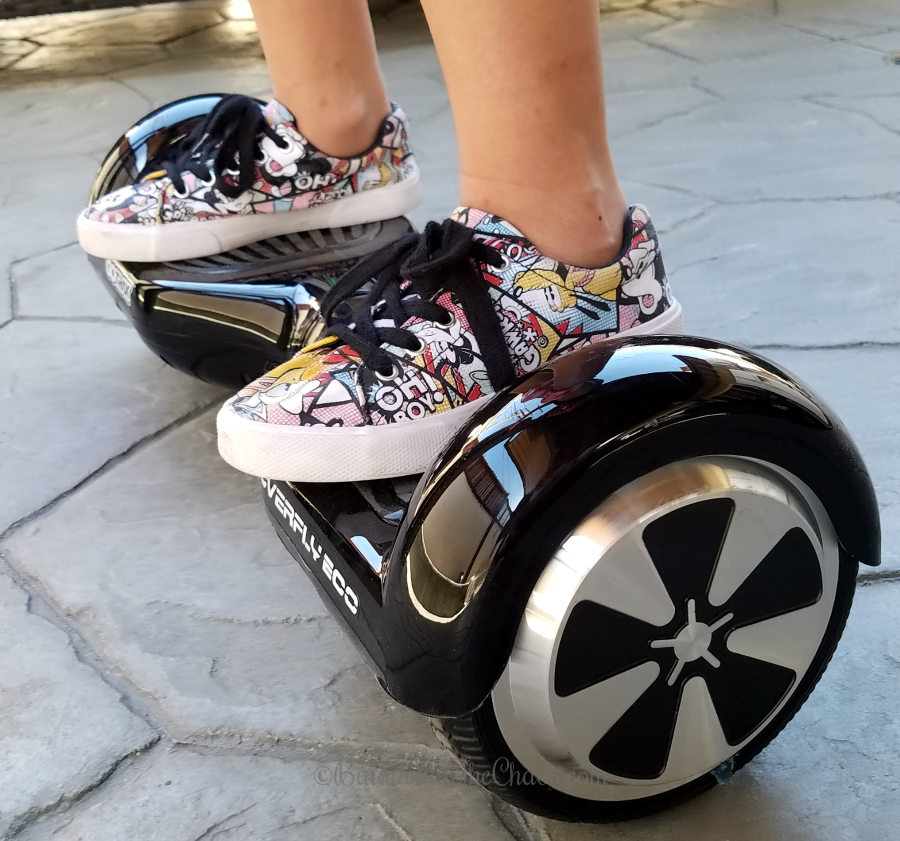 Last week we went camping, and my daughter decided this was her "MUST TAKE" item for the getaway. She proudly rode the Go Trax Hoverfly Eco everywhere in the camp site. Many of the kids she spoke with, said they had the same one. It's certainly "kid approved!"
We may be a few months away from the gift giving holidays, but this is the perfect gift for the holidays. With bright fun packaging, and the hoverboard comes equipped with the charging cord and a quick launch manual, it can easily be shipped anywhere. Get one now. Pick one up with Amazon here: GO TRAX Hoverfly ECO Hoverboard.
(Affiliate)
One thing to note, when my daughter was learning how to ride the Go Trax Hoverfly Eco, she would step off the front while it was moving, which we realized is very unsafe, and the hoverboard would continue to roll, scratching it. Always important to stop the hoverboard and step off quickly.