At our house, the electronics are taking over. Every counter there are chargers, cords and tablets of all different sizes getting in the way. Let's face it, in this day and age, it seems we all have at least 1-10 electronics, am I right? I'm so over the clutter!!! A girlfriend of mine had this little desk sorter that she turned into a simple tablet charging station.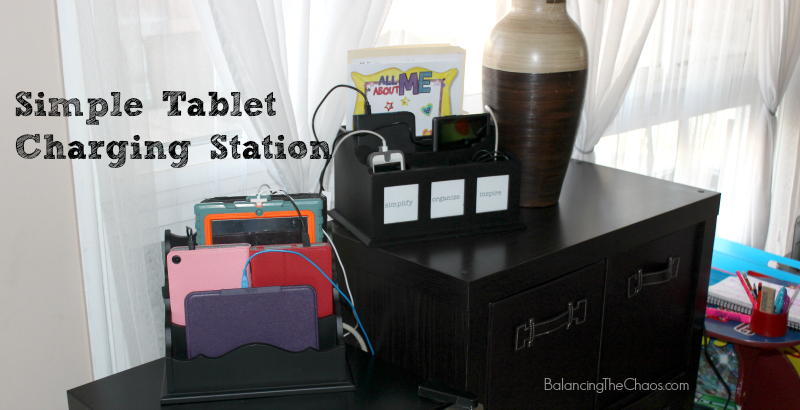 I absolutely LOVE walking through friends houses and finding new ways to HIDE our clutter! Yes, we all have one of those friends who we get some amazing ideas from crafting, tips and tricks around the house and more. So, I'm giving this special friend all the credit – really, it was HER idea and I just had to run with it and share her simple tablet charging station idea.
Loving her little office supply sorter, I went to the internet. I searched Amazon for awesome charging stations to discover they were $40 or $50 each, and only charged up to 5 items. Sad to say, we do have a few more than 5 so I needed something a little more. Seriously, check out this mess!!!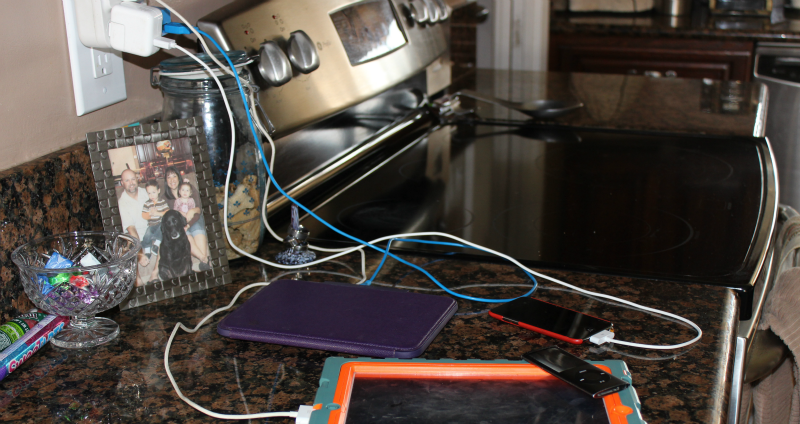 Having the tablets, chargers and cords on the kitchen counters drives me absolutely batty! Besides that it just looks HORRIBLE, I am always worried that they will burn or melt when I'm cooking at the stove.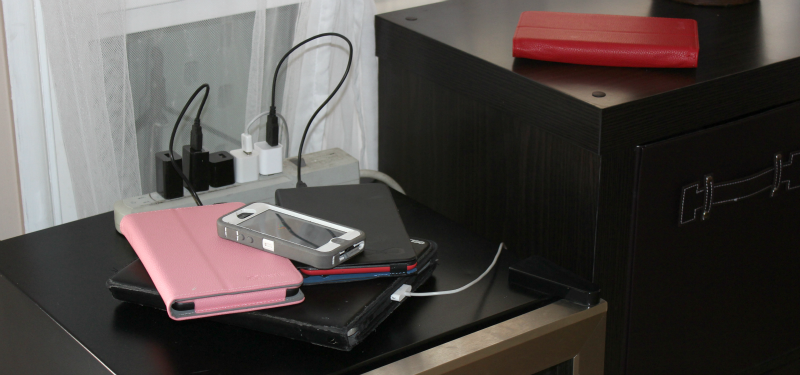 Then there is the other counter that I just organized with all the extra school supplies that were taking over. However, it is still a mess because of all of our tablets and cords.
So, I was told that what I was looking for was available at Home Goods. I was so excited when I found it! Actually, they were both at Home Goods AND Marshalls – so check either!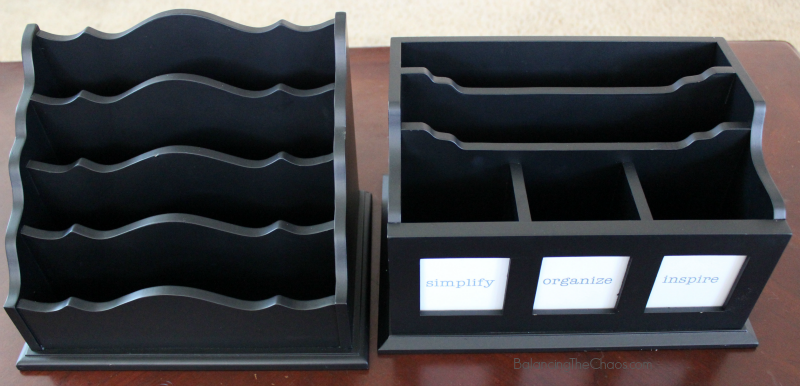 So yes, I ended up with two of them. I figured the one on the left would be perfect for the iPads because they are so big. Then I figured the one on the right would be perfect for the smaller devices like the iPhone or iPods.
Now I was considering drilling holes to slide the cords through, but I was too afraid of destroying the structure. So, I used a power strip and placed it behind the holders (a great way to disguise them). Then I slid the tablets into the slots upside down so the charging cords could hang out over the top. Quick, simple tablet charging station in minutes!
The cost? The desk organizer on the left was $12.99 and the one on the right was $16.99, both purchased at Marshalls. If you want a little pop of color in your organizing, I discovered blue, red, silver and turquoise sorters at Home Goods.
Happy de-cluttering!