For the month of April, Pretend City is getting into color.  Color The City all month long by exploring art and creativity. Color outside the lines, paint pink and blue trees, or create a glittery masterpiece as this months is dedicated to children's artistic (not craftistic!) expressions in the Art Studio.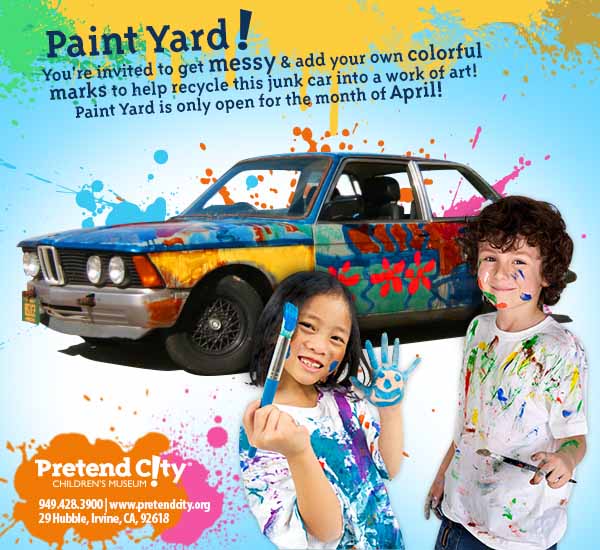 Let little ones' creativity take flight at Pretend City Children's Museum all month long in April with color!  Magical things can happen when young children's imagination is allowed to "run wild" and take a creative turn. Visit Pretend City to inspire, imagine, and create!
Art Studio Sessions
Pretend City offers fun and educational ways to introduce your child to art.  The month of April is dedicated to teaching children self-expression, problem-solving skills and an appreciation for art all while building on their creativity and imagination. Children's art is the very foundation upon which all later fundamental skills are built. Children of all ages are encouraged to grow artistically with these creative activities:
Mondays – Paint & Play
Tuesday – Drawn to Art
Wednesdays – Happy Hodgepodging
Thursdays – Printed Palettes
Fridays – Color Catchers
Saturdays – Fun Figures
Sundays – Natural Artist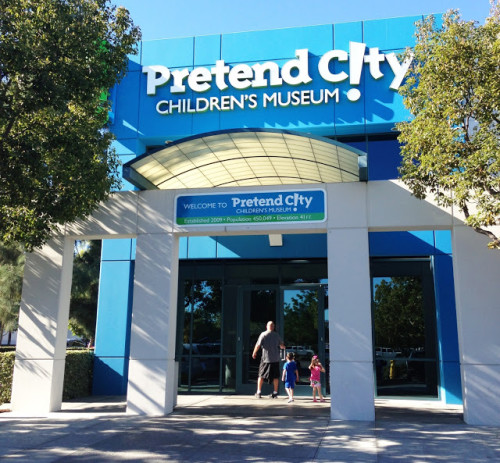 Sundays through Fridays, starting Tuesday, April 1- Wednesday, April 30: Pretend City's Paint Yard 
Open daily for the majority of the day, closed during the lunch hour. Staff & weather dependent.
This month, youngsters will have the opportunity to practice their artistic skills in Pretend City's new outdoor Paint Yard. This new area will combine environmental education and art with old vehicle, tires and other "junk yard"-inspired elements. Visitors and little artists alike are invited to get messy and add their own colorful marks to help turn this junk piece into a junk masterpiece!
* Please note this is an area requiring high supervision where participants will get messy. Make sure they are wearing "play clothes".
Special Events for the Month of April at Pretend City: 
Tuesday, April 22: Celebrate Earth Day – Paint the City Green! 
Calling all big and little "greenies": Today is your day to paint the city green! Pretend City is proud to host its fourth annual Earth Day Celebration. Introduce and promote environmental awareness on Earth Day to your little "greenies" and throughout the year by visiting Pretend City to celebrate our Earth through engaging activities such as:
Smart Art: Recycle City – From cereal box buildings to can cars, the possibilities are endless when you recreate with recyclable materials. Stop by to see what your little ones will engineer.
Sensational Story Time: Compost Stew – Who knew rotting vegetables and fruit could be so great for the environment? This story and activity will help you figure out what you need to create your own compost bin at home.
Science for the Senses: Seed Exploration – Your children will enjoy using their deductive reasoning skills and senses as they explore and match a variety of seeds.
Additional April Highlights include:
Monday, April 7: Baby Steps through Pretend City! 
 2:00-3:30p.m.
Specifically for: Infant (0-18 months), grownups. For the comfort of our infant guests, 
no older siblings please.  
This month is perfect to observe and build your baby's handwriting skills as Pretend City turns its focus to the art studio. From baby food to edible crayons, we have all the materials that are perfect for your baby. See what writing milestone you will observe as your baby creates art. Ages include:
Birth – 6 months: These babies are just learning to use their hands. Stop by the baby food art section to watch them create and taste!
6 – 12 months: Babies gain more control of their hands, particularly their thumb and forefingers, at this age. Visit our pull and play fabric activities!
12 – 18 months: Babies have developed the hand skills necessary for grasping writing tools and making marks on paper. By scribbling, your baby explores what he or she can do. 
Saturday, April 19: Easter Celebration! 
A.M. Activities: 10:00a.m. (sharp) Easter Egg Hunt Pretend City colors the city in the pastel hues of the holiday as it hosts a joyous Easter celebration. From the Easter Bunny to the rainbow Easter eggs, children will delight in the vibrant activities they will be able to participate in. Activities for the day will include:
Good to Go Game: Egg Scramble – This egg-xiting tag game is the perfect addition to any Easter celebration. It is sure to get little bunnies moving!
Smart Art: Egg-xtravagant Eggs – Easter eggs are a symbol of the season. Visit Pretend City to decorate your very own egg utilizing a variety of colorful mediums and materials.
Science for the Senses: Carrot Crunch – How do you like to eat your carrots? Steamed, raw, mashed? Join us for a taste testing of the Easter Bunny's favorite treat to see which you like the best.
Be the first through the doors to participate in an engaging Easter Egg Hunt! General admission hours begin at 10:00a.m. The Easter Egg Hunt is on a first-come, first-served basis.
Monday, April 28: Family Autism Event 
5:00-7:00p.m.
Specifically for: Families with children of all ages who are on the autism spectrum; Pretend City will be closed to the general public
This special evening is an opportunity for children and their parents/siblings/caretakers to have some fun in an autism-friendly environment along with other families. Many of our community partners – who specialize in supporting children on the autism spectrum – will be on-hand to enrich your family's play experience with welcoming smiles and practical support. Grown-ups interested in visiting the museum prior to the event (adult only pre-tours) are welcome to stop by on Tuesday, April 22, 2014 from 10:00-11:00a.m. or 4:00-5:00p.m.
Introducing Way To Play Groups:
Pretend City Children's Museum is excited to offer even more age-specific education and learning with the launch of its new Pretend City "Play's the Way" playgroups, kicking off on April 15, 2014. The six-week early learning program, which focuses on healthy development, early learning and social skills-building, is geared to engage grown-ups and children ages 18-24 months (Young Toddler), two (Terrific Two), Three (Three-Year-Old Playgroup) and four (Fabulous Four) years of age.    Children learn and grow through play, and below are the age-specific groups for a child's developmental level:
Children ages 18 – 24 months: Young Toddler Playgroup – 

Each week this playgroup will focus on a new play type and activity to foster toddler's cognitive, motor and language skills as well as develop creativity and relational skills. 
Children ages two years of age: Terrific Two Playgroup – 

This playgroup will help support children to choose peaceful, positive behaviors. Learn how children communicate through play the way they see the world. Understanding a two-year-old's perspective sheds light on how to deal with challenging behavior. 
Children ages three years of age: Three-Year-Old Playgroup – 

This playgroup understands that while children at age three are becoming more independent, theyare also learning how to engage with other children as they branch out to discover more about the world. This playgroup will provide tips to support children's safe exploration and discovery. The age-specific activities will also help children when conflicts arise as they learn how to play and get along.
Children ages four years of age: Fabulous Four Playgroup – 

This playgroup provides children opportunities for math-play, science-play and language-play. It also helps children learn, understand and practice basic social and emotional skills. These social and emotional skills combined with different curriculum areas will provide children foundational skill-building necessary for success. 
While children are developing, the personal needs of their caregivers are developing and changing as well. Pretend City's mission to address those needs by providing information, resources, and skills to grown-ups in addition to children.  Grown-ups are encouraged to register for Pretend City's Playgroups by April 14, 2014 by visiting 
pretendcity.org/classes-workshops/
. Cost is $75 per grown-up and child pair and $60 for Pretend City Members. Groups hold a minimum and maximum enrollment for pairs. For information on Pretend City Children's Museum and its education-based programs, visit 
www.pretendcity.org
. 
About Pretend City Children's Museum:
Pretend City Children's Museum features a small, interconnected city designed to "build better brains" through purposeful play, hands-on learning experiences, role playing, and educational programming.  As a non-profit 501(c)(3) organization serving all children, it depends on community-based funding and guest support.  Through 17 interactive exhibits and activities guided by a highly trained professional staff, children learn foundational math, reading and science skills, while fostering curiosity, creativity, critical thinking, problem solving, organization, teamwork, self-confidence and socialization.  The museum is a unique community resource offering developmental screenings and tools for families, educators and community agencies working to ensure that each child gains the experiences needed to discover their potential and build toward a productive and fulfilling future.  Pretend City Children's Museum is located at 29 Hubble, Irvine, CA 92618. For more information, please visit www.pretendcity.org.
Disclaimer: This is a NON sponsored post.  No compensation received.