I had the opportunity see the Cavalia Odysseo show under the White Big Top that features 65 beautiful horses and 48 riders, incredible acrobats and aerialists, and musicians in a beautiful journey around the globe, celebrating the bond between the two species. Honestly, it is an experience. You're not going to want to miss Cavalia Odysseo while it's here in Southern California now through Janauary 8th.
I was invited to Social Media night at Cavalia, so that I could share my experience with you, my devoted readers. As media, we had the unique experience of Cavalia's RENDEZ-VOUS VIP Package which includes access to the private RENDEZ-VOUS VIP Lounge 90 minutes before the show, during the intermission and after the show:
Center-row seats
VIP Pass
Full meal buffet dining served before the show
Wine, bubbly and beer at will
Dessert Buffet, coffee and tea served during intermission
Exclusive stables tour after the show
Odysseo souvenir
The buffet dining was delicious. A blend of couscous salad, hummus, tomato and olive salad, beef medallions, marinated shrimp and more. Spirits included wine, beer, soft drinks, coffee and tea. A beautiful setting, we were able to watch snippets of the show via DVD screens scattered throughout, mingle along the cozy couches or dine at the tables provided. A gift shop was also on hand to pick up additional souvenirs and beautiful sketches of horses were scattered throughout.
Then the Odysseo show begins in an enchanted forest where horses freely roam while the sun is setting. I was amazed at how the horses just gracefully walked out into the center of the ring like each one knew exactly where to stand. Their handlers/actors slowly walked out and you could see the connection they had with these beautiful creatures. Then we were transported on a journey to some of nature's greatest wonders through the state-of-the-art video screen three times the size of the world's largest cinema screens.

We went on a journey with the Cavalia Odysseo show and cast through the Mongolian steppes to Monument Valley; from the African savannah to Nordic glaciers; from the Sahara to Easter Island, and even to a lunar landscape, illuminated by shooting stars and brilliant nebulas. A three-story mountain adds to the natural landscape of the setting while the horses and their riders display unique equestrian and acrobatic techniques.
Set details: Hard to believe, but the stage, a section of which  rises into a three story tall hill, is made of 10,000 tons of rock, earth and sand that is brought in  and sculpted to create the mountain which the animals and artists perform.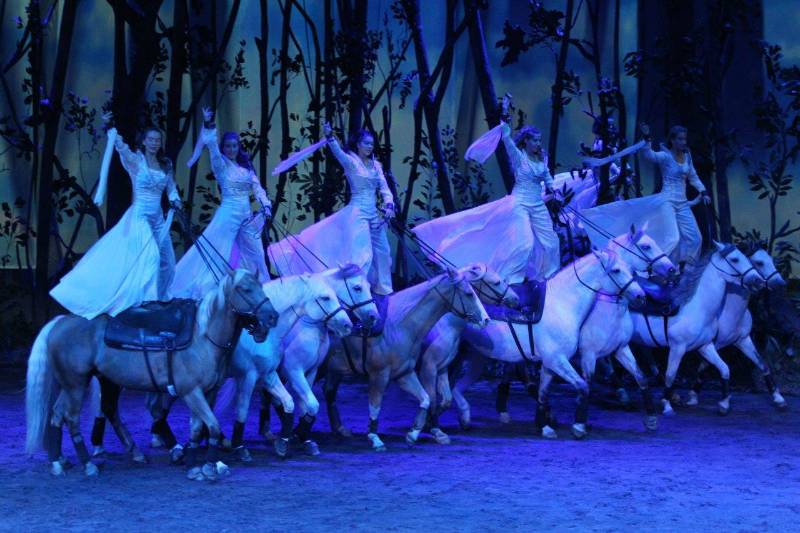 Cavalia Odysseo has 120 artists that work along side 65 horses of 11 beautiful breeds including Appaloosa, Arabian, Ardennais, Belgians, Canadian, and Comtois.  My favorite aspects of the performance is when the horses perform "liberty" where they roam freely, without harnesses or saddles and work with the artists via voice commands. It's simply magical to watch with 350 costumes and beautiful set design.
In the final scene, a lake made of 40,000 gallons of recycled water, magically appears as the acrobats, aerialists  and horses perform in a splashing finale.
Cavalia Odysseo show will be in Orange County through January 8th so be sure to snag some tickets:
Cavalia Odysseo TICKETS – Tickets are priced from $29.50 to $144.50 + applicable taxes and fees.
Special pricing and packages also available for VIP, groups, children (2-12), juniors (13-17) and seniors (65+).
DISCOUNT CODE*: SOCIALOC
FLASH GIVEAWAY
Two lucky families will win 4 tickets to see Cavalia in Irvine (2 Adult/2 for  Wednesday, December 7 at 7:30pm.
a Rafflecopter giveaway

FOR AN ADDITIONAL CHANCE TO WIN, VISIT A FEW OF MY BLOGGER FRIENDS AND ENTER THEIR GIVEAWAYS
(CLICK ON THEIR BLOG NAMES FOR DIRECT LINKS TO THEIR GIVEAWAYS)
Giveaway ends December 7, 2016 at 5 am PST. Open to US Residents 18 and older only. Winner will be announced 12/7/16 in the morning. Winner will be selected at random and be notified by email. Winners must be able to attend the show on Wednesday, December 7th at 7:30pm. Not liable for unclaimed prizes or fulfillment. Blog has represented each sponsor with the expectation they will fulfill their prize and in a timely manner. No purchase necessary to enter or win; however you must enter for a chance to win. Purchase does not increase chance of winning. Chances of winning depend on number of entries. My opinions are my own and were not influenced by any form of compensation. Facebook, Twitter or any other social media platform are in no way associated with this giveaway. By providing your information in this form, you are providing your information to this blog. I do not share or sell information and will use any information only for the purpose of contacting the winner. Winners can only win once per month. Not liable for unclaimed prizes or fulfillment.
To order tickets visit Cavalia.net
*This promo code is valid on all evening shows for Blue, Gold and Rendez-Vous VIP ticket categories.