Organic foods are becoming the norm and flooding the market.  I was recently introduced to Bonga Foods, who debuted their low sugar chews and raw organic powder at the Natural Products Expo West.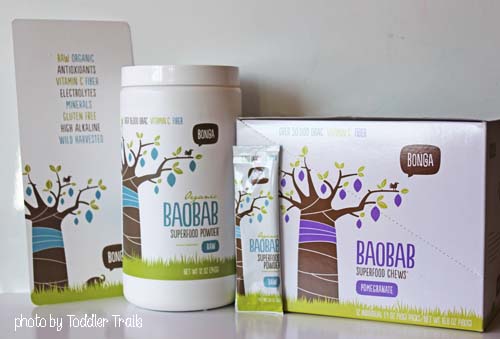 Bonga Foods™ recently introduced its new line of organic raw baobab products at the Natural Products Expo West (NPEW) trade show at the Anaheim Convention Center back in March.  
The baobab (BEY-oh-Bab) tree has long been an important part of African existence. The "Tree of Life" or "upside down tree" with branches resembling a root system, produces fruit that is exceptionally high in soluble fiber and vitamin C; rich in minerals and electrolytes; high alkaline; bursting with antioxidants; and, is one of the few plant sources of calcium. Baobab powder is not pasteurized, heat extracted, freeze-dried or concentrated so the nutrient synergy is not compromised. Its low glycemic index acts as a satiating ingredient due to its low sugar and high fiber.
We sampled the gluten-free Baobab Superfood Chews™.  The chews come in the following flavors:
Mango
Pomegranate
Raspberry
Strawberry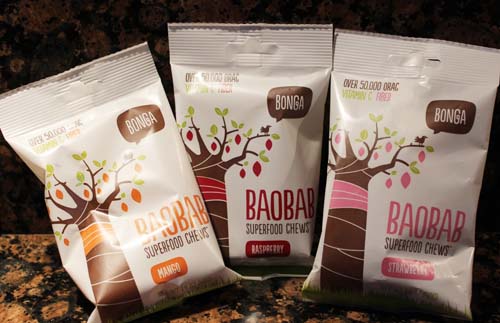 My family LOVED them. My Husband's favorite was strawberry and handsome boy and the princess was pomegranate. I was trying to keep a few for after school snacks and lunch, however once I finally opened the box and showed it to them, the devoured them in 2 days.
I however, didn't get a chance to sample them, however what I did love was the fact they are full of dietary fiber, Vitamin C and antioxidants.  This was an easy way of getting them to eat healthy!
I did get a chance to sample the Raw Organic Baobab Superfood Powder™. I added it to a cup of water and it disolved rather quickly after a quick stir.  The powder can be added to water, smoothies, baked goods or oatmeal. This is a great way to hide nutrients into their favorite foods and drinks. This amazing superfood dehydrates naturally inside the fruit of the baobab tree so the nutrients remain intact as the powder is simply separated from its seed and sieved in its natural, unprocessed form before packing.
Bonga Foods Supports Local African Communities:
Sustainable, harvesting of the baobab fruit creates delicious, healthful products while nurturing local communities by providing income for women in southern Africa, harvesters of the fruit and protection of the ancient trees. Bonga Foods is pleased to announce that 10 percent of all profits will go to the Bonga Foundation, which supports the harvesters and their families, as well as other charitable organizations.
"We are so excited to bring our first baobab products to market this spring and support the women who harvest this Sub-Saharan superfruit by giving back through the Bonga Foundation," said Bonga Foods Co-Founder Michaeline DeJoria. "Although the baobab tree has supported life in Africa for thousands of years, it is new here in the U.S. and has so many health benefits we're still learning about. Baobab really is a life-giving superfood – for the women in Africa who are able to support their families by harvesting the fruit, and for moms here in the U.S., who we hope, like us, will enjoy these new products with their families."
Bonga Foods products are available here in Southern California at Whole Foods markets or online at www.BongaFoods.com.
About Bonga Foods
Bonga Foods, LLC celebrates healthy living and giving back with foods made from baobab – the Sub-Saharan superfood from Africa's "Tree of Life." Bonga means gratitude in Zulu, one of the dialects spoken by the women who harvest the fruit in southern Africa. Co-Founders Michaeline DeJoria, Mary Grace and Nancy Nehoray – three Southern California moms looking for healthy foods for their own families and a way to help support the planet and women in need – express their "bonga" for this nutrient-rich superfood, the earth and the harvesters of the fruit. Learn more at BongaFoods.com. Express your Bonga with us on Facebook.com/BongaFoods, Twitter (@bongafoods) and Instagram (bongafoods).
About Bonga Foundation
Established with a mission of promoting healthy living and empowering communities of women helping women with baobab, the Sub-Saharan Superfood, Bonga Foods donates 10 percent of all profits to the Bonga Foundation, which supports the women who harvest the fruit in southern Africa and their families, as well as other charitable organizations. Bonga Foods and Bonga Foundation also support PhytoTrade Africa, established to alleviate poverty and protect biodiversity in the region by developing an industry that is not only economically successful, but also ethical and sustainable.
Disclaimer: We received samples of Baobab Superfood Chews™ and Raw Organic Baobab Superfood Powder™ to share our honest opinions.  No other compensation was received.