Yesterday I had the amazing opportunity to participate in the launch of the 2014 Angelitos Card.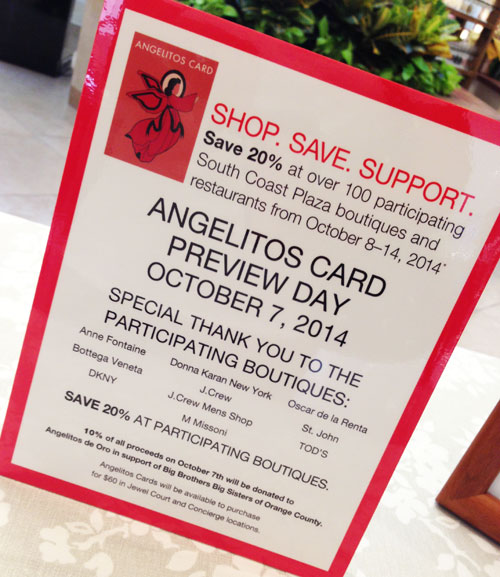 In 1961, Angelitos de Oro was established in support of Big Brothers Big Sisters of Orange County. Their mission is to raise awareness and funds supporting the mentoring programs established by Big Brothers Big Sisters.
Once a year, the Angelitos de Oro ladies work in collaboration with South Coast Plaza and vendors to create the Angelitos Card. For a donation of $60, patrons receive a Angelitos Card that can be used at participating stores and boutiques within South Coast Plaza between October 8th and October 14th.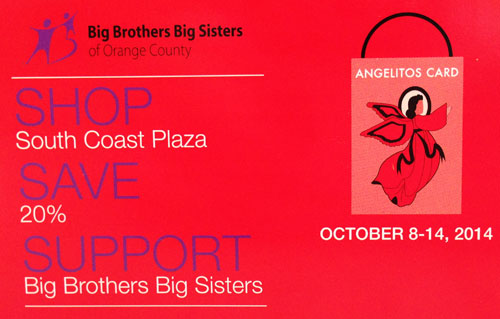 Unless otherwise noted, participating South Coast Plaza boutiques offer 20% off regular priced merchandise. Exclusions include: sale, promotional items, special orders, gift cards/gift certificates, previous purchases, online and catalog orders. This Card cannot be combined with any other offer or promotion. You can see a full list of the 2014 vendors here: Angelitos Card
Big Brothers Big Sisters is a nonprofit organization with the mission to help children reach their potential through professionally supported, one-on-one mentoring relationships. They are present in many local schools. In speaking with the representatives from Big Brothers Big Sisters, I discovered that there are a few students at the school my husband teaches at that are considered a Big Brother/Sister to local youth (littles). Living in Anaheim, I know there are many students who would be a great fit for this program, and I was excited to find out that 4 elementary schools right around me are already participating.
Big Brothers Big Sisters of Orange County currently serves over 2,000 children every year through community, school and group based mentoring programs that provide them quality relationships and life examples.
The revenue generated by the sale of the Angelitos Card goes directly to support the High School Bigs program that provides high school students as mentors to elementary school students in schools within the Orange County region.
Obtaining an Angelitos card is easy – simply visit an concierge desk at South Coast Plaza. For $60 you will be benefiting an at-risk youth in Orange County AND receiving up to 20% off from participating South Coast Plaza boutiques.
Happy Shopping!!!