This week we continued our annual tradition of capturing those special holiday photos with the kids and Santa. If you haven't had a chance to make it to the Christmas Train at Irvine Park Railroad, you still have time! Tickets are still available select days to catch the train to the North Pole.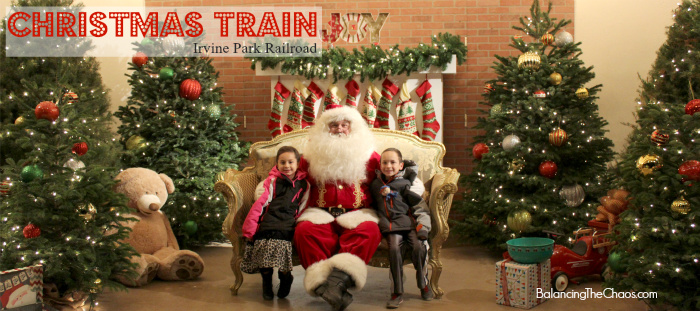 Tickets are now available ONLINE via www.IrvineParkRailroad.com. Christmas Train at Irvine Park Railroad tickets may be purchased to ride the train at a specific date and time — get in line and board the train any time during the hour for which you purchase tickets.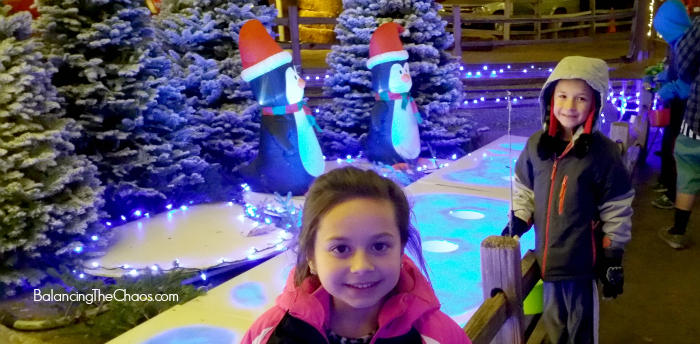 Since we arrived a little early before our train departure time, we decided to wander through Santa's Village. Activities will open one hour prior to when the Christmas Train at Irvine Park Railroad and include:
Storytime with Mrs. Claus
Christmas Cookie Decorating
Carnival Games
Ice Fishing
Santa Claus Moon Bounce
Christmas Coloring Corner
Picture Stands
The kids seriously bounce from one station to the next – many times asking to repeat the carnival games or Moon Bounce. I typically let them complete their cookie decorating AFTER a visit with Santa so we can take home the sweets for another day.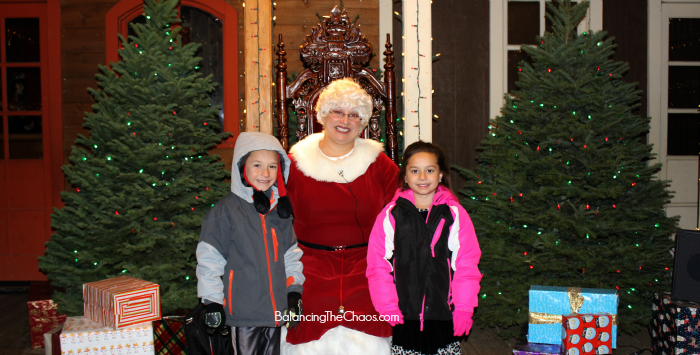 While Santa is busy taking requests at the North Pole, Mrs. Claus entertains children at Santa's Village with wonderful conversation, storytelling and special photo opportunities.
Then it was finally time to board the train. The kiddos and I were so excited. We traveled through the beautifully lit woods and made our way to the North Pole where Santa was greeting families. While we waited, cookies, coffee and hot chocolate were available for purchase  at the Elf House Snack Bar to satisfy taste buds and keep us warm.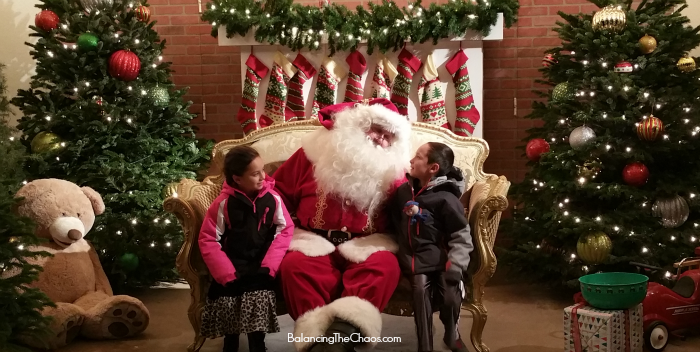 And then it was our turn. The kids quickly ran to Santa's lap, smiled for their "picture perfect photos", then began to share their wish list with him. I just loved that I captured that special time – one I will cherish for years to come. And just so you know, you are invited take your own pictures with Santa or you may purchase a picture taken by Irvine Park Railroad. Each 5" x 7" photo you will be presented with an Irvine Park Railroad border and available for pickup shortly after being taken.
After visiting with Santa, we hopped back aboard the train and enjoy the colorful Christmas lights and decorations, as well as the magical "Tunnel of Lights", on the ride back to the station.
Don't Forget:
Bring your camera!
Dress Warmly
Activities will be an additional fee
Parking  for Irvine Regional Park is $3.00 per vehicle on weekdays and $5.00 per vehicle on weekends. Parking for the Christmas Train is free after 5:00 PM
Now through Wednesday, December 23rd
Irvine Park Railroad
1 Irvine Park Road
Orange, CA 92869
The cost to ride the Christmas Train at Irvine Park Railroad is $12.00 per person. Children younger than 24 months ride free.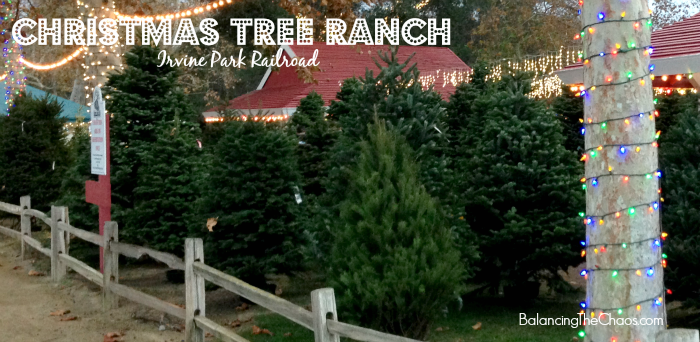 If you haven't picked out a Christmas tree yet, you're in luck! While you're waiting for your departure time for the Christmas Train, browse through the Christmas Tree Ranch to find the perfect Christmas tree to take home. Trees include Noble firs, Douglas firs, and Grand firs ranging in height from 4′ to 12′. Christmas tree stands, preservatives, tree disposal bags, wreaths, and garland will also be available for sale..
The Christmas Tree Ranch is open daily at 10:00 am through December 23rd. Irvine Park Railroad staff will help you load your Christmas Tree into/onto your car