One of the best musical comedy classics, 42nd STREET will be at Segerstrom Center for the Arts with a sparkling new production, November 10 – 22, and tickets are now on sale at the box office.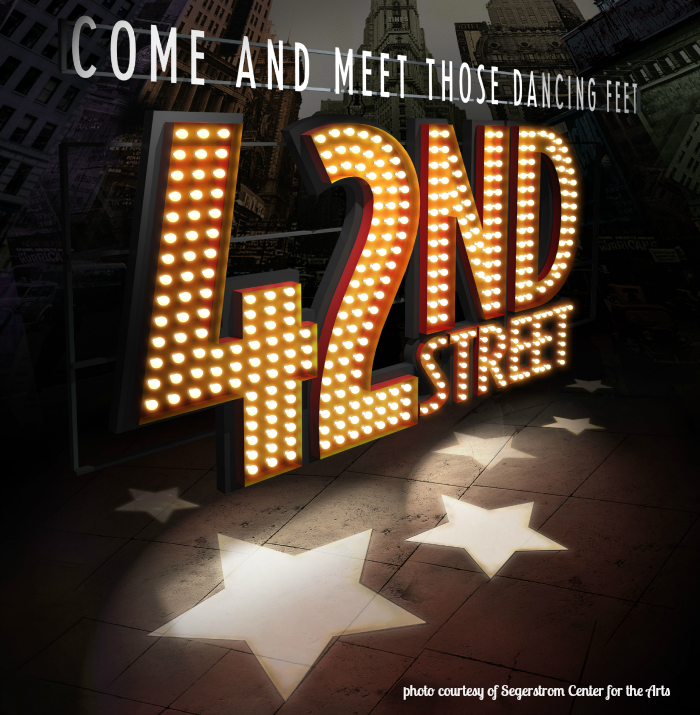 A perfect date night, 42nd STREET is the song and dance production about Broadway, with an American Dream story and some of the greatest songs ever written, including "We're In The Money," "Lullaby of Broadway," "Shuffle Off To Buffalo," "Dames," "I Only Have Eyes For You" and, of course, "42nd Street."
Based on a novel by Bradford Ropes and Busby Berkeley's 1933 movie and tells the story of a starry-eyed young dancer named Peggy Sawyer who leaves her Allentown home and comes to New York to audition for the new Broadway musical Pretty Lady. When the leading lady breaks her ankle, Peggy takes over and becomes a star.
The original production of 42nd STREET hit Broadway in 1980 and played for 3,486 performances winning the 1981 Tony Awards® for Best Musical and Best Choreography. The Broadway revival, which opened in 2001, played for 1,524 performances and earned two Tony Awards® including Best Revival of a Musical.
42nd STREET
Segerstrom Center for the Arts – Segerstrom Hall
November 10 – 22, 2015
Tuesday – Friday at 7:30 p.m.
Saturday at 2 and 7:30 p.m.
Sunday at 1 and 6:30 p.m.
The 2 p.m. performance on Saturday, November 21, 2015 will include audio description, open captioning
and sign-language interpretation.
600 Town Center Drive, Costa Mesa, CA
www.scfta.org
Tickets – Start at $25
In person – The Box Office
600 Town Center Drive Costa Mesa, CA 92626
Open 10 a.m. – 6 p.m. daily
Online – SCFTA.org Phone – (714) 556-2787
Segerstrom Center for the Arts is an acclaimed arts institution and as well as a beautiful multidisciplinary
cultural campus. It is committed to supporting artistic excellence on all of its stages, offering
unsurpassed experiences, and to engaging the entire community in new and exciting ways through the
unique power of live performance and a diverse array of inspiring programs