Last week I was honored to participate in the grand opening of the expansion of the Simon Youth Academy at the Westminster Mall.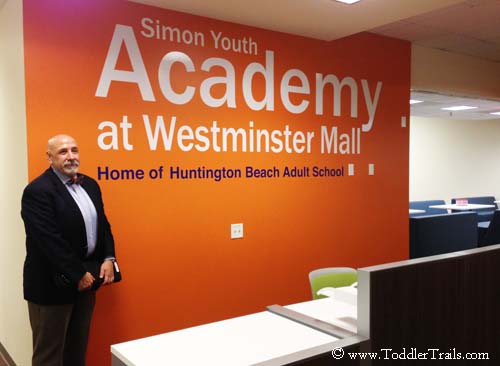 For 16 years, the Simon Youth Academy has been helping at risk teenagers (18 years and up) to successfully complete their high school education and receive their diplomas. Since 2003, the partnership between The Simon Youth Foundation, Westminster Mall and Huntington Beach Union High School District has worked to serve 635 local students and has awarded $98,000 in Simon Youth scholarships.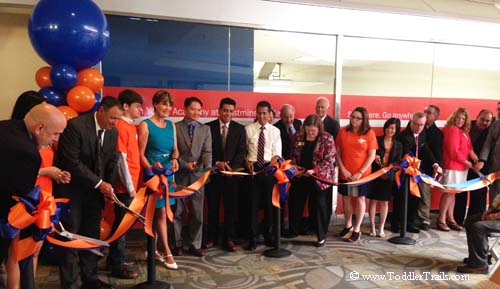 I was invited to take a tour during the preview, through this beautiful new facility located in the JCPenney wing of the Westminster Mall – right next to the Kidgits Play Space. When you walk in, it is so inviting. A beautiful reception desk welcomes all and with an open floor plan, this space invites comfort and a relaxing learning environment.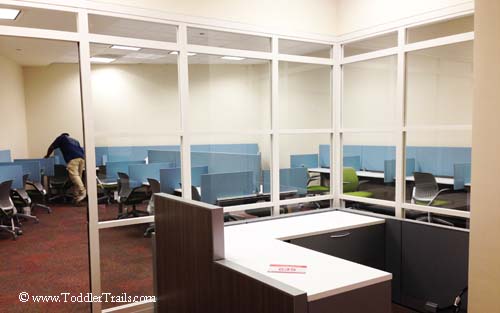 Off to the left are desks arranged for study time or one on one instruction with teachers. To the right of the reception area there are tall tables, couches and more; perfect for group study or instruction.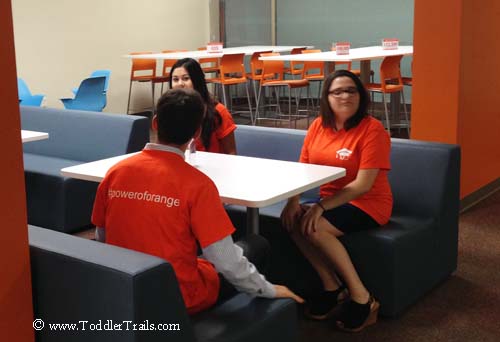 The back half of the new Simon Youth Academy is still under construction and should be completed within 2 weeks. There will be two class rooms with beautiful glass windows to see through, conference rooms and desktop/laptop stations for those who wish to connect to technology.
This new facility is one of 22 Simon Youth Academies nationwide, and is still expanding with a goal of opening 2 schools a year. If you get the chance to stop by and check it out, it's certainly an amazing facility as well as a great option for our at risk students.
About The Simon Youth Foundation:
A national 501(c)(3) public charity headquartered in Indianapolis, Ind., Simon Youth Foundation, or SYF, ignites hope through educational opportunities for students who are at risk of dropping out of high school. To meet our mission, SYF supports two major initiatives: Simon Youth Academies and Simon Youth Scholarships. In partnership with local public school districts, SYF supports 23 Simon Youth Academies in 13 states. Primarily located in Simon malls, Simon Youth Academies offer flexible schedules and small class sizes that make learning accessible to students who struggle to connect with material in a traditional classroom or school because they are homeless, bullied, battling serious illness, facing parenthood, working full-time to support their families, or facing other challenging personal circumstances.
The Simon Youth Scholarships program pays out millions in one-time and renewable scholarships to high school students in every community that is home to a Simon mall each year. Targeting first-generation college students and those with demonstrated financial need, the Simon Youth Scholarships program furthers the SYF commitment to extending educational opportunities to all students who want to learn, no matter their personal circumstances.