Last weekend, contributor Laura and her son Samuel were sent to check out the new exhibit at the Discovery Science Center in Santa Ana.
*   *   *   *   *   *   *   *   *   *   *   *   *   *
Samuel and I are back again, ready to share our adventures at Discovery Science Center and their new exhibit MythBusters: The Explosive Exhibition!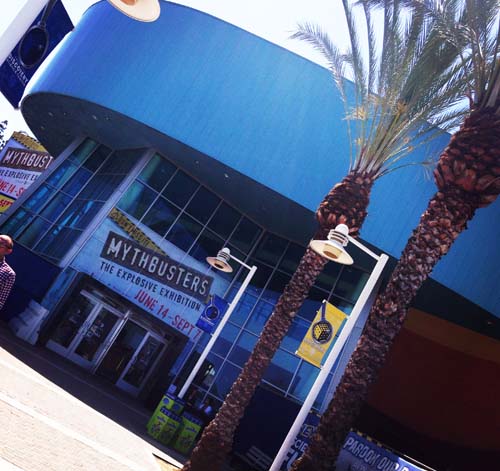 At the Discovery Science Center, this is a hands on experience for the entire family bringing to life the scientist in all of us, allowing YOU to put the "Scientific Theory" to work while trying some of the Discovery Channel's MythBusters show's most popular experiments. Samuel & I decided to put the Scientific Theory to work…..
Step #1 – Theory
Our Theory – "The MythBusters: The Explosive Exhibition was going to be AWESOME!"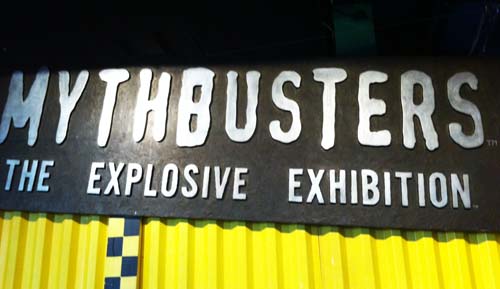 Step #2 – Predict
We both predicted that we would enjoy everything we did, which in turn would confirm the exhibit was AWESOME!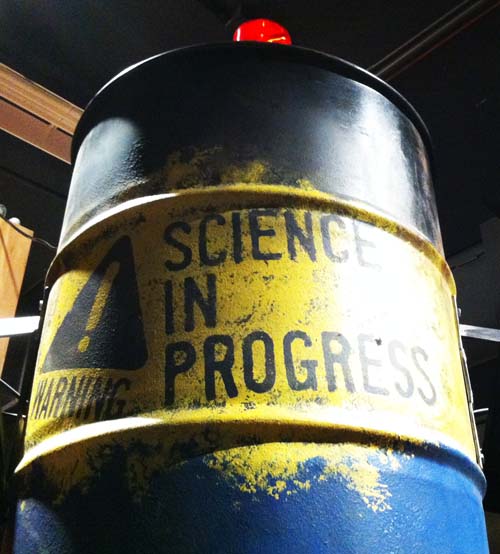 Step # 3 – Experiment
Let the fun begin….
We were off first to the "Big Bad Wolf" experiment. Just like the story, we had the chance to build our houses of straw, sticks and bricks and place them in the Big Bad Wolf "wind tunnel" machine…. would our building practices be more effective than the pigs were? Unfortunately no, BUT I do think Samuel loved having his straw and stick houses blown over much more than the poor little pigs did, since he squealed with delight when his houses came tumbling down!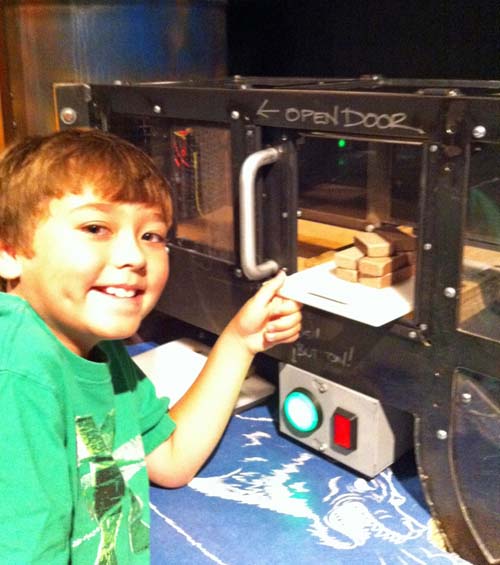 Next we found the "Tablecloth Chaos" experiment. Ever wanted to see if you could really pull the table cloth off a table and not take all the dishes with it… this was our chance!!!! We set our table table with lots of dishes and even added a vase with a flower.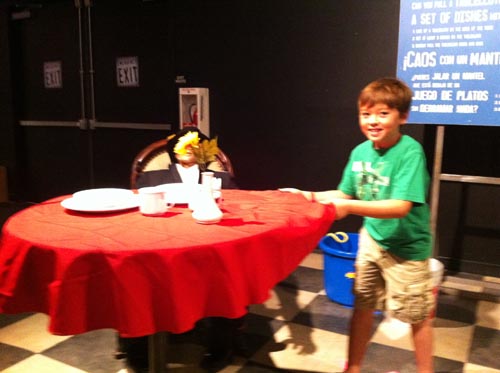 Then Samuel stood on the big X on the ground and it was time…. "1, 2, 3 … GO!"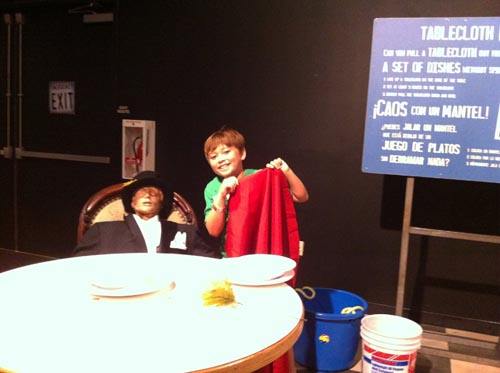 Amazing! He actually only pulled off one plate! Though as we walked away, I reminded him of the disclaimer "Do not try this at home"!
Many of the experiment areas we visited had videos showing clips from the MythBusters show. Each clip showed how the hosts tackled the "myth" we were about to try! All the areas had very detailed instructions and were marked so you knew exactly where to stand or what to hold. And they all could be done by little ones to adults.
In addition to the hands on areas, they also offered a Live Demonstration Stage. This 10 minute presentation interacted with the audience and even found one lucky volunteer trying to see if they could dodge a paint ball! (There was a sigh of relief from the remaining audience members, myself included, once we found out we literally dodged a bullet on volunteering!!!)
We tried every "myth" there was to offer and really enjoyed the "Running in the Rain", "Change Like a Superhero", "Killer Card Toss" and "Dodge a Bullet". In fact, Samuel would have been thrilled to do them all a THIRD time!
Step #4 – Conclusion
We collected our data (smiles, laughs, new knowledge, cute photos and great memories) and concluded… The MythBusters: The Explosive Exhibition is AWESOME!
Even though the research was conclusive, we decided we definitely were up to coming back to do MORE research and to enjoy the rest of the permanent exhibits that are offered! The Discovery Science Center has made frequent visits easy with their current membership offer!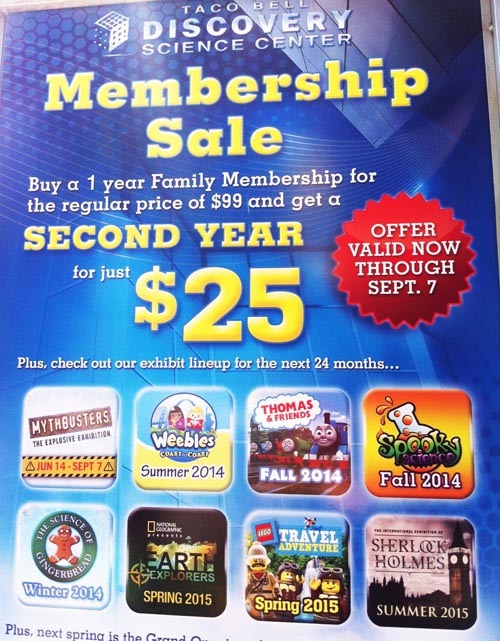 For hours, location and general admission information visit www.discoverycube.org. The MythBusters: The Explosive Exhibition runs through September 7th. (#mythbustingoc) You don't want to miss it!
GIVEAWAY
We're giving away a family four pack of tickets to Discovery Science Center so you can experiment Mythbusters with your family!
Giveaway ends July 2, 2014 at 8:59 PM PST. Open to US Residents 18 and older only. Prizes cannot be shipped to PO Boxes. Winner will be selected at random and be notified by email. Winners have 48 hours to respond before a new winner is selected. Not liable for unclaimed prizes or fulfillment. Blog has represented each sponsor with the expectation they will fulfill their prize and in a timely manner. No purchase necessary to enter or win; however you must enter for a chance to win. Purchase does not increase chance of winning. Chances of winning depend on number of entries. My opinions are my own and were not influenced by any form of compensation. Facebook, Twitter or any other social media platform are in no way associated with this giveaway. By providing your information in this form, you are providing your information to this blog. I do not share or sell information and will use any information only for the purpose of contacting the winner. Winners can only win once per month. Not liable for unclaimed prizes or fulfillment.
Contributor Laura Pistoresi: Laura Pistoresi made the move to Anaheim Hills almost three years ago from the small Central Valley town of Chowchilla.  She refers to herself as the "country mouse" coming to the city and has taken full advantage of playing tourist and loves finding new things to do in Southern California!  She is mom to an eight year old son and loves just being known as "Samuel's Mom".   Disclaimer: We received complimentary admission to Discovery Science Center to experiment first hand the new Mythbusters exhibit.  All opinions shared are our own.