Mark your calendar for Orange County's 37th annual "A Taste of Greece"  a Greek Festival that will be held on June 24-26 at St. Paul's Greek Orthodox Church (4949 Alton Parkway, between Culver Drive and Jeffrey Road, Irvine, CA 92604).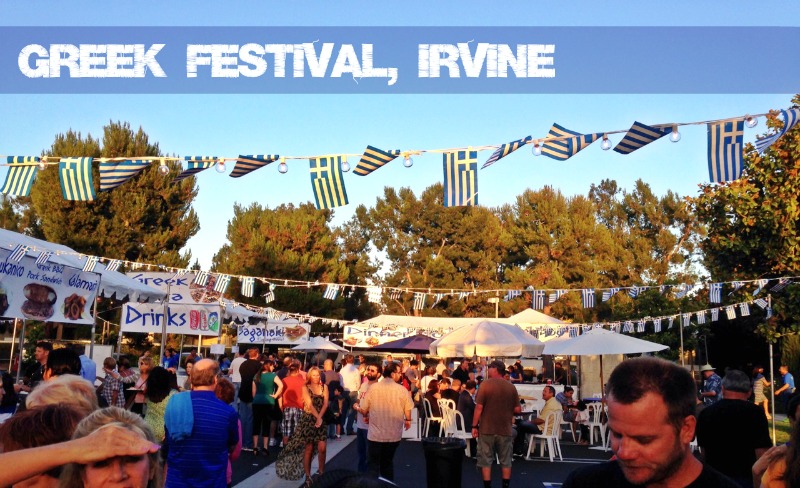 The Greek Festival is expecting more than 12,000 guests to attend the three-day festival, which will feature traditional Greek cuisine, wine tasting, live music, authentic Greek dancing with lessons and boutique booths reminiscent of the Plaka, a well-known picturesque historical neighborhood of Athens.
Celebrate Greek cuisine and hospitality throughout the three-day festival that will feature authentic recipes for traditional Greek dishes, delicious pastries and a variety of beverages, highlighted with a wine "Taverna," offering Greek wine and beer.  The traditional Greek menu will include:
Chicken, Lamb Chops,
Greek French Fries, Gyros,
Pastichio (Greek lasagna),
Loucanico (Greek sausage),
Spanakopita (spinach and feta pie),
Dolmathes (stuffed grape leaves),
Saganaki (Greek brandy-flamed cheese),
Loukoumathes (Greek doughnut holes),
Greek Salad,
Calamari and more.
This family fun day will offer FREE Greek Dance Lessons, boutique shops, carnival games and booths. And enter two win fantastic prizes such as  $1,500 cash, a 60" HD Smart TV, iPad AIR 2, $500 Disneyland Gift Card and Men's or Ladies' S2 GPS Approach Golf Watch.
Greek Festival
Paul's Greek Orthodox Church: 4949 Alton Parkway, Irvine
(between Culver Drive and Jeffrey Road)
Festival Hours:
Friday, June 24th: 5 p.m. to 10 p.m.
Saturday, June 25th: noon to 10 p.m
Sunday, June 26th: noon to 9 p.m.
Cost of Admission: 
Adults $3 per person
*Free Admission on Saturday, June 25th from 12:00pm – 5:00pm For Seniors
*Free Admission -Children 10 and under
Festival Parking: FREE with complimentary Shuttle.
"As Orange County's largest Greek Orthodox congregation, we are delighted to host a festival that offers an opportunity for the community to experience authentic Greek dining, wine, music, dancing and entertainment," said Father Steven Tsichlis, St. Paul's Greek Orthodox Priest. "This year's festival, our 37th annual, will offer something for everyone with a variety of Greek-themed activities, and tours of the Church to view the beautiful sanctuary that contains Christian artwork done in mosaic patterned after ancient prototypes that are unique in Orange County.