Packing for a 2 week road trip can become quite a chore.  In an RV, you a limited amount of cabinet space and hanging space available.  For 4 people, that doesn't give us much room, therefore we needed to make sure we had all the essentials needed for whatever weather we were going to come across.  For the kids, I took the time to fold all of their clothes neately and place them in boxes that we had on hand to place into the cabinets.  For The Hubster and I, most of our shirts were hung up in the small closet, but our pants were folded and stacked on a shelf.  It just so happens that during my packing, I was contacted by the nice people at Downey to sample their new Downy Wrinkle Releaser Plus – a necessity when traveling.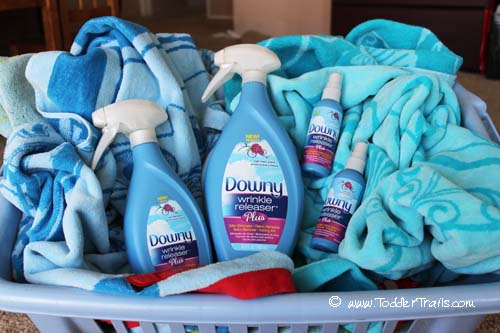 Downy Wrinkle Releaser Plus is really easy to use.  All you need to do is spray it on the wrinkled area, stretch out the garment and hang it to dry.  The only problem is that if you need to take out wrinkles out quickly, you may need to us a hair dryer or hang the clothes in the sunlight.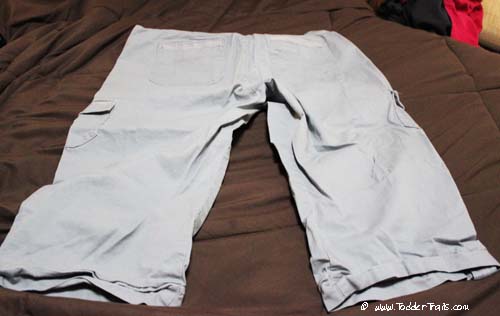 For me, it worked great.  I pulled out a pair of capri pants I wanted to wear while sight seeing, but noticed that it had several wrinkles from being folded and placed in the cabinet.  While I showered and got ready, I had already sprayed my capri pants, stretched them and layed them out to dry.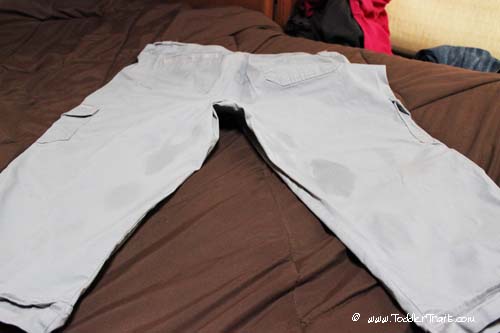 In the photo above, you can still see a few of the wet spots, but the wrinkles I sprayed the Downy Wrinkle Releaser Plus on had disappeared.  It took about 15-20 minutes for them to dry and I was ready to walk out the door.
Downy Wrinkle Releaser Plus has many uses and can replace your everyday ironing. Having a party or a few guests over?  It can be used as a quick fix solution to remove creases from pillows, bed spreads, napkins, tableclothes and more.
Need an air freshener to remove nasty smells from furniture or items like pet beds, car seats or sofas?  Just spritz a few drops onto those surfaces.
Downy just invested in a new spray trigger design. A finer mist is delivered from the New Downey Wrinkle Releaser Plus covering a larger surface area with less solution so that it dries faster.  Simply spray, smooth and tug for a fresh cresp clean wrinkle free look.
Are you packing for your next vacation or simply tired of ironing?  Try Downey Wrinkle Releaser Plus.  It's sold at Walmart, Target, Walgreens and most local retailers.  To find out more about Downey Wrinkle Releaser, connect via Social Media: Website, Facebook, Twitter or Pinterest.
Disclaimer: We received samples to review and share our honest opinions. No other form of compensation was received.